I cannot find too many bargains in the stock market today. Many issues are at fair value or above. That's not to say there are no deals to be found. Indeed, Halliburton Co (NYSE:HAL) offers investors a well-managed business, possessing a good balance sheet and strong forward growth prospects all at an historical discount. This stock is one of my favorite equity investments.
A recent announcement concerning a setback in the company's Latin America region, and the continued overhang in conjunction with the BP - Macondo oil spill settlement appear to have held the shares back, thereby offering patient investors a potential opportunity to buy into an undervalued stock with solid growth upside.
In this article, we will review Halliburton fundamentals, the corporate storyline, discuss an investment thesis, and perform a valuation exercise.
Halliburton Co -- Six-Month Price, Volume and MAs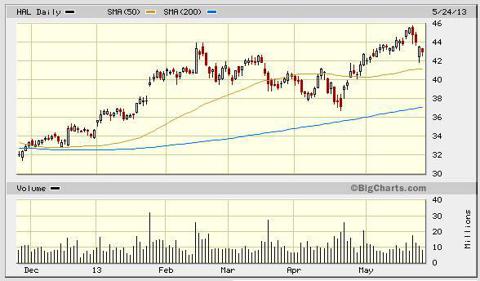 Click to enlarge
courtesy of bigcharts.com
Halliburton Co is an oilfield services company. The Company is provider of services and products to the energy industry related to the exploration, development, and production of oil and natural gas. It serves national and independent oil / natural gas companies worldwide.
The Fundamentals
Balance Sheet
I like to begin an analysis with the balance sheet. I view this financial statement as the foundation of a corporation. In this respect, Halliburton is built upon a bedrock footing.
Debt levels are well-managed and reasonable. Total debt has remained steady for the last several years. The debt-to-equity ratio is 30.7 percent; amongst the bottom third of industry peers.
Liquidity is good. The company holds over $2 billion in cash, has a current ratio of 2.8, and owns a superior investment-grade credit rating.
The share count has been diluted less than four percent over the past five years.
Goodwill and intangible assets as a function of total assets is less than 8 percent. I view a figure above 20 percent a yellow flag.
Pension underfunding liability as a function on market cap is negligible.
Return-on-equity and ROACE (return-on-average capital employed) figures are strong. These two measures are focused upon and communicated to investors by HAL management. Please find a comparison of Halliburton ROACE versus industry peers below. The slide was presented at the UBS Global Oil and Gas Conference on May 21: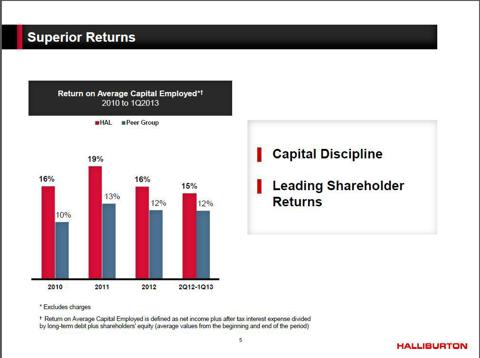 Click to enlarge
In addition, I track two other measures that afford me a glimpse into the financial situation of this company.
Equity / Asset ratio: Long a favorite measure of value-investor Benjamin Graham, a figure above 50 percent is considered strong. HAL has a current E /A ratio of 56 percent.
Asset Utilization: Calculated as Sales / Total Assets, this metric captures how much revenue is generated from each dollar of assets. Over the past four quarters, Halliburton assets have generated about $1.03 revenue per dollar. For comparison, industry peer Schlumberger (NYSE:SLB) has a ratio of $0.68 per dollar of assets.
Income Statement
When reviewing the income statement, I favor companies that are showing solid top and bottom line growth trends, expanding margins, and good expense management. HAL appears to be doing well on all these counts.
Healthy revenue growth is a key investment metric. Strong companies grow the top line. Indeed, it is difficult to tinker with net sales figures. HAL reaped a record $7 billion in revenue in the first quarter of 2013, largely built upon a 21 percent YoY increase in international sales. It was a good start for the year. Annual revenues have grown smartly over each of the past three years, and are forecast for another good bump this year.
Operating margins eased to 12.9 percent in the first quarter from 13.5 percent in the previous quarter, but management explained the drop should not impact the long-term upward bias. North American margins, representing about half the business, are anticipated to improve throughout the year. International margins are fighting headwinds in Latin America and Europe, but are expected to end up around mid double digits by year-end.
Halliburton management has long held SG&A expenses in check. The five-year trend has been flat, despite the increasing revenues. As an investor, I view this favorably. The company has compounded this past performance with a 2013 internal initiative, called Battle Red, which targets administrative inefficiencies and promotes additional back-office process modernization.
Net income had been rising strongly, emerging from the 2009 recession lows, but dropped somewhat in 2012 due North American rig re-deployments and a senior management decision to pre-purchase large amounts of guar gum (an important well frac agent) in the midst of a global material shortage of the product. The 2013 Street estimates indicate recovery, though not quite to 2011 levels. I believe this fact is a catalyst for investment, as explained later.
Cash Flow
While 2012 net income dropped, operating cash flow did not; remaining flat with the prior year. HAL management pays close attention to cash flows. As an investor, I view cash flow as a superior metric to earnings.
Free-cash-flow (operating cash less capital expenditures) has remained positive over the past three years, but is marginal. This is a direct result of Halliburton senior leadership concentrating its cash deployment upon growing the business. I view this as a positive development.
The modest dividend was raised 38 percent this year; to 12.5 cents per share quarterly or a 1.2% annualized yield based upon the stock's latest close. Despite the low yield, I see the large increase in the payout as a big plus. Few actions say as much about management's view of the future as a dividend increase. Rarely would a board of directors raise the dividend, then have to cut it shortly thereafter. I suggest a dividend boost of this magnitude signals considerable confidence in the future of the business. In addition, HAL management restated their future intent to target 15 to 20 percent of net income to cash dividends. The current annualized payout represents the midpoint of last year's EPS. Therefore, it may be expected that future dividends will rise with future earnings. Estimated earnings growth is forecast to be 20 percent a year for the next five years. This is very much a key development.
What's the Storyline and Investment Thesis?
My analysis begins with the financial statements, but really hinges on a storyline coupled with a thesis. Let's review these components briefly.
Storyline
Halliburton was hit hard during the 2008-09 economic downturn. Since that time, the company has rallied in the face of tough industry dynamics.
The strategic focus has concentrated upon three growth drivers: the deepwater, unconventional oil / gas plays, and mature fields. Here's another slide from the recent UBS conference highlighting this emphasis: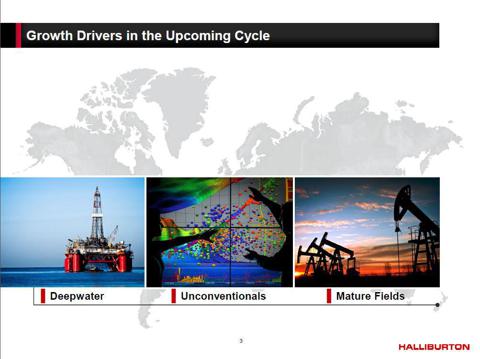 Click to enlarge
Specifically for 2013, management stated the following business goals and objectives:
Continued improvement of North American margins
Grow international revenue and margins
Generate industry-leading ROE and ROACE
Management has voiced their intent to defend the North American business. This defense has caused considerable operational disruption: many clients were re-deploying rigs from less profitable dry gas to liquids sites. Halliburton hung tight with them, relocating equipment alongside their customers, thereby compromising margins but building business relationships. In addition, the company took a hit in early 2012 by securing large quantities of guar gum in the face of a global industry shortage. HAL management paid top dollar for the material before the market corrected itself, leaving them with a load of the substance to work off. Once again, the objective was to stick by and serve the client, knocking back short-term margins for longer-term business.
Of course, numerous risks to the strategy and objectives should be noted.
These include working off the expensive guar gum purchased last year; expected to be complete by mid-year 2013. The liability for the BP - Macondo oil spill has been a significant overhang, despite the company insisting that its contracts with BP indemnified them. Nevertheless, the company took a $1 billion charge against first quarter earnings to settle claims. Most recently, Halliburton management announced that the Mexican government had effectively halted many of its energy development projects, stalling a chunk of the company's business book.
Investment Thesis
I have long advocated Halliburton stock, and written several articles about the company, that last of which was in September 2012. However, I find the investment thesis is still largely intact even after a decent run-up in price.
My long view indicates the company remains well-managed, setting itself up for a multi-year growth spurt, and is significantly undervalued. The recent U.S. phenomenon of becoming the potential world leader in tight oil and gas production plays right into HAL business strengths. This is why I believe management has fought to defend its leadership in North American land-based business so fiercely. The significant improvement to the company's international business fortunes has just added luster to the story.
Finally, the recent announcement that PEMEX (Mexico) plans to defer 2013 projects has resulted in the stock price taking a step back.
I offer this may ultimately be a near-term catalyst.
Here's a transcript remark from Mark McCollum, Executive Vice President & Chief Financial Officer; speaking at the May 21, 2013 UBS Global Oil and Gas Conference:
So we know our rig allocation overall in the project management has dropped from 17 to 6; Schlumberger's has dropped from 16 to 7; Weatherford's has dropped from 22 I think down to 14, I think something like that. So everyone is dropping rigs and so it's having a significant impact on Mexico, more dramatic than we had indicated that we thought it would be when we did our Q1 conference call.

I will tell you we're not really optimistic about this. If indeed they're dropping these rigs in advance of the tender process on these incentivized process, the tenders are all due in July, at least that's their targeted timeframe. But they would, if they go through the award process the work would not start until January of 2014 which means that creates a significant hole.
While the news is certainly not good, I take note that Mr. McCollum indicates the work has likely not been cancelled, but deferred until 2014. Nonetheless, the market immediately discounted the news via the stock price: dropping it 5.6 percent in three days. Some may view this as a short-term opportunity to start or add to a position.
Valuation
I noted earlier that I believe the stock is undervalued. I base this view upon historical valuation multiples of earnings and cash flow. I've utilized several F.A.S.T. Graphs below to illustrate these points.
First, I offer a twelve year chart of Halliburton's price and earnings below.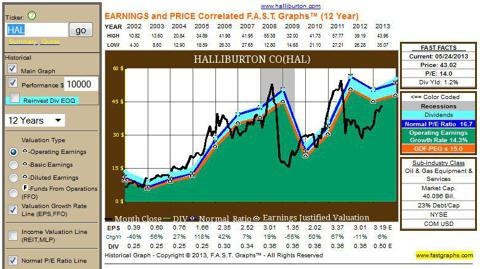 Click to enlarge
courtesy of fastgraphs.com
One can see that, over time, the price (black line) tends to follow the normalized P/E multiple line and expected P/E multiple lines (the blue and orange lines). If the price strays too far from the lines, it always returns to it. Currently, the price is below the historical earnings multiple; thereby offering a potential undervalued situation. If the stock price reached the blue line, it would mean a 24 percent increase.
Let's dig a little deeper.
Cash is king. How does HAL stock look when comparing its price with normalized FFO (Funds from Operations)? FFO is a close relative of Operating Cash Flow.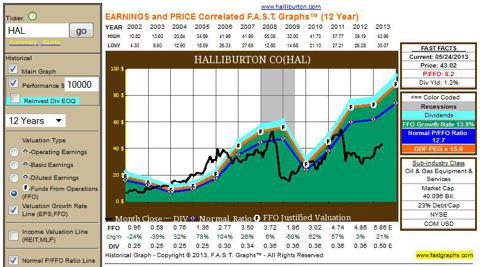 Click to enlarge
courtesy of fastgraphs.com
Wow. Here the undervaluation is even more pronounced. The twelve year historical Price / FFO multiple has been 12.7x. The current ratio is 8.2x. I can find little in the investment thesis above to warrant such a deviation from the norm. A "reversion to the mean" appears inevitable at some point in the future. A return to the normalized "blue line" represents a 72 percent share price increase.
Finally, let's look at Street projected EPS: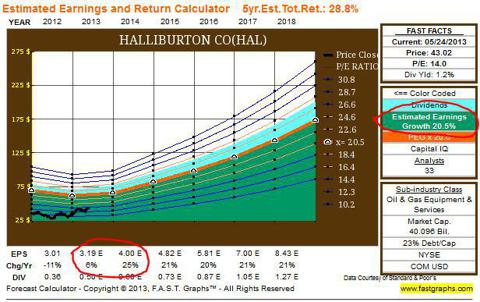 Click to enlarge
courtesy of fastgraphs.com
The 33 Wall Street analysts that cover Halliburton expect the company to grow earnings by 20 percent a year over the next five years. This includes a 6 percent bump this year, followed by a 25 percent uplift in 2014. I suggest that the lower growth anticipated this year, and the higher growth forecast in 2014 reflect, at least in part, the PEMEX business that management indicated would be deferred until after January of next year. As a long-term investor, it is of little consequence for me to wait until that work washes back to the company.
Finally, peer group analysis indicates the Energy Services industry, as a whole, is undervalued. When reviewing Schlumberger, Baker Hughes (NYSE:BHI) and National Oilwell Varco (NYSE:NOV), one will find similar disconnects between price and historical valuation multiples.
However, Halliburton Company versus peers couples a bigger potential gap in current price versus historic multiples, with a higher forecast five-year EPS growth rate.
Reinforcing the valuation metrics, I also compared a few key Halliburton vs. Schlumberger financial measures. I selected SLB for comparison purposes as the company has often been considered the "best-of-breed" energy service company. Here's a quick comp table:

Click to enlarge
The purpose of this data is not to refute that Schlumberger isn't a best-of-breed corporation. No, I am simply noting that Halliburton stacks up quite favorably; yet may offer better capital appreciation prospects.
Indeed, while any of the aforementioned energy service stocks appear to be reasonable investments, I believe HAL offers better long-term upside and better growth prospects. I contend this is a result of undue multiple compression from the Macondo oil spill liability overhang, short-term operational decisions that have reinforced the long-term business plan, and the recent Mexico / PEMEX development.
Conclusion
Halliburton Co affords several compelling reasons for investment:
A sound balance sheet
Improving margins
Good management with a demonstrated ability to meet Wall Street earnings forecasts: seven beats in the last three years. No misses.
A recent hike in the cash dividend, and stated plans for additional increases commensurate with earnings growth
A reasonable, articulated plan for growing the company
A near-term catalyst
An undervalued security as measured by historical multiples of earnings and cash
My preference would be to purchase shares on an additional pullback in conjunction with an overall market consolidation. I like to target a five to ten percent retracement from a high before pulling the trigger; this would mean about $41. However, one may determine the most recent share drop offers a reasonable point to perhaps begin a new position; adding to it upon further price weakness.
Please perform your own careful due diligence before investing any money. Good luck with all your 2013 investments.
Disclosure: I am long HAL. I wrote this article myself, and it expresses my own opinions. I am not receiving compensation for it (other than from Seeking Alpha). I have no business relationship with any company whose stock is mentioned in this article.