Procter & Gamble's (NYSE:PG) stock price jumped 4% after announcing that A.G. Lafley would return to the company as CEO. Lafley successfully led the company in the past decade, including a previous restructuring effort. Activist investor Bill Ackman has made the case that P&G could trade up to $125 per share in two years from its current price of $82. P&G is a great American company and one that I would like to own at the right price, but I am not as optimistic as Ackman. On a short/medium term basis, the company's valuation is too high and I would prefer to buy it on a pullback than chase it. From a long-term perspective, I am reserving judgment until I see what Lafley has in store. In this article I will look at the implications of the CEO change and Lafley's previous tenure at CEO. I will also analyze the company's financials and valuation. Something is brewing at P&G and I'm watching for opportunities to buy the stock.
Implication Of A.G. Lafley's Return
Lafley previously served as CEO from 2000 to 2009. He became CEO at another period of weakness and is widely regarded as responsible for the turnaround.
The CEO change seems to indicate that the board wants to accelerate the restructuring efforts already in place. However, it is not clear if there is a more fundamental problem at P&G that was the catalyst for the removal of Bob McDonald, the outgoing CEO.
It is odd that the board did not choose a new CEO from within the company's ranks. The board may be focused on the restructuring now and not ready to make a decision about the long-term direction of the company.
I expect there to be additional turnover in senior management. Lafley needs to decide on the senior managers he wants to work with going forward and who he wants to replace.
This will slow things down for the company in the near term as senior management is more focused on internal politics than the restructuring and growth. At least, Lafley knows the company well, which will hopefully keep the transition period short.
Lafley's Previous Term As CEO
Following the announcement of Lafley returning to the CEO job, I went back to read P&G's annual reports from the previous time he led the company.
The first annual report that P&G issued under Lafley was in 2000. Much of what was written then could be written today. P&G is again facing a period of weakness and restructuring. The parallels between today and 2000 are important for three reasons.
First, Lafley successfully dealt with similar challenges in the past. If P&G needs a "restructuring CEO" then Lafley has the credentials.
Second, the CEO change raises some questions about the effectiveness of P&G's last restructuring. If the last restructuring was so successful, why is P&G facing the same issues again? It may be the nature of P&G's business (and size) to be in a perpetual state of restructuring. The company would like to call restructuring costs one-time items, but they are an inherent part of the business. This makes P&G's earnings more volatile than they seem.
Third, a rising tide lifts all boats. I wonder how much of the improved performance in the middle of the last decade was due to the restructuring and how much was due to the global economic boom. Maybe, P&G just needed the economy to improve both then and now.
P&G's Report Cards
Starting in 2005, P&G's annual reports included a "report card" on the company's financial performance.
Originally, the goals were 4-6% organic sales growth, 10%+ EPS growth and 90%+ free cash flow productivity.
When Bob McDonald took over as CEO the goals were ratcheted down to organic sales growth of 1-2% above global market rates, EPS growth of high-single to low-double digits, and 90%+ free cash flow productivity.
It will be interesting to see if Lafley endorses the lower long-term goals of the last few years or if he sets a higher bar and re-instates his previous goals.
Here is a snapshot of P&G's report cards going back to 2005. Please see the Appendix for the full report cards. P&G's annual reports can be found here.
2005: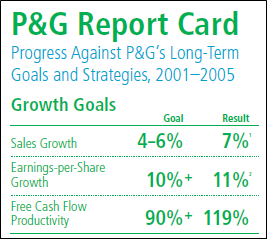 2006: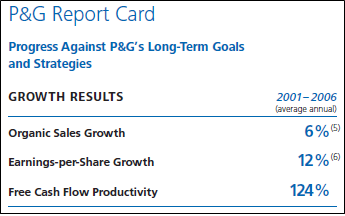 2007: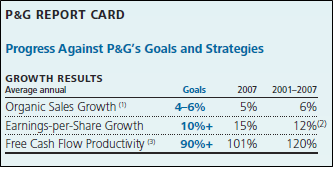 2008: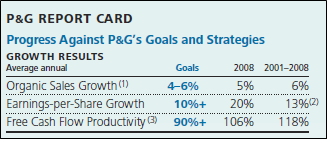 2009: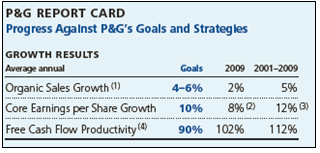 2010:

2011:

2012:
The 2012 annual report did not include the information in the same format as in prior years, but it stated the following:
"In fiscal 2012, we delivered 3% organic sales growth overall... Core earnings per share for fiscal year 2012 were $3.85, which is 1% below the prior-year level... Free cash flow for the fiscal year was $9.3 billion. Adjusted free cash flow productivity was 90%, consistent with our target."
2013:
In a presentation at the Goldman Sachs Consumer Products Symposium on May 14, P&G's CFO gave the following guidance for 2013:
Organic sales growth: ~3%
Core EPS growth: 3.9% (midpoint of range)
Ackman's Bull Case For P&G
Bill Ackman's presentation from the Ira Sohn conference on May 8, 2013, can be found here. His believes that P&G's shares could reach $125 in two years.
I consider his scenario the upside case, not the base case.
The basic thesis of Ackman's presentation is that P&G lags its peers in terms of growth and margins. If P&G can achieve growth and margins in-line with its peers then P&G has earnings power of ~$6 per share compared to ~$4 currently.
The problem with Ackman's presentation is that it does not explain how to get there from where P&G is today.
P&G already put in place a restructuring program. Ackman seemed pleased with this program, but thinks that it is not enough. A new CEO may be able to shake things up, but the details are not clear.
The real issues are: why did P&G fall behind its peers in terms of growth/margins and is there something inherent about P&G that prevents it from performing in-line with its peers? Ackman does not address these concerns in enough detail.
Financials And Valuation
P&G's earnings have been stagnant over the last few years. Please note that P&G is on a June fiscal year cycle.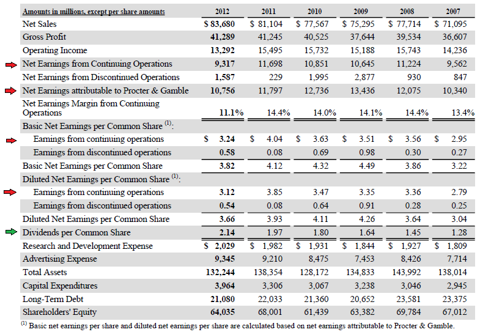 (Source: P&G's 2012 annual report)
Currently, analysts are forecasting EPS of $4.04 per share for FY 2013 and $4.33 per share for FY 2014 (source: Yahoo Finance).
EPS may not be the best valuation metric because of the way the company and analysts account for restructuring charges. Also, with Lafley coming in as CEO he may accelerate the restructuring charges in the next few quarters.
Many investors are interested in P&G because of the dividend yield. P&G has been growing its dividend despite the earnings dynamics.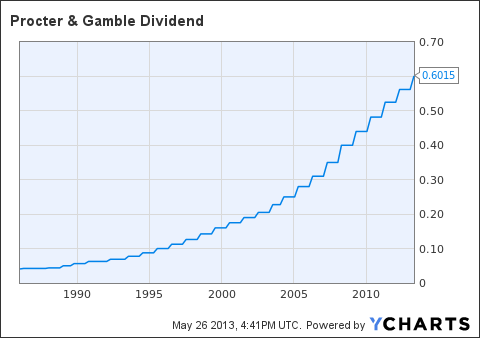 PG Dividend data by YCharts
But the dividend is only part of the capital return program. P&G has also been buying back stock.
The shareholder payout is the sum of dividends and share buybacks. It has been stagnant recently.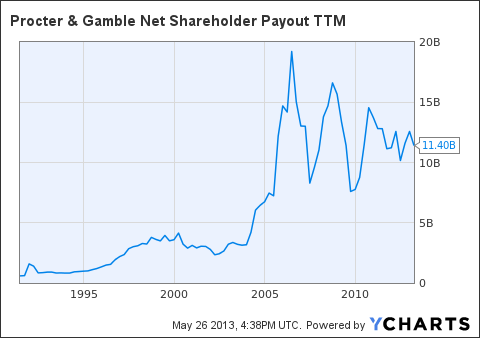 PG Net Shareholder Payout TTM data by YCharts
P&G's dividend yield has been relatively constant over the last few years as the increase in dividends has been keeping up with the increase in the stock price. However, the net shareholder payout yield has been declining.
It will be interesting to see if investors will continue to bid up the stock price without an increase in the net shareholder payout.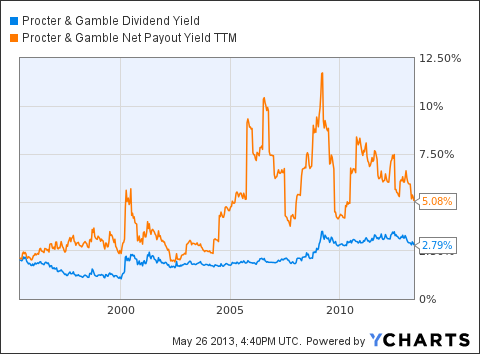 PG Dividend Yield data by YCharts
Free Cash Flow (FCF) may be a more relevant metric than earnings because of the restructuring charges and the importance of funding increases in the buyback and dividends. Free Cash Flow has also been stagnant for some time.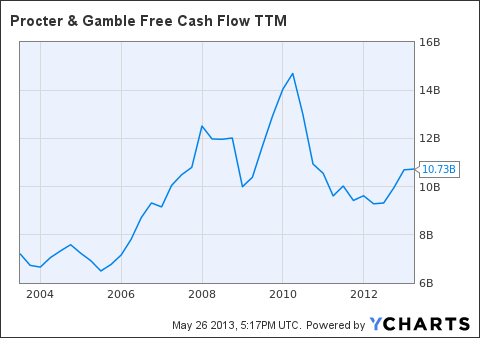 PG Free Cash Flow TTM data by YCharts
As the share price increased, the FCF yield has been declining. The chart below indicates that the stock is stretched at these levels. Without a boost in FCF it seems unlikely that the stock has much upside in the short term.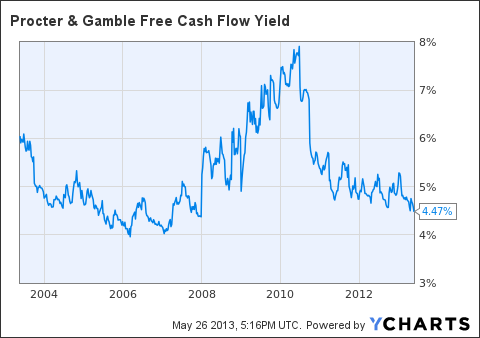 PG Free Cash Flow Yield data by YCharts
From a P/E perspective, P&G's valuation does not look stretched compared to its history. However, I prefer to look at P&G using cash flow metrics than earnings metrics.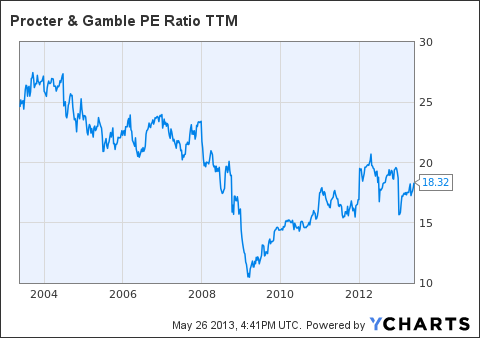 PG PE Ratio TTM data by YCharts
Considering the cash flow trends and the stretched valuation (FCF yield and net shareholder payout yield) it does not seem like P&G is especially cheap at this level.
Long-Term Issues
There are four long-term dynamics that will be important for P&G in the years and decades to come: [i] inflation, [ii] developing markets, [iii] brands in the 21st century and [iv] internet shopping.
Inflation
If an investor has a multi-year or multi-decade timeframe, inflation is an important investment consideration.
Under normal circumstances, P&G should benefit from inflation. In the short term there is always some reluctance to raise prices, but over the long term P&G's products should see price increases in-line with inflation.
However, P&G's current organic sales rate does not seem much higher than the inflation rate. It will be important for P&G to grow sales faster than inflation.
Developing Markets
P&G derives ~40% of its sales from developing markets (source: P&G's presentation at the Goldman Sach's forum, see link above).
The rise of the middle class in developing markets is a long-term trend that should benefit P&G for many years to come. P&G is behind some of its peers in terms of developing market sales, but that could also be an opportunity for it to capture in the future.
Brands In The 21st Century
The concept of a consumer goods brand seems like an idea from the "Mad Men" age. It had a lot of relevance and success in the 20th century but it is unclear how successful brands will be in the 21st century. This is especially true for some of P&G's basic home care and grooming products.
Dollar Shave Club is a start-up that is going after one of P&G's most important products: men's razors. In fact, Dollar Shave Club is doing this by building an anti-brand - see this video on its website.
Over the last decade P&G's brands have faced threats from private-label competition. Now, thanks to the internet, they face threats from upstart brands that can get attention and build a presence very quickly.
Internet Shopping
Most of the P&G products that enter my home come in a box from Soap.com, a division of Amazon (NASDAQ:AMZN), or Fresh Direct. My wife and I are hardcore internet shoppers and make very few trips to the supermarket or drugstore.
One of the benefits of a large organization like P&G is that it has power to fight for shelf space, which is an important sales tool. As more and more people shop online, some of the advantages of brands may not be as relevant.
P&G's Stock Price Performance Compares To Peers
P&G's stock price is on the cusp of new all time highs.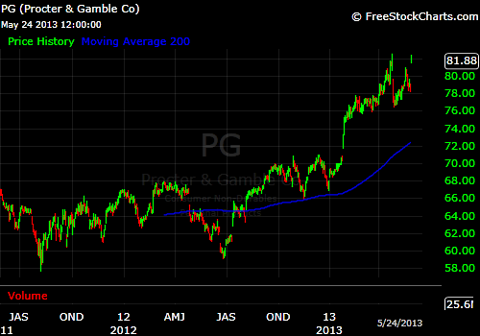 P&G is the 9th largest component in the S&P 500 (NYSEARCA:SPY) and represents 1.46% of its value. It is also the 12th largest component of the Dow Jones Industrials Average (NYSEARCA:DIA) and represents 3.95% of its value. P&G is the largest component in the Consumer Staples Select Sector SPDR ETF (NYSEARCA:XLP) and represents 13.51% of its value.
Since the lows for the market on November 16, 2012, P&G has traded inline with the major indices and generated nice gains.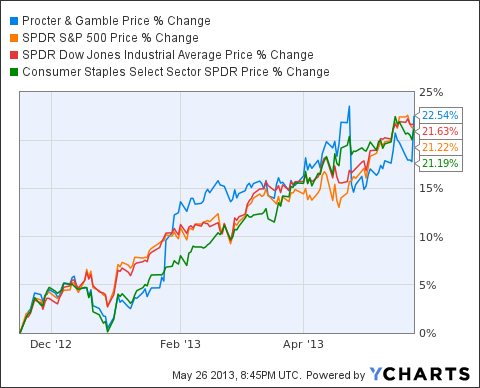 The following shows the performance for P&G compared to its peers: Unilever (NYSE:UL), Colgate (NYSE:CL) and Church & Dwight (NYSE:CHD). P&G outperformed these other companies, but all have been following the same trend.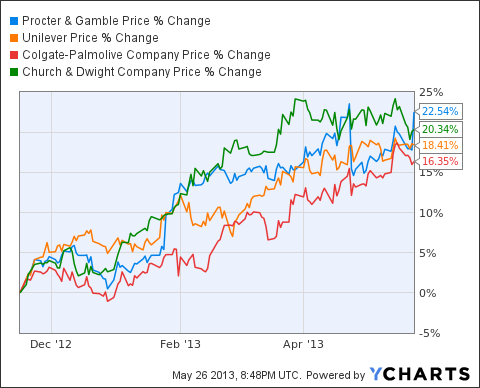 Conclusions
P&G is one of the great American companies. As Bill Ackman pointed out, it has been lagging its peers in terms of growth and margins. The CEO change and the return of A.G. Lafley may be a catalyst to accelerate P&G's restructuring.
However, P&G has been in this position in the past. The question remains, is there a more fundamental reason that P&G is underperforming? Also, the reason for the quick CEO change is still unclear.
From a short-term perspective, P&G's valuation looks stretched, especially on a FCF yield and shareholder payout yield basis. P&G needs to grow cash flow to drive up the shares based on these metrics.
However, most investors just care about the dividend growth. P&G should continue to grow the dividend, even without much growth in the business. It could always reduce the buybacks to increase the dividend.
From a long-term perspective, P&G is the kind of company that I'm interested in. However, I do not like to chase stocks. Furthermore, I have some questions about P&G prospects under the new CEO and in the current competitive landscape. Lafley may give me reasons to be more bullish on the stock, but until then there are other companies that are more interesting than P&G.
Appendix: Report Cards From Annual Reports
2005 Annual Report:

2006 Annual Report: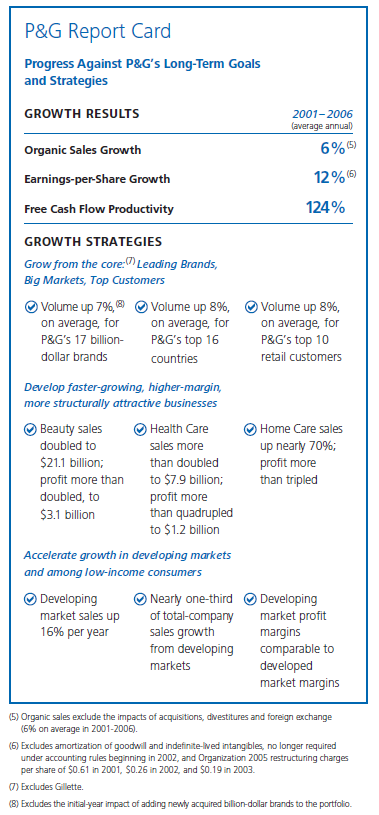 2007 Annual Report: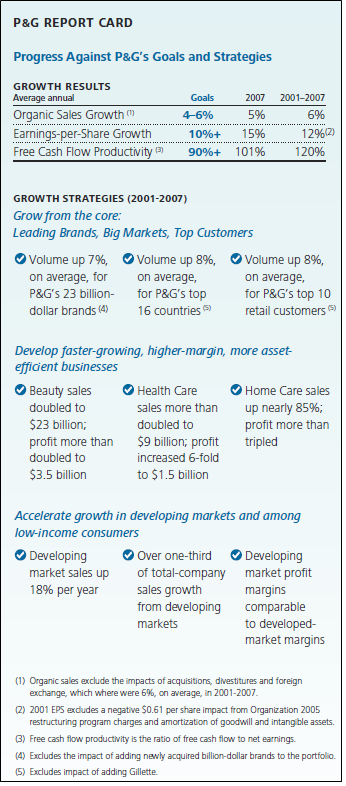 2008 Annual Report: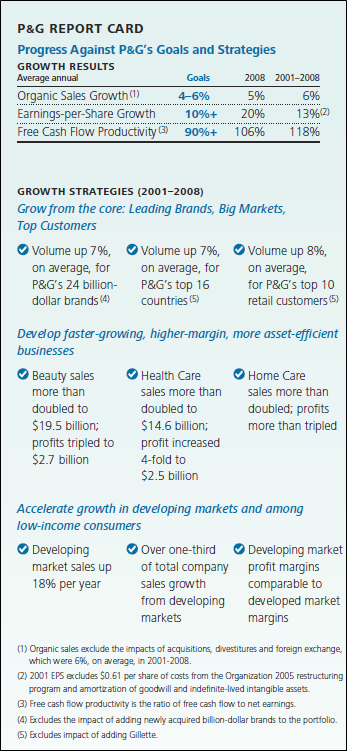 2009 Annual Report:

2010 Annual Report:

2011 Annual Report:

2012 Annual Report:
"In fiscal 2012, we delivered 3% organic sales growth overall.
Core earnings per share for fiscal year 2012 were $3.85, which is 1% below the prior-year level.
Free cash flow for the fiscal year was $9.3 billion. Adjusted free cash flow productivity was 90%, consistent with our target."
Disclaimer: The opinions expressed above should not be construed as investment advice. This article is not tailored to specific investment objectives. Reliance on this information for the purpose of buying the securities to which this information relates may expose a person to significant risk. The information contained in this article is not intended to make any offer, inducement, invitation or commitment to purchase, subscribe to, provide or sell any securities, service or product or to provide any recommendations on which one should rely for financial, securities, investment or other advice or to take any decision. Readers are encouraged to seek individual advice from their personal, financial, legal and other advisers before making any investment or financial decisions or purchasing any financial, securities or investment related service or product.
Information provided, whether charts or any other statements regarding market, real estate or other financial information, is obtained from sources which we and our suppliers believe reliable, but we do not warrant or guarantee the timeliness or accuracy of this information. Nothing in this article should be interpreted to state or imply that past results are an indication of future performance.
THERE ARE NO WARRANTIES EXPRESSED OR IMPLIED AS TO ACCURACY, TIMELINESS, COMPLETENESS, OR RESULTS OBTAINED FROM ANY INFORMATION IN THIS ARTICLE OR ANY LINKED WEBSITE.
Disclosure: I have no positions in any stocks mentioned, and no plans to initiate any positions within the next 72 hours. I wrote this article myself, and it expresses my own opinions. I am not receiving compensation for it (other than from Seeking Alpha). I have no business relationship with any company whose stock is mentioned in this article.
Additional disclosure: I am long put options on the SPY ETF that stand to gain in value is the SPY declines in value. I may trade any of the securities mentioned in this article at any time, including in the next 72 hours.