Mark down May 28th, 2013, as potentially the end of the bull run in homebuilders. Today saw the S&P 500 (NYSEARCA:SPY) have almost a 1% intraday move higher, on the back of two headline reports on housing prices and consumer confidence. On the housing front, home prices saw double digit annual gains, marking the largest annual gains seen by home prices since 2007. On the consumer sentiment front, consumer confidence surged to its highest level in 5 years. Both of these data points are typically the kind that bode well for homebuilder stocks, such as Ryland (NYSE:RYL) or KB Home (NYSE:KBH). However after an initial gap up, the majority of the homebuilder stocks quickly reversed the sharp initial gains today, moving into negative territory, as shown in this intraday chart for Ryland: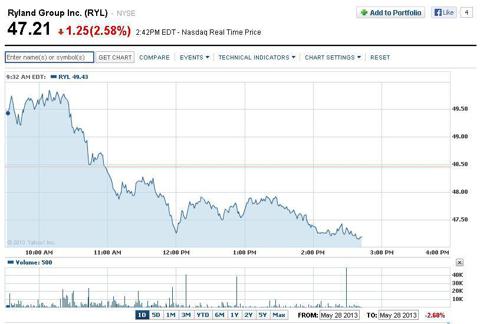 Click to enlarge
The homebuilder specific stocks are significantly underperforming the broader market. This is not the price action someone wants to see from a sector that has led the stock market rally. The reality is that another story, one that does not get the same shock and awe headline treatment that has emerged in the form of spiking treasury yields. The 10-year treasury yield today surged to 2.07% intraday, its highest level since April 2012. The price action in homebuilders today could very likely be a harbinger of the beginning of a sharp move down for this sector. Home price gains and rising consumer sentiment are no match for the pain of rising interest rates which will slowly creep into the mortgage market, impacting affordability.
Divergent Price Action From A Leading Sector
I constantly am looking for price action in certain sectors that diverges from the overall market. Specifically on days with broad based market gains, any sector that diverges into negative territory catches my attention. As a specific example, Ryland jumped higher as the market opened today, subsequently declining into the red and trading more than 5% off its high for the day. Ryland is an example I have chronicled previously of a homebuilder trading well above any previous valuation the company has ever seen on a price to book value metric.
This is exactly the type of trading day that should be concerning for those who are Uber bullish on housing, both the housing market and specific stocks that are related to the health of the housing market. On the face of it, rising home prices and consumer sentiment should send homebuilder stocks soaring. As the bulls would explain to you, these higher home prices will translate into higher profits for the homebuilders. This is true, but those home gains are already factored into the outlook for the homebuilder stocks.
What you are seeing today at least from those forward looking investors, not just those reading the CNBC headlines, is nervousness about how rising interest rates will impact the housing recovery. This nervousness is warranted, because housing prices can't continue to rise unless real wage growth can keep pace with those rising prices. In the same vein, even if real wage growth could keep pace with racing home prices, increasing mortgage rates will slam the affordability equation which will then put downward pressure on home prices.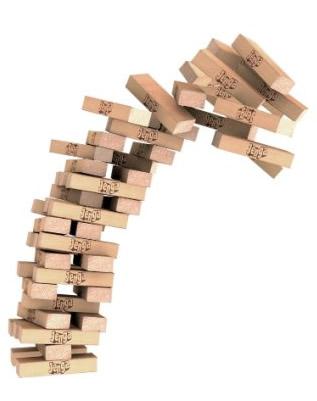 It really is a Jenga game at this point in time. The Federal Reserve is going to be left pulling pieces out while they finish the game of Quantitative Easing. They just are not sure which piece they will pull out that could cause the whole thing to come tumbling down. Continue to short Ryland as a pure play on the overvaluation for the homebuilder stocks.
Disclosure: I am short RYL. I wrote this article myself, and it expresses my own opinions. I am not receiving compensation for it (other than from Seeking Alpha). I have no business relationship with any company whose stock is mentioned in this article.