The May Consumer Confidence reading came in stronger than expected today at 76.2. As shown in the chart below, this was the highest Consumer Confidence reading we've seen since the bull market began back in March 2009.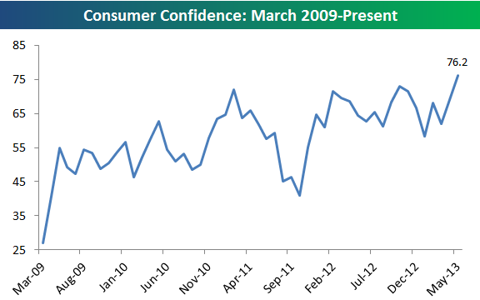 But don't let the new multi-year high in Consumer Confidence fool you into thinking that the U.S. consumer is a confident bunch. Below is a longer-term chart of Consumer Confidence going back to 1990. The S&P 500 is overlaid on the chart so you can see where the confidence reading stood at various peaks and troughs for the market over the last 23-plus years.
As shown, at a current level of 76.2 Consumer Confidence is roughly half of what it was at the stock market's peak back in 2000, and it's 35 points below the high it reached prior to the market's second peak back in 2007. Going back to 1990, the average monthly Consumer Confidence reading has been 90. So even though it's at a four-year high right now, it's still 14 points below the 23-year average. When put into perspective, it doesn't appear as if the consumer is very confident at all.