When my article, "Tesla: $100 Coming Very, Very Soon" went live, shares of Tesla briefly touched $97 before quickly falling back to ~$85 or so on some profit taking, and perhaps some bolder short sellers coming in to seize the opportunity to get a "good deal" on the shares. Well, on 5/28, Tesla punched right through the $100 mark to close at $110 and change. Congratulations, Tesla (NASDAQ:TSLA) longs, you win. Market dynamics have worked very beautifully in your favor, and there is - by definition - not a long out there right now that isn't happy with his/her purchase. The next question, then, is: what now?
This Is A Game Of Musical Chairs
After punching right through the $100 mark, it's time to take some off of the table. While I certainly think the short covering dynamic could still be in play to drive further upside, the shares are just too stretched. In addition to sporting a $13B market capitalization (this is ~1/3rd of General Motors (NYSE:GM)), the chart simply screams "parabolic!":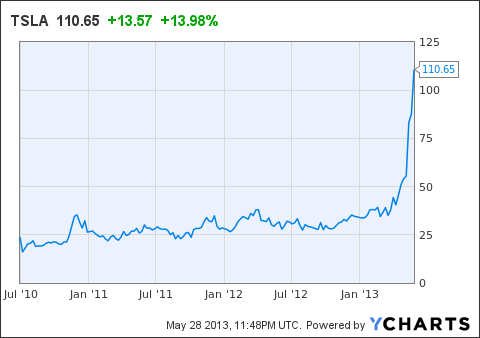 This is a game of musical chairs. How long will the short covering song keep on playing? The forces that appear to be driving upside here are:
"Long term" shorts covering
People thinking that they could short at $80 - $90 for a handsome profit stopping out on their trades
People buying the stock simply because it's going up
Then, of course, the forces that will eventually drive the downside:
Gutsy/well capitalized short sellers holding/increasing their positions for the "inevitable collapse"
Profit takers (there are now a lot of potential profit takers)
Following an initial drop, investors stopping out of their long trades (probably those who bought near the top and didn't get out)
It is unclear how much more upside is left before the downside drivers kick in (and I'm almost certain that they eventually will - this is unsustainable). This is why I'm still not going to recommend a "short" position, but at the same time, buying up here is also just too risky.
If you've won the "Tesla Lotto", then consider taking some off the table. If you missed the run up, don't chase it. There will be other opportunities in the market with a better risk/reward profile. In fact, if you think that this is overextended and needs a breather, but don't want to risk getting squeezed to death by short covering, perhaps consider shorting via puts.
Conclusion
Too risky to buy here, but too risky to short the common. At a $13B market capitalization, I'm not entirely convinced that there is much in the way of fundamentals propping this up, and instead think that this is probably just the "short squeeze" of the year. Market dynamics have made Tesla Motors a winner, but I would be careful to not confuse said dynamics with fundamental valuation. Don't fall in love with this stock and don't be afraid to take profits - if you got in earlier, don't let them evaporate.
Disclosure: I have no positions in any stocks mentioned, and no plans to initiate any positions within the next 72 hours. I wrote this article myself, and it expresses my own opinions. I am not receiving compensation for it (other than from Seeking Alpha). I have no business relationship with any company whose stock is mentioned in this article.