As many have anticipated, Arena Pharmaceuticals (NASDAQ:ARNA) is surging just a week and a half ahead of the launch of its anti-obesity drug Belviq. The equity has seen an impressive run over the past few sessions and as of this writing is showing potential to test $9.00 per share, a level we have not seen in quite some time.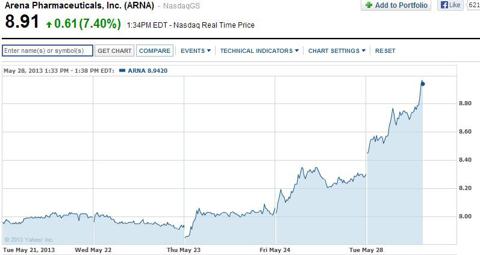 I had laid out that I felt DEA scheduling would allow this equity to form a base at about $8.50. A wrench was thrown into the works with Arena pulling its application from the European market, but finally seems to be back on track.
Long term holders of this equity and savvy traders that got in over the buying opportunities of the past couple of weeks likely have smiles on their faces today. In contrast, those that bet against this pre-launch run are seeing profits evaporate and seeking out a new strategy.
I have stated several times that Arena looks to be a buy at anything less than $8.50. That train has left the station. I am not going to say that it will never be back, but if the launch and early channel checks on sales are positive you may need to catch this equity above $9.00.
A very savvy investor that has the patience to wait may find a few fleeting opportunities prior to launch, and perhaps one or two more chances prior to initial sales results being offered, but you may have to watch the market closely in order to pull the trigger.
As with anything in life there are two sides to every coin. I find that it is prudent to understand the whole equation. There is no secret that there is a substantial short position in Arena. It would be foolish to ignore that. The holy grail is still sales, and indeed there is at least a few weeks before we will get any sense of what initial launch sales will look like. Just as a long investor can buy more shares on a dip, a short investor can short more shares on a pop. The end game is strong numbers and an equity tracking higher as well as holding those gains.
What I like about the action early this week is that the move upward is happening on the strength of high volume. Moves on high volume demonstrate conviction and authority. High volume is a strong statement supporting the move. If Arena can keep rising throughout the balance of the week it will put pressure on the short side of the equation. If a mini short squeeze does happen it is important to remember that the rise as a result of it is not based on a belief in the company, but rather the simple closing out of a position. When any short squeeze buying dries up, an equity typically settles down again before returning to normal moves.
If Arena can announce sales that pace to good growth this equity can begin to reach upward in steps. In my opinion $8.50 is a good foundation with $9.00 being a realistic pre-launch spike. Good sales can have this equity test toward $10, while great sales can see this equity push the envelope of $11. If the launch is outstanding, a 52 week high could be a very realistic target for a new baseline.
The play here is more for active traders at the moment, but you have to be savvy to catch an intraday dip. Stay Tuned
Disclosure: I am long ARNA. I wrote this article myself, and it expresses my own opinions. I am not receiving compensation for it (other than from Seeking Alpha). I have no business relationship with any company whose stock is mentioned in this article.