On May 20th, Chesapeake Energy Corporation's (NYSE:CHK) Non-Executive Chairman of the Board, Archie Dunham, upped his stake in the beleaguered energy giant. According to an SEC form filed on May 21, he purchased 450,000 shares of his company on the open market in multiple trades at prices ranging from $20.77 to $21.14. The recent purchase more than doubled Dunham's stake in the company to 799,138 shares. The form was filed with the SEC just one day after Chesapeake announced Aubrey McClendon's successor, Doug Lawler.
The first question in my mind was, "should I follow Dunham -- Carl Icahn, and Mason Hawkins -- into Chesapeake?"
Dunham, as the Non-Executive Chairman, currently receives no salary or compensation from Chesapeake. A bit of digging into the company's SEC filings revealed that when appointed in June 2012, Dunham "received an initial restricted stock award with a grant date fair value of approximately $500,000 and an annual restricted stock award with a grant date fair value of approximately $250,000 in addition to the annual restricted stock award and other compensation received by all non-employee directors."
Management/shareholder realignment
As they say, insiders sell for a variety of reasons, but there is only one reason they buy. Dunham's recent $9.4 million purchase of Chesapeake shares speaks volumes about his confidence that the company will overcome its present funding gap in one way or another.
Legendary investors Carl Icahn and Mason Hawkins are also unusually confident about Chesapeake's ability to close its funding gap and remain profitable in the face of depressed oil and gas prices. Icahn Capital Management is holding 8.9% of the company's shares. At the end of Q1 2013, the position comprised 7.2% of Icahn's portfolio. Mason Hawkins might shun the sort of attention that Icahn lives for, but he too is known to shake up boardrooms to protect his investments. His fund, Southeastern Asset Management, is holding 13.4% of Chesapeake's outstanding shares. The position comprised 8.2% of the fund's portfolio at the end of Q1 2013.
Chesapeake investors seeking steady returns in the form of dividends should be cheering Icahn's involvement. Earlier this month, he proposed that Transocean (NYSE:RIG) up its dividend by 78% from $0.56 per quarter to $1. At Transocean's recent price of about $52 per share, Icahn's proposed dividend would provide an annual yield of 7.7%. Icahn didn't get his way on the dividend issue, but was able to oust Transocean Chairman Michael Talbert. Sam Merksamer, a representative of Icahn on several other corporate boardrooms, will take his place.
Although there was no mention of dividend distributions during the Q1 2013 earnings call, acting CEO Steve Dixon began his opening comments with promises to return shareholder value, immediately. The company's revamped board is focused on squeezing every drop out of the company's most profitable assets as efficiently as possible.
Let them eat debt
This is a stark contrast to McClendon's approach to increasing shareholder value. The ousted CEO seemed hell-bent on expanding the company's asset base, with complete disregard for the effect depressed gas prices might have on Chesapeake's liquidity.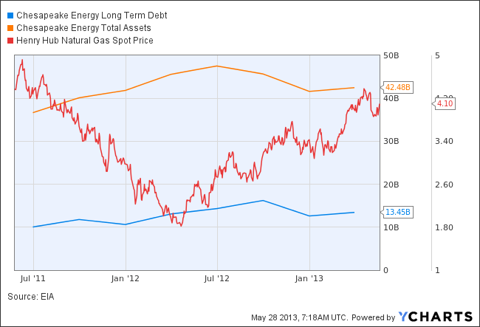 Click to enlarge
As you can see in the chart above, both the company's total assets and long-term debt levels continued to rise despite sinking domestic oil and gas prices. Even as the company was holding record debt levels, McClendon was still trying to convince shareholders that Chesapeake's ability to develop undervalued assets -- which he was incredibly good at -- was going to make them all rich. Take this quote from McClendon made during the Q2 2012 earnings call:
So to drive this important point home, I'd like to reiterate that in first half of 2012, we invested $4.7 billion in our drilling programs. And from that drilling, we created $10.2 billion of future PV-10 proved reserve value. That means that for every one dollar that we invested in drilling in the first half of the year, we found $2.17 of PV-10 proved reserve value. In total that's a margin between finding costs and PV-10 value of $5.5 billion, or about $7 per share of net asset value creation for our shareholders, and that $7 per share value creation in just the first six months of 2012. We believe that's an exceptional performance especially during the six-month period of very low gas prices.
The following quarter, Chesapeake recorded losses of over $2 billion. Even Hawkins, who had previously praised McClendon's ability to "monetize assets at far above cost," turned on McClendon.
Bright, shiny, and now with extra shareholder appreciation
The new fiscally prudent, shareholder friendly Chesapeake is such a reversal of character that in March 2013, it convinced the Oklahoma state legislature to reverse a law that it helped draft in 2010. To reinforce the company's top-down commitment to shareholders, the new board has even reduced directors' pay by 20% and eliminated personal usage of corporate aircraft.
Given the growth at any cost methodology of national oil companies, there is a good chance that Chesapeake will be able to cover its funding gap selling off a fraction of its still enormous asset base. Variations of the word "efficient" popped up 18 times during the last earnings call. I wouldn't be surprised if management had it tattooed to their foreheads. In an industry where the price of your end product is far beyond control, it's good to know that Chesapeake's board is finally committed to fiscal prudence.
Like most investors, I've considered Chesapeake undervalued for just over a year. But after the recent board shakeup and appointment of Doug Lawler to the position of CEO, the company finally looks... investable.
Disclosure: I have no positions in any stocks mentioned, but may initiate a long position in CHK over the next 72 hours. I wrote this article myself, and it expresses my own opinions. I am not receiving compensation for it (other than from Seeking Alpha). I have no business relationship with any company whose stock is mentioned in this article.