Tata Motors (NYSE:TTM) shares have gone from bad to worse since Friday, down almost 14% and falling 10%yesterday to the low $8 range. Tata just posted its first annual loss in seven years but the company didn't say they were going out of business, in fact, this latest sell-off may provide an opportunity to would-be investors on the sidelines.
The consolidated net loss for Tata Motors was $520 million in the year ended March 31, compared with a net income of $460 million a year ago. Year-ago numbers don't include Jaguar and Land Rover, which Tata bought from Ford (NYSE:F) in June 08'.
The Jaguar Land Rover unit had a pretax loss of $376 million as everything fell apart and the world recession killed sales in the U.S. and Europe. Bayerische Motoren Werke AG, the world's biggest maker of luxury vehicles, and Daimler AG, both posted losses in each of the past two quarters as the worst recession since World War II pushed the auto industry into its deepest crisis in decades (data thanks to Bloomberg).
The 5 Day action on Tata Motors shares: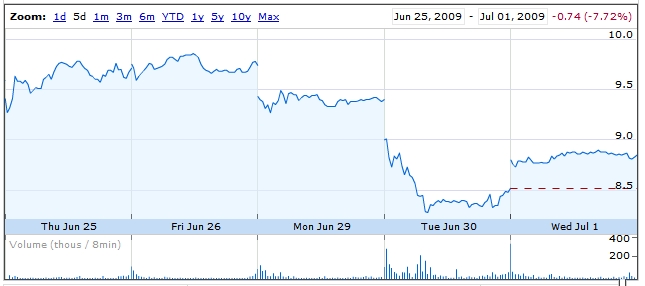 SO WHY TATA, WHAT'S TO LIKE?
Tata Motors is continuing talks with the U.K government to secure a guarantee for a 340-million pound loan approved by the European Investment Bank for Jaguar and Land Rover, Kant said. It has the option to get the guarantee from private banks, he said.
Chairman Ratan Tata is paring investments at the truckmaker by as much as 38 percent this financial year as growth slows in India, the biggest market for its commercial vehicles. Tata will next month begin sales of the Nano, the world's cheapest car, to revive earnings and challenge Suzuki Motor Corp. in Asia's fourth-largest automotive market.
Tata Motors, which bought the Jaguar and Land Rover from Ford in June last year for $2.4 billion, will launch the luxury vehicles in India on June 28. The company's biggest overseas purchase has led to credit-rating cuts by Moody's Investors Service and Standard & Poor's in March as analysts said Tata would struggle to repay debt taken to buy the U.K.-based unit.
"The bridge from the Nano to Jaguar XF is probably the biggest that exists in the industry," Sehgal said. "A $2,500 car and a $100,000 car: no other company in the world has a portfolio that wide."
Now that Tata shares have fallen, the P/E on this stock is under 10 and thanks to all the selling, we may get a chance to buy Tata under $8 a share -- that's where I'm going to bite.
Disclaimer: No positions in any of the securities mentioned in this publication.
SOURCE: http://www.bloomberg.com/apps/news?pid=20601091&sid=aBvCO3I.4pgI