Cisco Systems, Inc. (NASDAQ:CSCO) has attracted a lot of attention recently. The company reported first quarter earnings that blew estimates out of the water and the stock jumped around 10% on renewed investor optimism.
Cisco was once the largest company in the world by market capitalization, however, the company has under performed in recent years as earnings have stagnated and the company has offered almost no returns for shareholders.
Having said that, Cisco has recently taken-off with earnings rapidly expanding and the company's introduction of a small dividend, which it doubled the year after it was introduced. Furthermore, despite its lackluster performance during the last decade, the company has been working hard to stay ahead of the game as well as maintaining a solid balance sheet.
I believe Cisco is a good long term investment, so here is the investment case for Cisco in six charts and one table.
After years of stagnation, earnings are starting to take off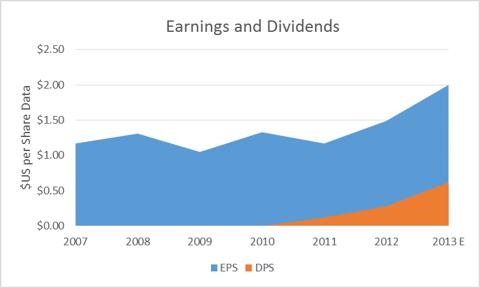 After years of stagnation, Cisco's earnings have really started to take off, boosted by stronger margins and bolt-on acquisitions that keep the company ahead of the game.
Staying ahead of the game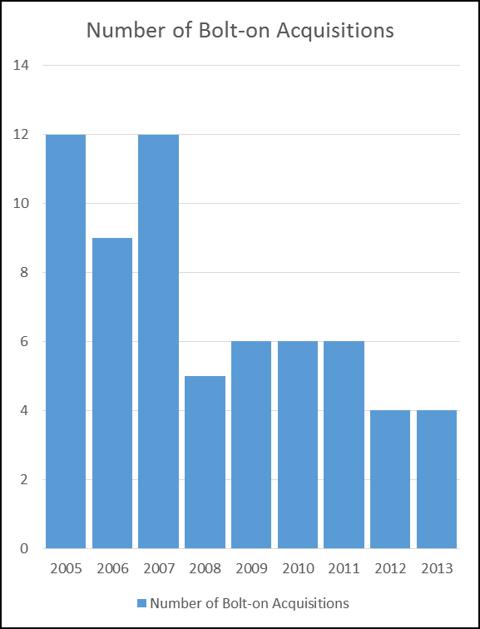 Cisco's stream of acquisitions has kept the company ahead of the game, diversifying into different sectors, industries and higher margin services.
This acquisition strategy is boosted with a strong balance sheet.
Strong balance sheet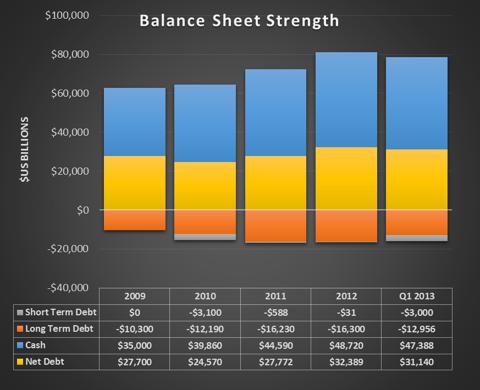 Personally, I believe that Cisco has one of the best balance sheets around, with almost no exception. The company's net cash position has stayed almost constant during the past five years as Cisco's cash pile has grown in line with its debt, despite debt rising nearly 60%. Indeed, Cisco's net cash position is currently worth $8.9 per share.
Elsewhere, short term liquidity is possibly the best in the S&P 500.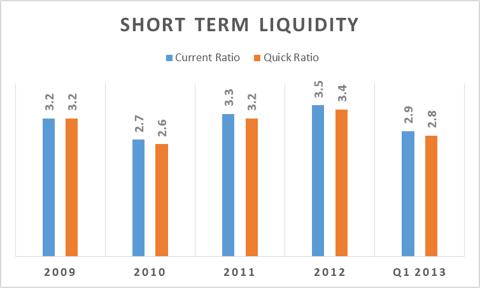 Cisco's current assets have covered current liabilities around three times on average during the past five years, both with and without inventories. This provides the company with a huge financial cushion with which to support itself if the company runs into unforeseen difficulties.
Strong cash generation
The reason behind Cisco's solid balance sheet and short term liquidity ratios, lies in the company's highly cash generative operations. The company has pocketed a gross margin of 61% on its revenues during the past five years. More importantly, this gross margin has stayed almost constant.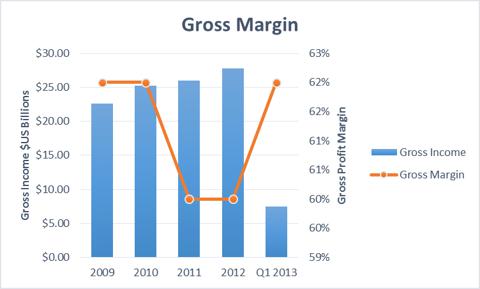 Shareholder returns
While margins average 61% the company's revenues continue to grow and so does not income attributable to shareholders. Moreover, Cisco's management is just starting to return some of its huge cash pile and free cash flow to shareholders.
Cisco paid its first dividend in more than 10 years, to shareholders in 2011. The company doubled its initial payout in 2012 and so far this year it has paid out more in dividends that it did during the whole of 2012. However, these rising dividend payouts have been at the expense of falling stock buybacks but the company is still returning more than 50% of its net income to shareholders.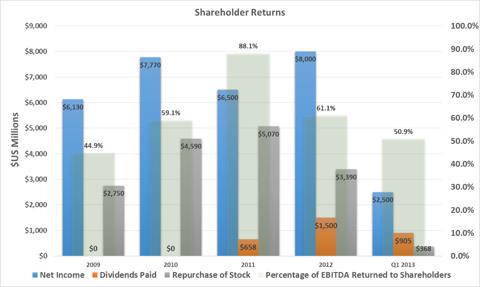 Conclusion
It is true that Cisco has not been the best investment over the past few years, indeed, the share price has moved 0.3% during the past three year period. However, the company is now starting to come alive and its earnings are taking off. A strong balance sheet, wide profit margins and extremely good shareholder returns make Cisco look like a very good investment right now, primed to fulfill its potential.
Disclosure: I have no positions in any stocks mentioned, and no plans to initiate any positions within the next 72 hours. I wrote this article myself, and it expresses my own opinions. I am not receiving compensation for it (other than from Seeking Alpha). I have no business relationship with any company whose stock is mentioned in this article.