By Paul Carton
Jean Crumrine co-wrote this article.
ChangeWave's latest survey presents a mixed picture of the U.S. consumer. Overall spending is still rising in June, but far more shopping dollars are flowing towards the gas tank – leaving fewer dollars to spend on things like consumer electronics items and household repairs/improvements.
So while our June 1-10 survey of 2,708 U.S. consumers points to some improvements in the 90-day outlook, other factors – including higher energy costs – are resulting in a spending pullback within key categories.
To top it off, after the huge gains of recent months, consumer sentiment and expectations have turned decidedly flat.
Overall Spending Still Rising in June
The good news is that one-in-four U.S. consumers (25%) now say they'll spend more money over the next 90 days, up four points since our previous survey in May. While 43% still say they'll spend less, that's also four points better than previously.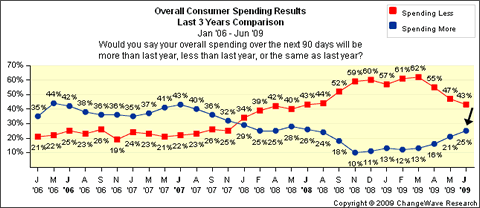 We note that this is the third monthly uptick in a row for overall spending, the longest sustained improvement for U.S. consumers in two years.
But the Picture Weakens Within Certain Key Spending Categories
Despite the uptick, for the first time since March we're picking up a spending pullback within certain key categories.
Although spending on Household Repairs/Improvements going forward remains positive – 33% say they're going to spend more over the next 90 days compared to 16% less – that still represents a net three point decline since May.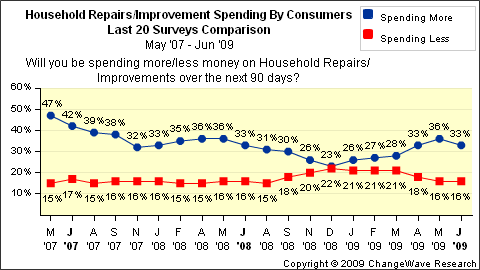 Consumer Electronics is also registering a net two point decline from previously.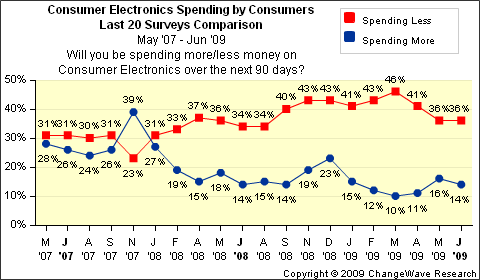 On a brighter note, there are improvements within a couple of individual categories – the most notable being Travel/Vacation (up a net eight points).
While this is partially due to seasonal factors now that summer's upon us, this still contrasts with last year where Travel/Vacation had already started trending downward by summer.
In another bright spot, for the second month in a row Automobiles have registered a small two point spending uptick.
Spike in Energy Cost Concerns
We asked consumers who are spending less to tell us why, and found Higher Energy Costs (11%) have spiked four points as a key concern in just the past month.
Moreover, 38% say their discretionary spending will be lower for the next 90 days because of increased energy costs (5% Much Lower, 33% Somewhat Lower) – a twelve point increase from six months ago.
Consumer Sentiment and Expectations
We also asked consumers about their impressions of the economy, and found that after dramatic improvements in the past two surveys consumer sentiment and expectations have turned decidedly flat for June.
Thirty-two percent of respondents think that the overall direction of the U.S. economy is going to improve over the next 90 days, while 28% believe it will worsen – virtually unchanged since the previous survey in May.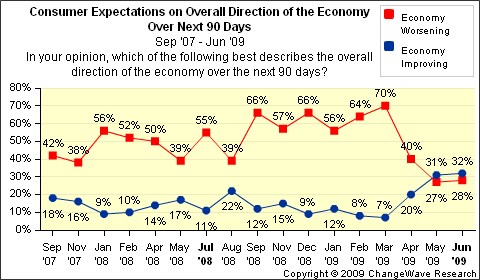 Consumer confidence in the U.S. stock market actually declined somewhat in June, with 44% saying they're More Confident now than they were 90 days ago and 19% saying they're Less Confident – a net four points worse than previously.
Retail Store Trends
In terms of the big retailers, for the third consecutive month we're picking up positive movement for Target (NYSE:TGT) (up 1-pt).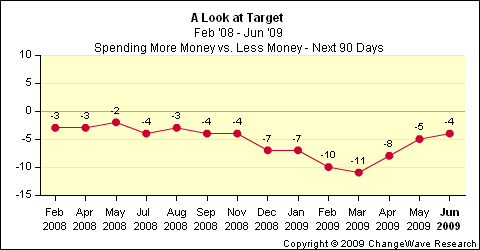 We also note that Wal-Mart (NYSE:WMT) has gained yet another point in this month's survey, even as Costco (NASDAQ:COST) has lost a point.
On the home entertainment front, the retailer showing the most momentum remains Amazon (NASDAQ:AMZN) up one point to 28% - the highest level in nearly three years.
In sum, ChangeWave's June survey presents a mixed picture of the U.S. consumer, with overall spending continuing to uptick but far more dollars being siphoned off due to higher energy costs – leaving fewer dollars for things like consumer electronics items and household repairs/ improvements.
Coupled with a flattening of consumer sentiment and expectations after the huge gains we had picked up in recent months, our June survey results show the road out of recession has gotten bumpier for consumers. This is something we'll be keeping a close eye on in our upcoming surveys.