Barrick Gold Corp. (NYSE:ABX) is within the grip of a brutal private bear market. The stock has plummeted by over $36 since it peaked in September 2011 at $54.36. Each dollar drop has wiped out approximately one billion dollars from the market capitalization. During this time, Barrick has lost its status as the world's largest cap precious metal exploration company.
The success of one era seeds the defining challenge of the next. The boom years between 2003 and 2012, saw Barrick grow revenues at a compound rate of 24% due to historically high gold prices and massive expansions. Presently, the company finds itself in a perfect storm as the execution setbacks in its flagship projects collide with declining gold prices.
The company's struggles in the new era have set the stage for a prolonged period of depressed ABX stock price. However, in spite of this backdrop, we believe that attractive opportunities are shaping up for this stock. Let us examine some of the factors:
Valuation
Barrick possesses truly lasting competitive advantages with low cost mines, market leadership position in a capital-intensive business and insatiable demand for its products. In 2012, the company generated net earnings of $3.8 billion, along with the highest ever operating cash flow of $5.4 billion. However, the recent stock price of around $20 is near the bottom of its own historical valuation range and deeply discounted in comparison to the S&P 500 valuation.
Ratio

ABX

current

ABX

2008 - 2012

S&P 500

current

Price to Book

0.87

0.8 to 3.05

2.47

Price to Earnings

5.6

4.9 to 24.8

19.24

Price to Sales

1.36

1.25 to 6.44

1.49
The stock offers a juicy dividend yield of over 4%. The dividend has steadily increased at a compound rate of approximately 15% since 2003. Going by the 2012 annual report, the dividend is reasonably safe in the near term.
"… we are focused on value creation for our shareholders through higher returns and a strong dividend" - 2012 Annual Report
It appears that the market, in the process of discounting the company's growth challenges, has excessively discounted its competitive advantages and solid fundamentals. The deeply discounted valuation coupled with attractive dividend yield presents a compelling case for accumulation by value oriented long-term investors.
Market Sentiment
A stock may stay undervalued or overvalued for a long period of time. Therefore, we need to combine valuation with short-term predictive factors to analyze suitability for short and medium term investors.
The current market sentiment for the gold mining sector is terrible. Recently, the Gold Miners Bullish Percent Index ($BPGDM) touched the implausible zero percent. There are practically no bulls out there. Unlike George Soros, very few are still buying the mines. From a contrarian perspective, the sentiment indicator is flashing a signal that the gold mining stocks are close to an important bottom.
P&F Chart
The weekly P&F chart corroborates the market sentiment that an important bottom is near for ABX. It is currently displaying a seldom seen pattern. There are only two instances, including this one, that have 10 consecutive 'O' boxes in the chart (Os indicate supply exceeding demand). The first instance occurred in 2008, which was followed by a robust countertrend rally that retraced 50% (5 'O' boxes) or an approximate 35% increase in the stock price before the decline resumed.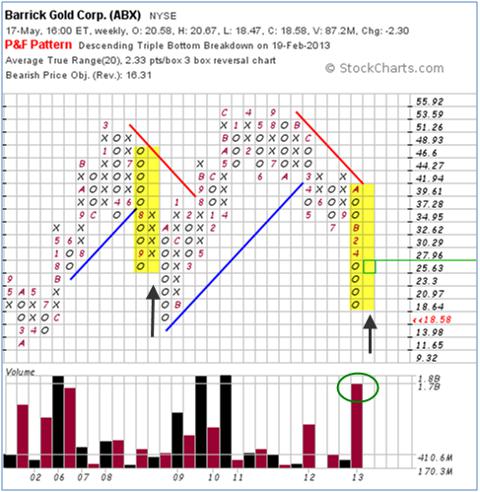 Unlike 2008, where the 'O' line triggered a double bottom breakdown, this time it has as a continuation pattern. The 'O' line has taken the stock hairline close to the downside price objective of $16.31. The volume spike that has accompanied this 'O' line seems to indicate capitulation by the market players. Taken together, it can be cautiously inferred that ABX has already bottomed or is very close to an important bottom.
Conclusion
Bear markets do end and they end quicker than most people expect. At the bottom of a bear market, it is hard to look forward to a recovery. Do you remember March of 2009? It is said that fortune favors the brave who have the courage to bet against pessimism and the patience to wait for their beliefs to play out.
We believe that ABX, at an entry price below $20, offers a convex risk-reward profile with lopsided upside potential and minimal downside risk for both short and long-term oriented investors. In hindsight, it will become obvious that ABX submitted a generational low in 2013.
Disclosure: I am long ABX, GDX. I wrote this article myself, and it expresses my own opinions. I am not receiving compensation for it (other than from Seeking Alpha). I have no business relationship with any company whose stock is mentioned in this article.