With the market hitting highs, there have been voices talking about a correction coming and they're getting louder. Some investors are protecting themselves by building a cash position so that they can load up on a correction. Some investors are wary of "sell in May and go away", but it is "based on analyses of average market performance by month over the past 50 years"[1], plus "the magnitude of the average losses in June and September [is] about -0.2% to -0.5%"[1]. As value investors, we look at individual companies versus the broad market, so let's be more specific. Could the recent pullback in the utilities and REIT sectors be a start to a bigger correction?
Looking closer at specific companies in the utilities and REIT sectors, FAST graphs show they're overvalued. All of these companies' prices are above the historical normalized P/E or P/FFO. So, this pullback in these sectors may just be a healthy dip back to the companies' fair valuation, at which time I would be happy to scoop some shares of these companies I've been eyeing for awhile. The companies include: The Southern Company (NYSE:SO), Wisconsin Energy (NYSE:WEC), Realty Income (NYSE:O) and Ventas (NYSE:VTR). When the price hits the blue normalized P/E or P/FFO line (or get close to it), I would like to initiate a position in these companies.
Southern 10-Year Graph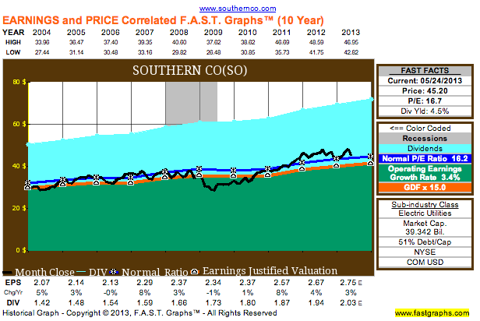 Click to enlarge
(Click to enlarge)
Wisconsin Energy 10-Year Graph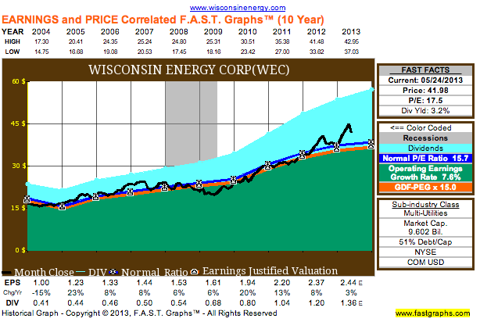 Click to enlarge
(Click to enlarge)
Realty Income 10-Year Graph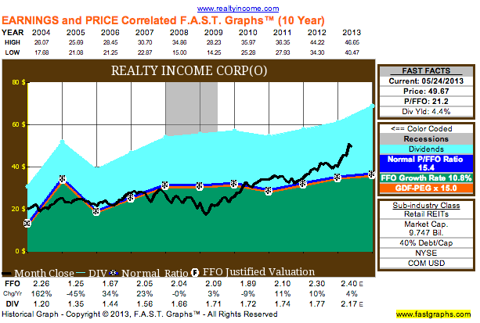 Click to enlarge
(Click to enlarge)
Ventas 10-Year Graph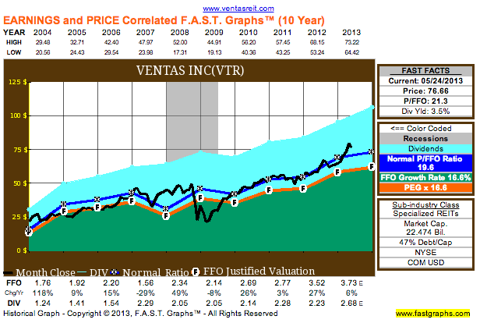 Click to enlarge
(Click to enlarge)
I'm aware that this list is just a small subset of the companies in the sectors I mentioned, and obviously companies need to be analyzed on an individual basis before a purchase. For example, although Digital Realty Trust (NYSE:DLR) is in the generally overvalued REIT sector, the company itself is actually at fair value, and in my opinion, a good buy.
Digital Realty 10-Year Graph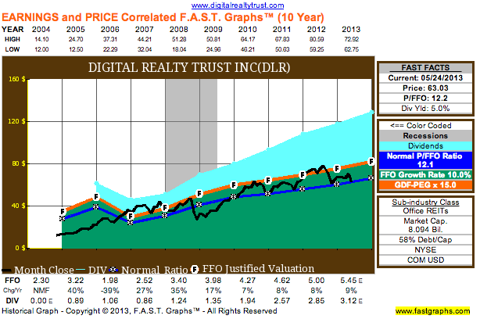 Click to enlarge
(Click to enlarge)
I know some investors have already gotten in or added to their positions in these companies. I don't know for sure that they will get back to fair valuation, but historically they always revert to it, whether it's by a drop in the overvalued price or the earnings catching up. For utilities, which are stable but have slower growth, I'd say a healthy dip due to overvaluation is more probable. If you're already in these companies from a good valuation, there's no need to do anything but collect your growing dividends. But for someone looking into initiating or adding to a position in the utilities or REITs, I would wait until an individual company hits fair value, as currently, there's a margin of danger (we want a margin of safety!) with the above companies (other than DLR).
What to do
There are multiple actions possible and they're not necessarily exclusive. Whatever works for you to be comfortable with your investment portfolio (including a cash position).
1. A prudent investor might refrain from investing new money or reinvesting dividends into an overvalued utility or REIT, so as to build a cash position.
2. Use your dry powder to take partial positions in quality companies which are at a good valuation. Chances are you will find better value in other sectors right now, such as the technology sector.
Conclusion
Some authors have already mentioned that there is value to be found and that the market is cheap (if you can identify gems from rocks). I'm not going to repeat the wisdom that's already been stated. Because there's value to be found, and that the utilities and REITs sectors are overvalued, I believe the pullback in those sectors are healthy dips independent of a possible market correction.
References
1 - No, Don't Sell in 'May and Go Away'
Disclosure: I am long DLR. I wrote this article myself, and it expresses my own opinions. I am not receiving compensation for it (other than from Seeking Alpha). I have no business relationship with any company whose stock is mentioned in this article.