When I first started in the financial business, I was your prototypical, cold-calling retail stock broker. I made the phone calls… pitched the stocks… and tried to give people some decent picks along with good market advice. Most of my clients were small businessmen, working-class retail investors, and housewives (they tended to be the ones at home during the day when you called).
One of my most unorthodox set of clients involved a number of aspiring models, actresses, and dancers who were fortunate enough - and good-looking enough - to be featured in magazines like Playboy and Penthouse. Back then, being Playmate of the Month or Penthouse Pet of the Year was a big deal, unlike in today's society where the magazines are basically also-rans compared to what is available on the internet.
Modeling, dancing, and part-time acting paid pretty good money - when they could get the work - and the girls would make some nice money at certain times (though their income was super-volatile, as one would expect). When they were in the black, they'd save and invest the money. I had the chance via referrals to manage money for some of these women, and they tended to be good clients: no pestering about daily price moves, willing to let positions work out over time, and every now and then with some good ideas about what would make a good investment.
Early practitioners of Peter Lynch's 'invest in what you know' strategy, a lot of the women were into buying the stocks of companies whose products they purchased or stores they shopped at. Clothing, physical appearance, or leisure stocks were the ticket. The girls knew what the companies were about and didn't care about P/E ratios, debt-to-EBITDA levels, or foreign currency translations. If they liked and knew the product, it was a Buy - with some important exceptions, of course. McDonald's, despite its well-known brand, was a no-no: not too many of the girls trying to stay at 105-107 pounds were fans of 1,500 calorie menu items.
What kind of stocks do the glamorous fashion set like to invest in? For a few old favorites and some new ones, read on below:
Allergan (NYSE:AGN): If there is one company that would appeal to young women and those hopeful of turning back the clock, Allergan is that company. Allergan is a specialty pharmaceuticals company with products for eye care, facial and breast aesthetics, and skin care. Its signature product is Botox, which is still showing strong growth. Botox has created a market synonymous with its name (shades of Xerox (NYSE:XRX)) for use as an anti-aging, anti-wrinkle application. Botox is now branching out to therapeutic applications beyond the cosmetic. Allergan also markets a portfolio of products used to treat optical problems including dry eye, inflammation, infection, allergy, and glaucoma.
Total sales were $5.8 billion in 2012, growth of almost 10% in 2012. Botox sales totaled $1.8 billion in 2012, an increase of 12.7% year over year on a constant currency basis. The product represented approximately 31% of total product revenues and nearly half of total revenue growth in 2012. Other products include Restasis (for dry eye), Alphagen and Limgan (glaucoma), and various dermal fillers.
Eye care pharmaceuticals, with treatment options for conditions such as glaucoma and dry eye, represent nearly half of total sales. But Botox has been and will likely continue to be a significant growth driver for Allergan. Allergan is also a player in the facial filler, breast aesthetics, and skin care markets and recently acquired Skin Medica for its physician-dispensed non-prescription skin care.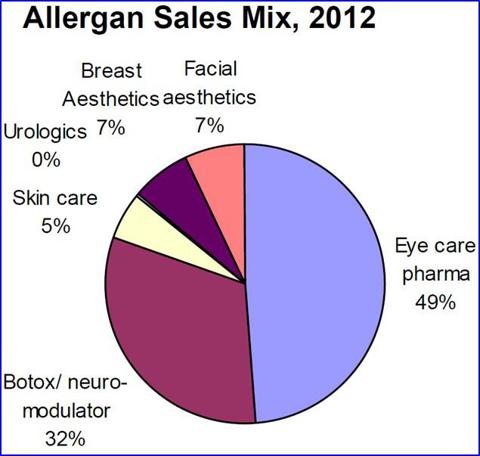 AGN sells at a rich valuation of 21x 2013 consensus earnings, which is down from recent years' rich P/E multiple. The stock came down a few weeks ago when 2013 did not start off well ,with three new drugs encountering delays. This is the kind of misstep that allows one to buy a high-growth, premium P/E company at a bit of a discount and this makes the stock a BUY at current prices, more so in the low-90's.
Phase II drug DARPin for wet acute macular degeneration (AMD) is largely being discounted by analysts. They believe ultimate approval is in doubt, or they believe that because of delays, the ultimate market share is now significantly smaller. So anything from this new eye treatment should be positive since the stock is currently discounting little to nothing. The reduced injection frequency for DARPin for treatment of AMD still holds out the potential for significant market share gains. Juvederm Voluma (a dermal filler), Levadex (migraines) and Botox (crow's feet lines) are all potential 2nd-half 2013 approvals that can boost the stock.
Botox has both cosmetic and medicinal usages (including migraines, and bladder irritation) and is in a strong competitive position given its reputation, safety profile, and name-brand popularity. The company has net cash on the balance sheet and earnings cover interest payments on the modest debt with an interest cover of 25x.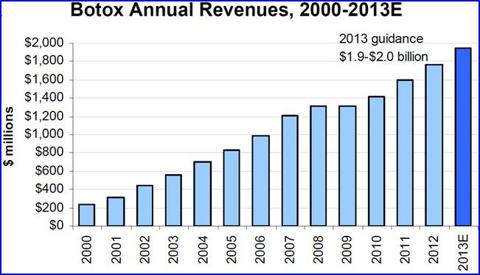 The breast aesthetics segment markets silicone gel and saline breast implants for cosmetic and reconstructive purposes. The Natrelle 410 natural slope-shaped silicone implants were recently approved by the FDA in Q1 2013. This business competes with J&J's Mentor division, which is the market leader. Allergan expects sales for breast implants to grow by 3%-11% in 2013 to $390-$420 million. Allergan has little patent expiration exposure and if it can get its DARPin treatment for AMD approved, this would give considerable upside. Latisse for scalp hair loss would also be a plus in the 2014-16 time frame.
Q1 2013 revenue and earnings narrowly beat the consensus. Revenue and earnings guidance for 2013 were both raised. The stock has gotten hit, down about 15% from the April highs on the new product slowdowns. It is still a richly-valued stock after the drop. However, unless the Botox competitors make significant market share or margin gains at AGN's expense, you want to buy AGN weakness because you rarely get a chance to buy premier growth companies and market leaders at market multiples.
Estee Lauder (NYSE:EL): What could be more natural for beautiful women to utilize - and invest in -- than cosmetics and makeup? Founded in 1946, Estee Lauder sells prestige cosmetics products in more than 130 countries. Brands include Estee Lauder, Clinique, Bobbi Brown, Aramis, Origins, M.A.C., Aveda, La Mer, Jo Malone and Bumble & Bumble. In addition, Estee Lauder is the global licensor for Tommy Hilfiger, Donna Karan, DKNY, and Michael Kors. Through its brands, the company markets over 9,000 products in more than 140 countries worldwide.

Unlike Allergan, Estee Lauder's stock has had a strong Q1 2013 and has moved to a premium to its peer group. Estee Lauder is still a premium growth and ROE company but no longer sells at a discount versus consumer product and household product peers. Estee Lauder has been able to show long-term organic revenue growth at about 6%. EL's diversified product line, growing market share in emerging markets, and high growth in the travel retail channel all bode well for an ability to grow the top line without price increases or margin expansion. However, margin expansion from cost-cutting and favorable purchase mix should add another 300-400 bp. of growth over the next 5 years.
Over 60% of EL's revenue is derived from international markets. A stronger dollar is something to watch for should it shoot up too far, too fast. A 5% move in the U.S. dollar would move EL's earnings about 4%. Estee Lauder's products - because of their reputation and their higher-end clientele among women - tend to have higher pricing power. The travel retail channel would thus negatively impact the upper-income patrons in this niche market, which is almost 11% of EL's sales and 20% of its profit. Global slowdowns to GDP or any threat to air travel (Avian bird flu, terrorism) would severely crimp this segment. EL also has 30% revenue exposure to the Western European region, so any recovery or downturn there will also impact sales and earnings growth.
Estée Lauder is strategically positioning itself for long-term growth by expanding into emerging markets (especially in Asia), faster growing channels (away from department stores and towards specialty/travel retail), and improving the positions of its core brands in the U.S. (e.g., Clinique and Estée Lauder). Aspirational consumption in formerly impoverished areas of South America and Asia, especially among women, is a world-wide trend. Cosmetics purchases tend to be more recession-resistant than big-ticket items like electronics, cars, homes, jewelry, etc.

Organic growth and market share gains will be low-single digits the next few years, but margin and international expansion are the tickets for EL shareholders.
Lululemon Athletica (NASDAQ:LULU): Lululemon Athletica is a yoga-inspired athletic apparel company for women, men, and female youth primarily in Canada, the United States, and Australia. The company was founded in 1998 and went public in 2007. The company has grown from $40 million in sales in 2004 to $1.4 billion in 2012, increasing at a CAGR of 55%. The company has cultivated a loyal and dedicated consumer base, a strong demand for its premium brand and recognizable products, and a 211 store retail chain.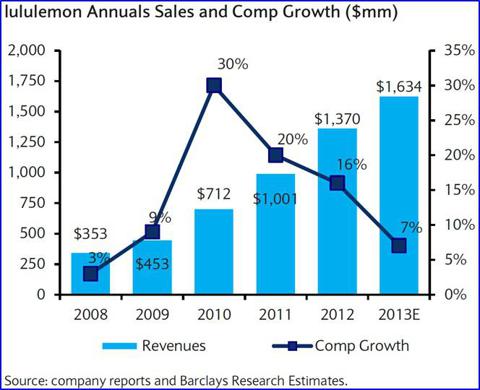 Comp store sales gains have been persistent since 2009, and LULU's stores are among the five most productive in retail (also including Apple (NASDAQ:AAPL), Tiffany (NYSE:TIF), Coach (NYSE:COH) and Michael Kors (NYSE:KORS)) at over $2,000 per square foot. A recent recall on black luon stretch pants was caused by an embarrassing 'peek-a-boo' problem (the stretch-ability of the fabric probably caused many women to buy smaller sizes than they should -- vanity, no doubt!). Replacement product has been slow to get to stores- though it should be resolved by Q3 2013. Although Lululemon is associated with yoga and exercise, one sell-side firm's survey showed that the product had wide cross-appeal: approximately 57% of buyers wear LULU for general fitness, 52% for casual/lounge/weekend attire, 40% for yoga and 32% buy LULU for running.
Lululemon faces many risks to upside growth - large companies like Gap's (NYSE:GPS) Athleta, VFC's Lucy, the ever-present Nike (NYSE:NKE) and Under Armour (NYSE:UA) - and changing consumer tastes. But aside from the pants recall earlier this year, LULU has created a unique women-centric niche and seems to have the wind at its back. Upside comes from increased store openings in the United States, improving comp store sales footage (Canada is running well-ahead of the U.S.), international expansion, new product lines, and improved margin expansion as cost of goods falls relative to total sales thanks to purchasing scale.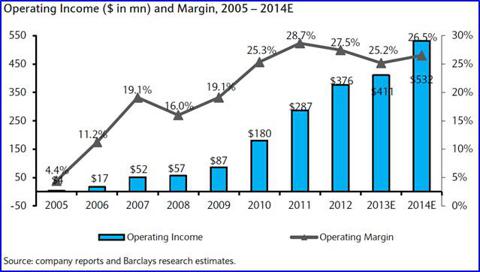 LULU's e-commerce growth continues to grow; while the in-store experience is a major selling point, once women know what they want, they are more comfortable buying on-line and just having to know the color or size as opposed to trying on various styles. The company continues to generate free cash flow, despite the need to invest at this stage in its growth, as operating cash flow has consistently outpaced the annual increase in CAPX.
LULU is not a cheap stock, with an average P/E multiple of 40x since it went public. However, Lululemon's rapid growth over recent years has been largely self-funded as the company has no debt on its balance sheet and has built a solid net cash position that continues to expand. Bringing U.S. stores up to the sales per foot average of the Canadian stores would be an incremental $500 million in revenue. That would help justify the premium P/E for current investors nicely.
L-Brands (LTD): L Brands, Inc. sells intimate apparel, beauty and personal care products through its retail stores and direct channel businesses (catalog and e-commerce). The company's portfolio of brands are anchored by Victoria's Secret and Bath & Body Works.
Victoria's Secret segment sells women's intimate and other apparel, as well as personal care and beauty products under the Victoria's Secret and Victoria's Secret PINK brand names. The Victoria's Secret brand recently developed the new VSX sports apparel brand. The Bath & Body Works segment sells personal care, beauty and home fragrance products under the Bath & Body Works, C.O. Bigelow, White Barn Candle Company and other brand names.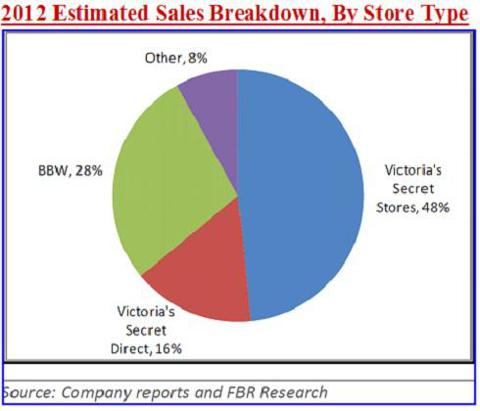 At the beginning of 2012, LTD's U.S. store totals included 1,002 Victoria's Secret stores, 15 PINK stores, 1,587 Bath and Body Works stores, and 19 Henri Bendel stores yielding 2,623 in total. Growth should materialize from international growth overseas, and domestic up-trading into higher margin programs and products.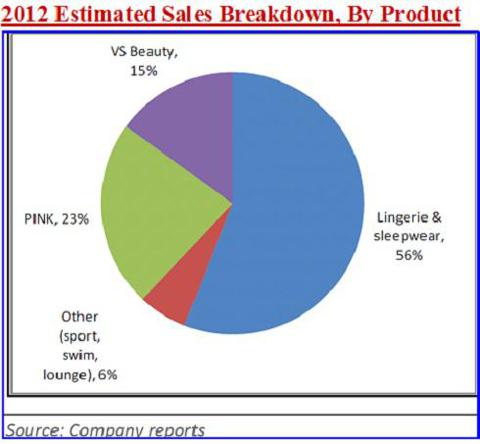 The opportunity for L-Stores is not so much domestic store expansion, which is pretty much saturated, but rising margins as consumers upgrade to more pricey brands offered by Victoria's Secret and Bath & Body Works. For instance, the Victoria's Secret brand recently developed the new VSX sports apparel brand which can compete with Nike, Under Armour, and other sports apparel manufacturers. LTD also targets college-age women with the Victoria's Secret PINK line and then will seek to transition the women into the more mature Victoria's Secret at higher prices. Another opportunity is international expansion, where a growing middle class now is more likely to purchase from the aforementioned named stores rather than cheaper local generic mock-ups.
The dividend yield on L-Brands is now 2.4% but it pays out under 30% of earnings. There is an expectation that Leslie Wexner, founder and controlling shareholder, could substantially boost that going forward. Citigroup analysts believe the dividend could be more than doubled to over 5% by 2016 on a 70% payout ratio once CAPX has peaked in 2014 and begun to fall. The trajectory is not known but sizable increases should materialize over the next few years. LTD could be both a growth and dividend story for the next 3-5 years.
Lorillard (NYSE:LO): Smoking and models, actresses, and centerfolds? Yup. Many of the women in those professions smoke largely because smoking appears to be an appetite suppressant. The girls were concerned with keeping off the pounds and staying thin. Many of the women preferred menthol cigarettes (milder?) and the cigarette of choice for many of the girls I saw smoking was Newport, made by Lorillard.
Lorillard is the smallest of The Big 3 U.S. cigarette manufacturers, with a heavy emphasis on its menthol flagship. The LO cigarette line includes Newport, Kent, True, Maverick, Old Gold, and 34 other smaller niche brands and line extensions. Newport accounts for 88% of LO's annual sales and LO has about a 14% share of the U.S. domestic cigarette market. LO has 38% of the menthol market in the U.S. where it is the dominant brand.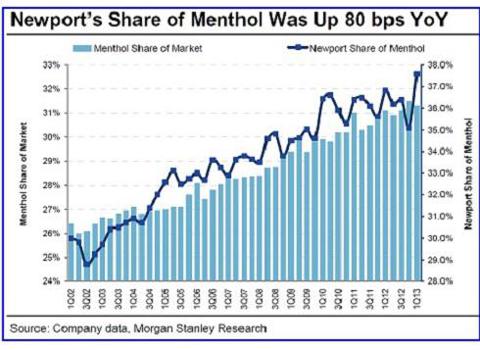 Only LO has made a meaningful entry into the e-cigarette category through its Blu eCig acquisition. Given its smaller size and early lead into e-cigs, Lorillard could see meaningful market gains from this niche going forward. Estimates are that growth is accelerating off a tiny base, perhaps 600 million total sold in Q1 2013 (not even 1% market share against quarterly sales of 75 billion sticks). Though small in the aggregate, for Lorillard they are incremental revenue and profit boosts. E-cigs provided $57 million of revenue in Q1 2013 for LO, compared to about $1.2 billion of cigarette net revenue. FDA regulation of menthol and slow acceptance of 'substantial equivalence' products continue to hamper LO's relative valuation to Altria Group (NYSE:MO) and Reynolds American (NYSE:RAI).
While an outright FDA ban on menthol is unlikely, just the continued review and threat of prohibition of line extensions has depressed the valuation of LO relative to Altria and Reynolds. Closure on that should help with a re-valuation upward. Another positive is that LO just announced an additional $500 million share buyback on top of the earlier one from a few months ago, which already saw $149 million in stock purchased in Q1 2013. The combined $1 billion in buybacks may be finished close to year end, which should boost the share price and EPS going forward. Q1 results for LO were improved from earlier quarters, as the pricing environment has improved (less coupon activity and discounting by Altria) and Newport took share sequentially and YoY.
Other good news in Q1's results were a series of 1-time events have begun to recede in their impact, as I had expected in an earlier article. So margin expansion in 2013-14 is likely and Q1 2013 saw per-pack costs down 2.7% while operating profit per pack was up 10.9%. Newport took share in both menthol and non-menthol.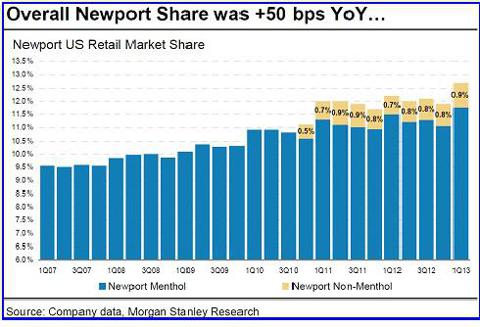 Lorillard is paying out about 70-75% of cash flow as dividends, using its strong balance sheet to take up leverage via the buybacks that should continue through 2015. LO also increased its quarterly dividend by 6.5% last quarter and the shares now yield 5.0%. While valuation is not cheap, if anything negative materializes from the FDA with menthol, the kicker could be if Lorillard were to be acquired by a buyer for its Newport brand.
So there you have it: Five stocks from five different sectors that should appeal to the Lauren Hutton crowd. In terms of which to pounce on today, AGN has fallen on the product delays and should probably lead your entry points with LO right behind given its defensive characteristics and dividend yield. LULU, LTD, and EL have all been strong performers in recent weeks and months so scale in gradually. Of course, the overall market has been strong, so falling stock prices during the next correction (assuming we ever have one) should cheapen up the entire group. But with the exception of LO, don't expect to buy any of these stocks at discount prices or cheap multiples relative to the S&P 500.
After all, as any woman can tell you, beauty doesn't come cheap.
Disclosure: I have no positions in any stocks mentioned, and no plans to initiate any positions within the next 72 hours. I wrote this article myself, and it expresses my own opinions. I am not receiving compensation for it (other than from Seeking Alpha). I have no business relationship with any company whose stock is mentioned in this article.