Yesterday we had 22 new 52-week lows versus the 428 new 52-week highs set. Yes it was another up Tuesday which brought the streak to 20 straight Tuesdays higher which may or may not sound all that impressive, but it truly is. We have gone nearly a half a year without a single down Tuesday and that we do find impressive and believe that when put in those terms hardly anyone could argue otherwise.
Economic news will pick back up tomorrow through the end of the week, so that will be something to keep in mind when setting up one's risk portfolio going into the close today.
Chart of the Day:
Have we been building another base upon which to move higher from on the Nasdaq Biotech Index? We would bet so and with some of the big boys now hitting fresh 52-week highs and/or new all-time highs we think a move to test 2,000 shall happen sooner rather than later.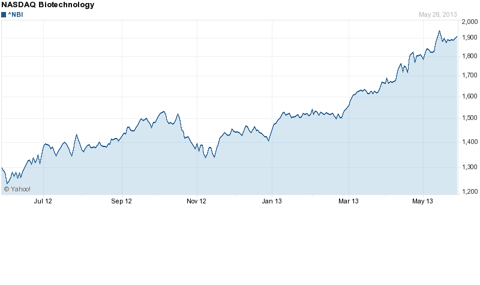 Click to enlarge
Chart courtesy of Yahoo Finance.
We have economic news due out today, and it is as follows:
MBA Mortgage Index (7:00 a.m. ET): N/A
Asian markets finished higher today:
All Ordinaries -- up 0.17%
Shanghai Composite -- up 0.12%
Nikkei 225 -- up 0.10%
NZSE 50 -- up 0.22%
Seoul Composite -- up 0.75%
In Europe, markets are lower this morning:
CAC 40 -- down 1.09%
DAX -- down 1.03%
FTSE 100 -- down 1.18%
OSE -- down 0.47%
Retail
Want further evidence that Japan is back? Look no further than the comments from Tiffany & Company (NYSE:TIF) yesterday where they broke out their sales and highlighted the comp beats in large Japanese cities. When you are in the double digits it is impressive, when you are in the 20s, it is that much more impressive. The stock moved up nearly 4% on the news and we think that this might very well be a good barometer for measuring how the wealthy feel about spending money, both here and abroad so we want to pay attention to this name moving forward and track it against our economic predictions.
Automotive
Talk about a supercharged coupe, Tesla (NASDAQ:TSLA) is beginning to remind us of a sports car that is off to the races. Yesterday we mentioned the fact that stocks which break above $90/share have a tendency to break through $100/share and we were fully prepared to update readers with the $100/share to $110/share talk once we saw the century threshold broken. However yesterday the shares took it all out in one fell swoop and after this latest spike we are now forced to look towards the $120/share level. We had a reader argue the other day that share price does not matter and it is all based upon market capitalization...well yes and no. These psychologically important thresholds have led to higher levels time and time again when they are breached and that is regardless of market capitalization. There are investors out there who made fortunes trading on this alone, even the great Jesse Livermore. With the shares having risen $13.25 (13.65%) to close at $110.33/share on volume of 19.6 million yesterday it sure looks like the shorts are getting chased out, but the higher this goes the more compelling a short it becomes, so who is to say that new shorts are not entering the play? There may be another wall to climb before bulls face a correction.
Parabolic is the only way to describe the price action in this chart.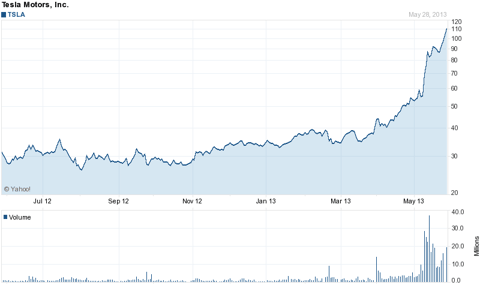 Click to enlarge
Chart courtesy of Yahoo Finance.
Biotechnology
For our readers who are big in the biotech sector, we would like to point out the rallying obesity drug names Arena Pharmaceuticals (NASDAQ:ARNA) and Orexigen Therapeutics (NASDAQ:OREX). Arena has been moving up as the launch date for Belviq approaches and investors get excited about the potential for the company's flagship drug which is considered the safest option in the weight loss drug category. We are keeping our expectations low and looking for a launch which is not heavily front loaded, but instead structured more like a typical growth curve with word of mouth and doctor visits pushing the curve higher over time after the initial launch. Watch both names as a successful launch over the next few months for Arena will only be good news for Orexigen as it demonstrates there is room in the market for more than just one drug and that consumers are willing to switch and experiment with different offerings.
Financials
We recently highlighted the online brokerages discussing how they typically mirror the general market as far as operating performance goes. One of the names we highlighted was TD Ameritrade (NASDAQ:AMTD) which we personally use for a few of our accounts and have made money investing in in the past (via predecessor companies and TD Ameritrade itself). Yesterday shares of Ameritrade rose $1.26 (5.63%) to close at $23.65/share with volume surging to 8.1 million shares as the company hit a new 52-week high. We continue to like the story in the brokerage business, especially as the market continues to rise and the global economy appears poised for a turnaround and would recommend that investors keep a portion of their non-risk capital in this area.
Readers have already made 10% in the name, and should market conditions remain intact, we could see another. Currently we are looking for $26/share.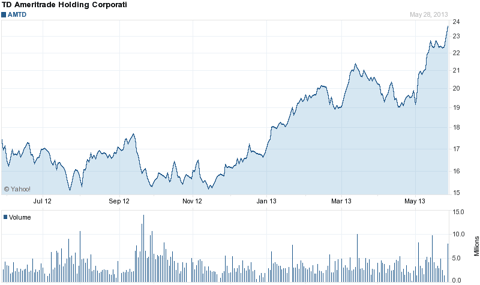 Click to enlarge
Whereas the above chart only shows the story for the last year, this five year chart shows exactly why this is such a big story. Can you say breakout?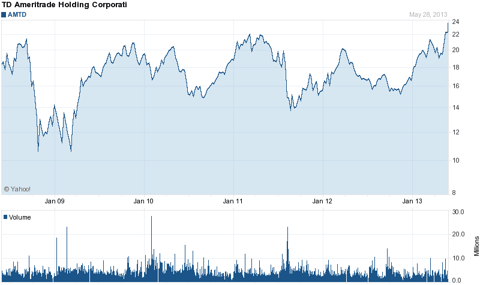 Click to enlarge
Charts courtesy of Yahoo Finance.
Disclosure: I have no positions in any stocks mentioned, and no plans to initiate any positions within the next 72 hours. I wrote this article myself, and it expresses my own opinions. I am not receiving compensation for it (other than from Seeking Alpha). I have no business relationship with any company whose stock is mentioned in this article.