One of the key focuses of Sirius XM's (NASDAQ:SIRI) growth going forward will be derived not from new car sales, but rather the secondary market. While new cars deliver 10 to 11 million satellite radio trials each year, the secondary channel is quickly catching up. I estimate that within the next 3 years the contribution in free satellite radio trials in the secondary market could eclipse that of the new car market. Carmax (NYSE:KMX) will be an integral part of assessing the secondary market for Sirius XM investors.
At the moment Sirius XM has over 9,000 used car dealerships signed up for participation in the free trial program. Industry data reveals some very interesting information about the secondary market:
There are approximately 18,000 franchised auto dealerships that sell both new and used cars. Essentially, Sirius XM has a relationship with well over half of them.
Last year approximately 13 million used cars between 0 and 6 years old were sold. Sirius XM was installed in 33% of new cars in 2007 and is now installed in about 67% of new cars. Between 2007 and 2012 new car sales stood at 78.5 million with 42.7 million of those cars being satellite radio equipped. It would appear that 65 million cars from that group remain with their original owners while some 13 million have been sold in the secondary channel. Essentially, 54% of these cars have satellite radio. This number will grow.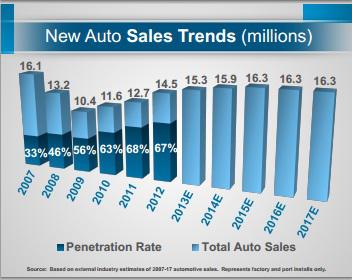 The point above is supported by an advanced search of the Carmax website. The company currently has an inventory of 34,680 cars. Of that total, 17,719 are equipped with satellite radio. That equates to about 51%. This is the first time in quite some time that the percentage of satellite radio equipped used cars has gone over the 50% mark.
Carmax sold approximately 448,000 cars last year with a focus on late model cars that are 0 to 6 years old. As large as Carmax is, it represents 3% of the market. The company is, however, a big enough sample to assess what is happening in the used car channel.
Some example of how Sirius XM investors can gauge the used car channel via Carmax:
Understand the Carmax inventory and how many cars are equipped with satellite radio. Extrapolate that number across the other 97% of the market.
Understand that Carmax, as a partner to Sirius XM, is selling about 120,000 used carts per quarter and that 60,000 of those will have free trials to Sirius XM. Essentially, Carmax is putting satellite radio in front of about 20,000 consumers each month for a total of almost 250,000 per year.
Investors can monitor the used car penetration and see it grow as the quarters pass.
Sirius XM estimates that there will be 100 million satellite radio equipped cars on the road by 2017. That represents an impressive 40% overall penetration. To put that in context, current penetration is 24%.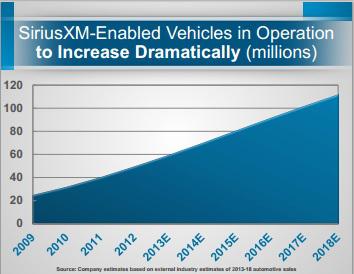 Sirius XM has placed an emphasis on the used car channel. The reasoning is simple. There are more and more used cars in the channel that are equipped with satellite radio. In the last 2 years the company has gone from just over 100 participating used car dealerships to over 9,000.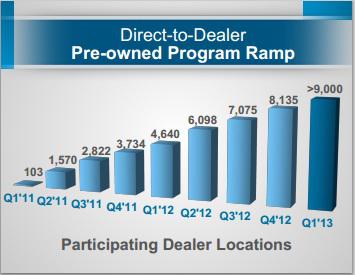 During the annual meeting of shareholders earlier this month Sirius XM outlined some very specific priorities for 2013. We did not see increasing EBITDA, increasing free cash flow, and reducing churn as priorities. We saw growth initiatives and quality initiatives such as delivering the best audio programming, continued innovation, the long term connected car strategy, customer service and satisfaction, and Growing The Secondary Market.
For investors this should be welcomed news. If the company is able to accomplish these core goals the EBITDA, free cash flow, and churn will be fine. The environment in audio entertainment is more competitive than ever. Sirius XM is seeing a used car channel increase exponentially at just the right time. More and more people will get to try satellite radio. The product is improving through innovation, and the company is keen on keeping top notch content.
While Sirius XM has not been very transparent on the used car channel there are other sources investors can rely on to stay one step ahead of everyone else. Use the public filings and business model of Carmax to fill the data needs that will keep you on top of this investment like no other. Stay tuned!
Disclosure: I am long SIRI. I wrote this article myself, and it expresses my own opinions. I am not receiving compensation for it (other than from Seeking Alpha). I have no business relationship with any company whose stock is mentioned in this article.
Additional disclosure: I have no position in Carmax.