With Goldman Sachs lowering the estimates on the metals markets and utilities coming under pressure over the past month and getting tons of negative press yesterday it appears our move into energy via oil and natural gas as well as uranium has paid off. We think energy is a multi-year play and also believe that it will lead to us being able to rotate back into metals at some point to enjoy profits there as well.
So today we want to update readers on some of the recent moves in the industry as well as what we see ahead for some of the names we have highlighted for you recently.
Chart of the Day: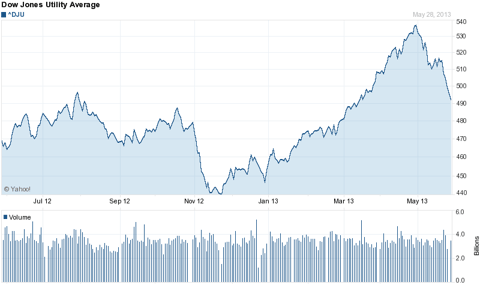 Click to enlarge
Chart courtesy of Yahoo Finance.
Commodity prices this morning are as follows:
Gold: $1382.00/ounce, up by $3.10/ounce
Silver: $22.18/ounce, down by $0.013/ounce
Oil: $94.58/barrel, down by $0.43/barrel
RBOB Gas: $2.8409/gallon, down by $0.0119/gallon
Natural Gas: $4.148/MMbtu, down by $0.026/MMbtu
Oil & Natural Gas
So who continues to hit new 52-week and all-time highs do you ask? Well PDC Energy (NASDAQ:PDCE) of course. We have successfully traded in and out of it over the past few months and made readers aware of these trades as we did them so this should be a favorite of many readers with the gains which were pocketed, and for those who have decided to treat it as a long-term investment rather than trading it then you have done extremely well and far outpaced the market over the past few months. We have tried to be a voice of reason here with the stock over time because there are a few hurdles it must still navigate successfully and in the next few months investors will find out exactly how well the company has been doing with that.
One recent name we threw out there for readers as a trade based on technicals and underperformance was Kodiak Oil & Gas (NYSE:KOG) and the stock has done exactly as it has in the past and used its momentum to create a step-up program out of its historical resistance and support levels. That is part of the story for the success of the trade, with the other parts being that oil has been moving higher and transportation costs out of the Bakken have been abating as well, although there is still considerable room for improvement. With the shares moving over the $9/share level yesterday and volume in the 5 million share range, we are now focusing our attention upon $10/share to see if this rally has legs. We also recommend implementing a relatively tight stop for those with capital at risk here in case we break back below $9 or even $8.80/share.
Although we are running out of great ideas in the sector, we do recognize that we could soon have a whole new list of names to chose from depending upon how the regulators and lawmakers look at the exporting of natural gas to places like Europe, Japan and Asia. The whiff of changing viewpoints on this has caused natural gas prices to rise as the Obama administration has indicated a willingness to move forward with the idea based on recent actions and this has been most bullish for the natural gas names. Our recommendation? Well until we see real exports and a firming of the price to a point where new supply will not further flood the market and depress prices we want readers to stick to the currently profitable and healthy names, such as Cabot Oil & Gas (NYSE:COG). It set a new 52-week high yesterday closing at $72.49/share and looks poised to be a big winner should we see natural gas prices reinflate due to their low cost and high margin Marcellus assets.
Another company we are mildly interested in and a much more speculative play at this point is Talisman Energy (NYSE:TLM), a serial underperformer if there ever was one. We owned this stock years ago and actually had two of our oil companies purchased by them, so even though the shares underperformed peers when we owned them, we still have fond memories of the gains we made there. That aside the company's new plan to operate within cash flow and not pile on debt to target the liquids and oils they neglected when they shifted towards natural gas shale plays could pay off handsomely and allow the company to build a healthy balance sheet while adjusting their production mix just in time to participate in the next natural gas shale boom. Exports are key here and if more export capacity is not added then we want nothing to do with these names, but if capacity is continually added over the next few years then Talisman is a cheap name to add and a great way to get some 'safe' leverage.
Utilities
We have watched the utilities over the past few months and used their strength to provide proof that our thesis of new investors entering the market and providing the required capital to push the market higher was in fact happening. Now the talking heads are worrying about the rally here and looking at the bond market as a reason these shares are falling. We find that silly and think that it is a calming of the animal spirit as the smart money finally moves out because the yields have compressed and there is little hope that these dividends can be raised anywhere near as much as others. Names such as Exelon (NYSE:EXC) fell hard yesterday on this worry of investors rotating into bonds and in Exelon's case an analyst downgrade from Deutsche Bank. Who would want to own a bond these days when you can own a stock which pays far more in yield and has the potential to appreciate? It is a no brainer when you look at the real inflation rate and recognize the purchasing power lost! The rally is not over and utility stocks shall continue to rise with the general market, albeit at a slower pace until the power consumption picks back up due to economic growth.
Disclosure: I have no positions in any stocks mentioned, and no plans to initiate any positions within the next 72 hours. I wrote this article myself, and it expresses my own opinions. I am not receiving compensation for it (other than from Seeking Alpha). I have no business relationship with any company whose stock is mentioned in this article.