Introduction:
In a previous article I highlighted E.I. DuPont de Nemours & Co (NYSE:DD) as a company that derived a portion of its profits from the agriculture segment of the economy. Although DD may have been a global conglomerate at one time DD's agriculture division is quickly evolving it into an agricultural company and I wanted to highlight this internal change by DD. The percentage of company revenue derived from agriculture is continually growing. Of DD's 7 divisions only 3 have shown year over year increases in income and of those three only one, Agriculture, has year over year increases of greater than 6%. The agricultural division increased Q1 income year over year by over 13%. If DD wants to capitalize on future growth potential I believe they should continue to focus on its agriculture.
Background:
DD did a nice job of emerging from the economic recession in the US as you can see by the rebound to normal in both its revenue and stock price. When you look at DD's revenue and net income numbers from the last 5 years though you start to see a developing story. DD is clearly hitting a wall as far as its growth value is concerned. DD has fluctuating profits due in part to sensitive divisions that experience large cyclical swings in demand such as its titanium dioxide offering from its performance chemicals division. Last quarter this division contributed $251 million dollars in income which was down $320 million dollars year over year for Q1. These revenue fluctuations are symptomatic of companies that are hitting revenue ceilings and in fact looking at DD's latest quarterly earnings statement you can start to arrive at this conclusion yourself.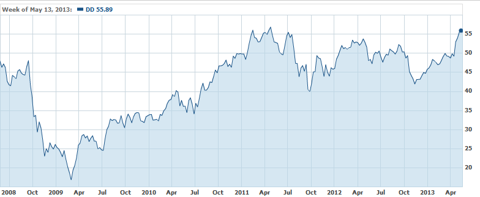 Click to enlarge
| | | | | | |
| --- | --- | --- | --- | --- | --- |
| | 2008 | 2009 | 2010 | 2011 | 2012 |
| Revenue | 30.53B | 26.11B | 31.51B | 37.96B | 34.79B |
| Net Income | 2.01B | 1.76B | 3.03B | 3.47B | 2.47B |
| EPS | 2.20 | 1.92 | 3.28 | 3.68 | 2.95 |
On the surface DD may look like a floundering company, and although certain divisions are struggling to find growth and seem to be a drag on company earnings the agricultural division is definitely not one of those divisions that is struggling. DD is not just an agricultural story; it is also a solid source of dividend income for investors. DD just recently increased its quarterly dividend payments to investors by almost 5% and it currently yields 3.2% annually.
Agricultural Income:
DD would be wise to focus on this division especially considering the growing demand for agricultural products from developing countries. According to most estimates the world's population is expected to hit 8 billion somewhere around the year 2022. This increased head count coupled with the growing affluence of populations in developing countries will lead to significant demand increases for food and food products. As you can see DD is already experiencing increased demand for its products in a year over year basis.
| | | |
| --- | --- | --- |
| Q1 2013 | Q1 2012 | Y/Y Increase |
| $1516 | $1338 | $178 |
This increase in profit was due in part to the drought that hit the American heartland last year. DD saw a 14 percent increase in corn seed sales in the first quarter in North America and Brazil. The drought last year demonstrated the need for drought resistant seeds. This bodes well for DD's genetically engineered seed offerings. In Q1 2012 the agricultural division's income represented 54% of DD's total income for the quarter. In Q1 2013 it has increased and is now responsible for over 66% of total income for the quarter.
Other DD Divisions:
Prior I talked about the lack of growth in DD's other divisions. Here is a table showing the lack of year over year growth for Q1.
| | | | |
| --- | --- | --- | --- |
| Division | Q1 2013 | Q1 2012 | % Increase |
| Electronics & Communications | 49M | 59M | -17% |
| Industrial Biosciences | 41M | 39M | 5% |
| Nutrition & Health | 76M | 79M | -4% |
| Performance Chemicals | 251M | 571M | -56% |
| Performance Materials | 292M | 277M | 5% |
| Safety & Protection | 138M | 159M | -13% |
As you can see DD's other division's struggled year over year to increase its income.
Summary:
Based on my findings it is clearly apparent that if DD hopes to grow its revenues over the long term its best bet is to focus on its agricultural division. DD may have been labeled a global conglomerate in the past but they are quickly morphing into and agricultural centric company. They would be wise to embrace this change. Please comment in the section below and let me know what you also are starting to think of DD as an agricultural company.
Disclosure: I am long DD. I wrote this article myself, and it expresses my own opinions. I am not receiving compensation for it (other than from Seeking Alpha). I have no business relationship with any company whose stock is mentioned in this article.