Considerable attention is paid to high-yielding stocks, particularly companies classified as dividend aristocrats. In this analysis 31 dividend aristocrats are ranked based on performance over the past three and six months. For comparison, three high-performing sector ETFs are included as well as Vanguard's Total Stock Market ETF, VTI. These four ETFs serve as performance benchmarks for the individual stocks.
Stocks and ETFs are ranked using a weighting system where 50% is apportioned to the most recent three-month performance, 30% is allocated to the last 182-days performance, and the final 20% is parceled out to volatility. Lower volatility is rewarded. While the top three positions are captured by dividend stocks, the healthcare ETF, VHT, comes in number four. JNJ, WAG, and GPC are the top three stocks based on the above criteria. Note the great performance of WAG over the last six months, but growth slowed significantly over the last three months causing the momentum to drop to nearly -60%.
The table also includes directional indicators. In the right-hand column is something called momentum. The stock with the greatest momentum is AFL with ITW coming in second. The three columns under EMA Period tell readers if the price of the security is above or below its 195-Day, 34-Day, or 13-Day Exponential Moving Average.
Here are a few reference articles for investors interested in momentum investing.
The Basic Portfolio by Varan. Instead of using commission free ETFs from Fidelity, I primarily use commission free ETFs through TDAmeritrade. Some of you may want to go directly through Vanguard.
Seeking Alpha: Momentum Investing With ETFs? As suggested by the author, read the first article above before reading this one.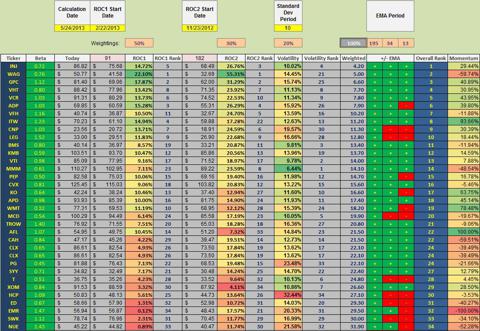 Disclosure: I am long VTI, VFH, VHT, PG, SYY. I wrote this article myself, and it expresses my own opinions. I am not receiving compensation for it (other than from Seeking Alpha). I have no business relationship with any company whose stock is mentioned in this article.