I first wrote about Boyd (NYSE:BYD) in February 2013, claiming it was time to go long based on Boyd "having an in" at the Borgata in Atlantic City. Boyd was trading at $6.35 at the time. Since then, Boyd has been up almost 100%. In the last three months, it's been up 95% and in the last year it's been up 69.4% - not a bad day at the office. It's been a great few months for owners of Boyd stock.
Boyd gaming owns a 50% stake in the Borgata; Atlantic City's premier casino. Anyone who's ever been there understands why Borgata is the best bar none; "Located at Renaissance Pointe in Atlantic City, Borgata Hotel Casino & Spa features 2,000 guest rooms and suites; 161,000 square feet of gaming; 182 gaming tables; 3,475 slot machines; an 85-table poker room; 11 retail boutiques; 6 acclaimed fine dining restaurants by renowned chefs; 6 casual dining options; a 54,000 square foot spa; 70,000 square feet of event space; 4 signature nightlife experiences; and parking for 7,100 cars. The resort also features Atlantic City's first cosmopolitan hotel experience, The Water Club at Borgata, with 800 guest rooms and suites; a 36,000 square foot spa; 18,000 square feet of meeting space; 6 designer retail boutiques; and 5 heated indoor and outdoor pools."
From Boyd's website: "Founded in 1975, Boyd Gaming Corporation is one of the largest and most successful casino entertainment companies in the United States. We currently own and operate 22 gaming properties in eight states - Nevada, New Jersey, Illinois, Indiana, Iowa, Kansas, Louisiana and Mississippi. One of the most respected names in the gaming industry, Boyd Gaming prides itself on offering guests an outstanding entertainment experience, all delivered with the unrivaled attention to customer service that is known as Boyd Style."
Current Analysis of Boyd & What's New
CalvinAyre.com gives us a breakdown of Boyd's most recent quarterly results:
US casino operator Boyd Gaming Corporation reported a net loss of $7.3m in Q1 2013, compared to a net profit of $5.9m in the same period a year ago. Analysts had expected much worse, however, and the 'good' news was enough to push Boyd stock up nearly 23% to $10.98 on Wednesday. Boyd, which operates wholly owned gaming facilities in seven US states and owns 50% of the Borgata casino in Atlantic City, saw Q1 revenue rise 16.4% to $737m. Much of the red ink is attributed to tax and interest expenses related to Boyd's $1.45b acquisition in November of five Peninsula Gaming properties.
Boyd is still a buy, even after its recent run, for these two reasons:
1. They Haven't Even Tapped Online Gaming or In-Room Gaming Revenues Yet
Boyd is positioned to take advantage of online revenues and revenues from their In-Room gaming system they are rolling out at the Borgata. A recent NJ.com article talks about online gaming becoming inevitable across the US:
"It's no longer a question of if Internet gaming is coming; it's a question of when," said Frank Fahrenkopf, president of the American Gaming Association, the trade organization for the nation's commercial brick-and -mortar casinos. "Unless there is a federal bill passed, we are going to have the greatest expansion of legalized gambling in the United States. I don't think that's what anyone intended, but it is what we're seeing."

The brave new world for gambling brings with it a host of questions and concerns. Will letting people bet online result in fewer visits to casinos, and therefore fewer dealers, beverage servers and hotel and restaurant workers at the casinos? Will Internet bets create a new revenue stream from new players, or will it simply redirect money from gamblers who otherwise would have visited a casino, and might have eaten dinner and seen a show, as well? And will it create even more problem gamblers?
In a post-earnings conference call, Boyd's CEO made it clear that he expected the Borgata to be one of the first in New Jersey to apply for an online license for gambling. Boyd, along with MGM has entered into a partnership with Bwin.party digital entertainment. Boyd's CEO stated several times that he was confident that Boyd was going to be one of the forerunners in the online gambling business, a business that could prove to yield hundreds of millions in new revenue for Boyd in the coming years.
My bullish sentiment coming into this article on Boyd was based a lot around it having a stake in the Borgata. Boyd's Q1 earnings call showed us that the Borgata is going to continue to act as catalyst for Boyd. I noted in my last article that revenues would be hit by Hurricane Sandy, along with everyone in A.C., and that Boyd would bounce back. In Boyd's Q1 earnings call, their CEO echoed that sentiment:
At Atlantic City, the Borgata team is making great progress recovering from the effects of Superstorm Sandy and ongoing competitive pressures throughout the Northeast. Borgata remains the clear market leader and outperformed the competition in Atlantic City in every metric in the first quarter.
He also noted with regards to online gaming:
We're also quite optimistic about the potential of the emerging domestic online gaming market. We intend to be among the first that offer online gaming in the state of New Jersey and are confident that the Borgata brand will allow us to capture substantial share of this lucrative market. We are evaluating the opportunity to offer online poker in Nevada as well and are determining the best way to enter what is shaping up to be a robust, yet crowded market.
2. Boyd's Cash Position is Stronger
Recently, Boyd has sold assets for more than $400 million in cash, bolstering their balance sheet. They acquired Peninsula Gaming, which is yielding them $134 million in revenues, bolstering both the top and bottom line. Also, again, they're actively pursuing online gaming revenues. Jonathan Verenger does a "back of the napkin" valuation of what the online gaming sector could be worth for Boyd's balance sheet:
If the NJ market plays out like the US online poker market in the mid 2000s, then it is reasonable to assume that the Borgata could generate up to $600 million in annual revenues from online gambling (or 40% of Dennis Farrell's estimate of $1.5 billion). Half of that would go to BYD, which means a potential boost of up to $300 million in annual revenues, assuming Mr. Farrell is correct (at the end of this article, however, I use a lower estimate to be conservative). Keep in mind the margins that online gambling possesses are far greater than traditional casinos, so a large chunk of these revenues will flow to the bottom line. For example, in 2009 Pokerstars was producing an estimated 35% net profit margin.
From the period of December 2012 to March 2013, Boyd significantly strengthened its cash position, almost doubling its cash position. Cash and cash equivalents went from $192 million to $358 million. The balance sheet, as a whole, wasn't significantly impacted as total assets and total liabilities remained nearly the same from the previous quarter, but this points out management's emphasis on fundamentals first.
My Past With Boyd
I called Boyd on the "ultimate buy signal," a downgrade from Goldman Sachs. As I stated in my previous article about Goldman's downgrade of gold, sometimes buying on the downgrade is the right thing to do, because that's what the analysts themselves are doing. Goldman recently issued a downgrade of gold so they could cover their short position. I wrote about their downgrade of gold (13 days before they upgraded gold, again):
So, the wool that Goldman could be trying to pull over your eyes here could be the same tactics used by analysts, market makers and hedge fund traders everywhere: create a trend and buy/sell the opposite into it. If you think Goldman could not possibly be buying gold on their very own downgrade and assumed corresponding price decline, then I have some real estate in Alaska I'd like to sell you.
Goldman's argument against Boyd at the time was three-fold:
susceptible to competition
the gambling business is a "more challenged business" nowadays
the company's balance sheet has 6.5 times net debt to EBITDA
The third point listed is the only one I would agree on, but it wasn't good enough for me to buy the story Goldman Sachs was trying to sell. I argued:
In addition to this, revenue numbers for the Borgata are down 9% according to January 2013 data. Even in the midst of this, with the technical indicators and two catalysts I'll note, I see Boyd Gaming as a value buy right now.
I argued against the competition point, noting that Borgata's competitor, Revel, was bleeding money:
The instant bankruptcy from Revel is going to:

Scare away more potential business from gaming there -- business that will end up at the other high-class casino in AC
Cast a shadow over Revel's business practices
Create a reputation of being a failure that is going to be incredibly tough to shake
Touching on the "more challenged business" part, I noted, along with a couple of other Seeking Alpha contributors that Borgata's in-room gaming and online gaming are going to revolutionize casinos:
In-room gaming is going to:

Be the first of its kind in the US, which will attract generous media
Make players a revenue source when they're both on the casino floor and now in their rooms as well
Be a trend that, when successful, could easily be adapted in Boyd's other casinos
In another article published on March 7th, I laid out my five reasons that Boyd was a buy. I called Boyd a no brainer buy because of online gaming revenues, the selling of two money-losing assets, the balance sheet priorities of management, continued focus on the customer and Borgata holding its ground amongst the turbulence in Atlantic City. Boyd was trading at $6.80 a share.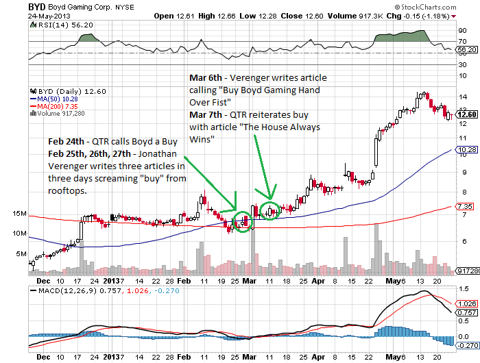 Click to enlarge
Jonathan Verenger, who basically also hit a grand slam on Boyd by calling it a buy on Goldman's downgrade, noted the argument that online gaming in New Jersey is going to be a nice long-term catalyst for the company. This argument runs hand-in-hand with the in-room gaming argument; it's another massive revenue stream to tap into. I never really say this, but Verenger basically got everything absolutely right about Boyd and is yielding close to 100% for trusting his outstanding due diligence.
We've seen some of our calls come to fruition over the past three months, but this investor is still waiting to see how much online gaming can contribute. I'm sticking with Boyd for a bit longer.
Conclusion
I noted in my previous conclusion that I still thought Boyd was a buy at $6.80. I suggested buying long-term call options, but also noted the inherent risks with both Boyd and trading options.
I'm remaining bullish on Boyd, although if you've gone for the whole ride the last three months, who can resist taking some profits off the table after making 100%? It's a great time to at least get your cost-basis and a little extra off the table. It's also a great time to keep holding long.
I'm really interested to see how the "new" Boyd with restructured balance sheet goes about capturing the online gaming market. I'm going to let their initial success or failure in online gaming be my litmus test on unloading the rest of a Boyd position and possibly not being so bullish. For now, Boyd is for the bulls.
I don't even want to think about what options would have yielded you on this trade; if you were savvy enough to pick up some calls, you're more than likely reading this article from your oversized yacht in the Pacific. If that's so, swing by the port at Seattle, pick me up, and mix me something blue with rum in it.
Best of luck to all investors.
Disclosure: I have no positions in any stocks mentioned, and no plans to initiate any positions within the next 72 hours. I wrote this article myself, and it expresses my own opinions. I am not receiving compensation for it (other than from Seeking Alpha). I have no business relationship with any company whose stock is mentioned in this article.