Here at Stock Rover Headquarters, we are deep in the heart of Dunkin' Donuts (NASDAQ:DNKN) country. The nearest Starbucks (NASDAQ:SBUX) may only be 4 miles away, but we are literally surrounded on all sides by Dunkies.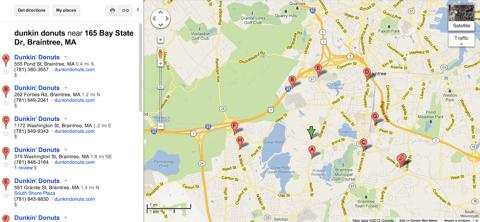 Concerns of over-saturation (temporarily) aside, should I take this as a sign that DNKN might be the next big coffee shop? Could it ever chip away at SBUX's domestic empire? Let's investigate.
DNKN and SBUX are two of the biggest players in the highly competitive Quick Service Restaurant category, but they couldn't be more different.
SBUX has traditionally focused on upscale coffee since its inception in 1985, though it has aggressively been pursuing other product lines more recently, including tea, juice, prepared food, and at-home coffee. It has comfortably blanketed the entire U.S. in a reliable network of cafes, as well as expanded into Europe and Asia (with varying success). It went public in 1992, and has a mix of company-owned and licensed stores.
DNKN, on the other hand, has traditionally served and marketed its coffee to the Everyman, and it's known primarily for that delicious breakfast combination of coffee and doughnuts, though DNKN, too, is attempting to increase foot traffic in the afternoon by offering a broader food selection. While it's slowly expanding to the rest of the U.S., it is still by far most prevalent in the northeast. Dunkin' Brands, which went public in July 2011, also owns Baskin-Robbins and is nearly 100% franchised.
It's an exciting time for both companies. The rebound from the recession in the U.S. is picking up speed, there's a growing domestic demand for coffee (I know I'm doing my part), and the rapid economic growth in China has given rise to a middle class, all of which are great growth opportunities for these companies.
Valuation
So, how do investors feel about the prospects of these companies? Let's take a look at their current P/E ratios.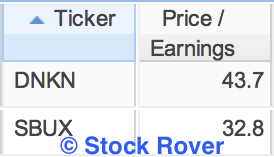 Both companies have pretty high P/E ratios, well above the industry average of 21, meaning they are expensive today, but the expectation is that their future growth will justify the current multiple. But, the P/E ratio doesn't take into account the amount of debt that a company has, and as it turns out, DNKN has quite a lot of it--a burden remaining from its days under private equity. Below we can see the companies' long-term debt, market cap, and debt per share.

Yikes! DNKN has over 23 times the amount of debt per share that SBUX has. With debt that mismatched, we should be looking at EV/EBITDA to normalize the capital structure.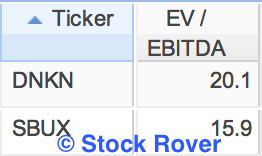 Priced this way, it still looks like investors are expecting more growth out of DNKN. But should they? Let's take a look at their growth numbers.
Growth - Comparative Store Sales
DNKN has only been public for a little over a year and a half, so we have to dive into its 10-Ks from 2011 and 2012 to see its data going back until 2008. First let's look DNKN's sales growth for both Dunkin' Donuts and Baskin-Robbins.
Fiscal Year

2008
2009
2010
2011
2012

System-wide Sales Growth

5.0%

4.1%

6.7%

9.1%

5.2%

Comparable Store Sales Growth

Dunkin' Donuts U.S.

-0.8%

-1.3%

2.3%

5.1%

4.2%

Dunkin' Donuts International

-

-

-

-

2%

Baskin-Robbins U.S.

-2.2%

-6%

-5.2%

0.5%

3.8%

Baskin-Robbins International

-

-

-

-

2.8%
While Baskin-Robbins has been struggling in the past few years with negative sales growth in 2009 and 2010, it's up to 3.8% from last year's 0.5%, seemingly poised to make an impressive comeback (though mainly fueled by growth abroad.) However, the ice cream market is notoriously fickle, so one should be careful about following its trend too closely. Dunkin' Donuts, meanwhile, has been a little uneven; its growth was down to 4.2% last year from 5.1%, but it, too, appears to be plodding forward with a general positive trend.
Let's contrast those with SBUX's numbers.
Fiscal Year Ended

Sep. 28, 2008
Sep. 27, 2009
Oct. 3, 2010
Oct. 2, 2011
Sep. 30, 2012

Consolidated Sales Growth

-3%

-6%

7%

8%

7%

Comparable Store Sales Growth

Starbucks, Americas

-4%

-6%

7%

8%

8%

Starbucks, EMEA

1%

-3%

5%

3%

-

Starbucks, China/Asia Pacific

8%

2%

11%

22%

15%
While it looks like SBUX got hit harder by the recession, it's bouncing back more energetically and is putting up some pretty impressive comparative store sales numbers, 7% last fiscal year system-wide, 8% in the Americas, and a whopping 15% in Asia. On April 25th, SBUX released its quarterly earnings report showing a 7% comparable store sales growth in the U.S., so it's continuing to grow its same store sales at a good clip. However, its China/Asia Pacific region had its quarterly same store sales grow at 8%, which is down from 11% in the previous quarter and 15% is FY2012. This slowdown is worth keeping an eye on, particularly because, given its lackluster numbers in Europe, China is SBUX's most promising avenue for international expansion.
Even with the deceleration in Asia, SBUX still looks like it has stronger same store sales growth, both domestically and abroad.
Growth- Number of Stores
Comparable store sales alone don't explain the higher multiple for DNKN, but what about the number of stores that the two companies are planning on opening in the coming year? While SBUX still has some room to expand its coffee shops in the U.S., it definitely has more of a runway abroad. Dunkin' Donuts is still mainly concentrated in the Northeast and can comfortably grow in the rest of the country, as well as abroad. This difference may be the reason that DNKN has a higher earnings multiple; investors might think that DNKN has more room to expand more rapidly than SBUX. But let's take a look at the numbers.
Here are the two companies' numbers for points of distribution going back to 2008. Note that DNKN's fiscal year ends at the end of December and SBUX's ends at the end of September.
Fiscal Year

System-wide Points of Distribution

2008
2009
2010
2011
2012

DNKN

14,848

15,393

16,193

16,794

17,459

SBUX

16,680

16,635

16,858

17,003

18,066

Percent Change in Stores

DNKN

3.7%

5.2%

3.7%

4.0%

SBUX

-0.3%

1.3%

0.9%

6.3%
These numbers tell a similar story to comps; while DNKN has been continuing its steady march forward, SBUX had to play catch up after the recession but is now showing signs of more robust growth.
Morningstar reports that DNKN is expecting to open 700-860 new restaurants in 2013, which would be a 4.0-4.9% increase. Given its current rate of openings (in the table above), this seems reasonable, but DNKN's first quarter earnings report showed that they are falling way behind the pace they would need to keep in order to make that a reality, with only 108 net store openings in Q1.
SBUX, on the other hand, planned to open 1,300 new stores in 2013, (Morningstar), which would represent a 7.2% increase in number of stores--ambitious, given that they opened 6.3% last year (see table above). But, on April 25th SBUX reported opening 590 new stores in Q2 alone, up from 212 in Q1. And not all of them were Starbucks--in fact a whole 337 were Teavanas, which suggests that Teavana may be leading the charge on SBUX's U.S. expansion while its coffee shops pile into the backseat.
So given these numbers, it looks like SBUX is expected to grow more quickly, implying that DNKN's higher EV/EBITDA may not be warranted. But maybe investors are more optimistic about the business plan for DNKN?
Product Diversification
One also must consider the diversification of products offered by both of these restaurants. SBUX has recently bought Teavana, a tea company, and La Boulange, a bakery, to help bolster its food sales. It also has Verismo, an at-home brewing system that uses Starbucks K-Cups, and Evolution Fresh, a bottled juice company which enables SBUX to hop on that juice craze currently sweeping the U.S. from the west to east. So it's sending out roots in all directions of the Quick Service category. This could be great for growth, if these side avenues work out, but it does bring with it the risk that the company could spread itself too thin.
DNKN is also trying to expand its offerings. It sells K-Cups to capture more of the at-home brewing market, and it's expanding its menu items and trying to drive traffic later in the day. It already has Baskin-Robbins in the dessert category, but again, demand for ice cream can be hard to predict. A bonus for DNKN is that the franchise model allows the company the freedom to focus on product development without having to run the day-to-day store operations.
So it looks like both companies are trying to move beyond mainly coffee, though SBUX is more aggressively pursuing other avenues. How is all of this affecting its margins?
Efficiency, and how about that debt?
Because DNKN is franchised, it doesn't have to put up the capital to open new stores, so its operating margins are going to be a lot higher (38.6% to SBUX's 15.6%), and Return on Investment isn't really comparable either. But, we can look at its Return on Invested Capital.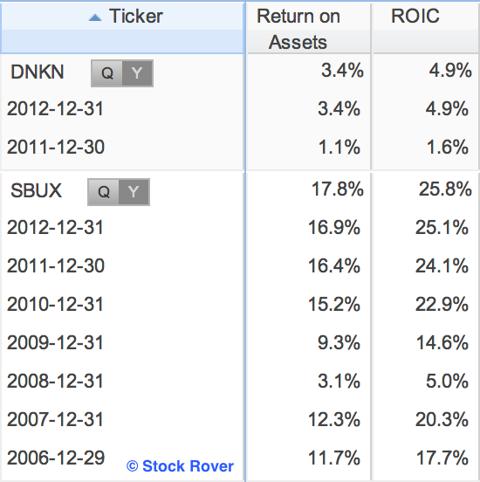 Again, SBUX is vastly superior in this metric. While DNKN is improving its ROIC, it's still far behind SBUX.
Now, let's finally talk about that elephant in the room: the debt that's weighing down DNKN's balance sheet. Before going public, DNKN was under private equity, and now it's saddled with $1.8 billion in long-term debt. Now, while that's a lot of debt, it's not impossible to overcome so long as DNKN is steadily paying it off.
But a quick look at DNKN's quarterly data shows that it's not paying it off. In fact, its debt is increasing.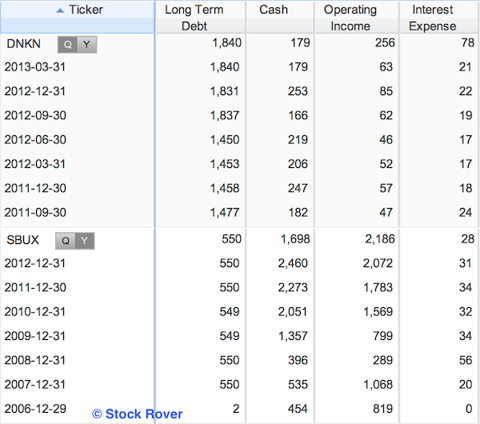 In addition, it's spending almost a third of its operating income on interest alone. DNKN doesn't have a ton of cash to pay that interest, which means that earnings are taking a big hit from its debt service. But, DNKN was able to make it through the recession with all that debt. In addition, selling donuts and coffee with a franchise model ensures a steady stream of cash. Even so, that's a whole lot of debt, and the fact that they don't seem eager to reduce it gives me pause.
SBUX, on the other hand, has a near-pristine balance sheet--a very good thing and another point for SBUX.
Stock Performance
Finally, let's compare the stock price performance of these two. Again, DNKN has been public for less than two years so the information is limited. Here they are compared to the restaurant industry since July 2011.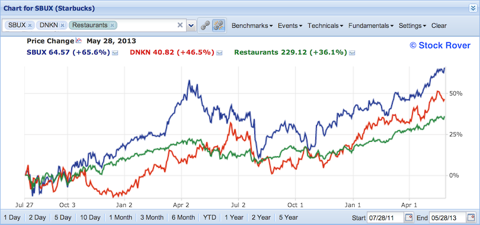 They've both handily outperformed the industry, which itself was up over 30% in this period, so clearly investors are feeling good about these two. But SBUX is still coming out on top, and it outperformed DNKN by about 11% in this period.
Just to put SBUX in perspective lets take the chart all the way back to 5 years.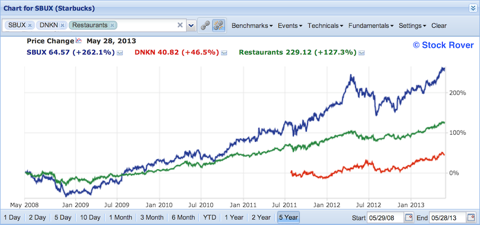 SBUX has had an impressive run upwards, though you can see it is pretty volatile. Still, if you're willing to ride out the bumps, it looks like SBUX is poised to continue its climb upwards.
Conclusion
So why is DNKN valued with a higher earnings multiple? The numbers show moderately strong growth for DNKN, but stronger growth for SBUX, and without all that debt. Maybe investors see more room for growth for DNKN, both domestically and abroad. Plus, its franchise model and slightly more recession-proof products can indicate a safer, steadier expansion.
SBUX, on the other hand, would appear to be near at a saturation point domestically with its coffee shops. However, its international growth prospects, particularly in China, are very promising. And if it can do the same thing with its Teavana stores that it did with its cafes, as well as continue to successfully expand its food and at-home brewing products, then it, too, shows no sign of slowing down domestically.
Ultimately it is a close call. If you believe in the Teavana and Starbucks International stories, then based on valuation and balance sheet, it would be the preferred pick. On the other hand, if Dunkin's runway for growth seems longer and their levels of debt are not concerning, then things would sway towards the Everyman coffee provider. For my money, I would go with the Starbucks. They have a fabulous balance sheet, a long track record of delivering growth and innovation, and their premium brand is well positioned in an improving economy.
Disclosure: I have no positions in any stocks mentioned, and no plans to initiate any positions within the next 72 hours. I wrote this article myself, and it expresses my own opinions. I am not receiving compensation for it (other than from Seeking Alpha). I have no business relationship with any company whose stock is mentioned in this article.