U.S. stocks continue to show remarkable resiliency. Although a variety of other investment categories have shown increasing signs of instability in recent weeks, the U.S. stock market as measured by the S&P 500 Index (NYSEARCA:SPY) continues to push higher almost without interruption. But given that the broader market turbulence can be attributable to forces that should also be impacting the stock market, it stands to wonder how much longer stocks can keep it up. And two major risks today threaten to bring a resolution to this debate potentially sooner rather than later.
While stocks continued their ascent into the clouds during the month of May, the same certainly could not be said for most other major asset classes. For example, the bond market as a whole has taken a pounding across the board. Leading the decline has been long-term U.S. Treasuries (NYSEARCA:TLT), which have fallen by over -8% since May 1. The precious metals market has also shown weakness across many categories including gold (NYSEARCA:GLD), which has fallen by -6% since May 8. Even some of the asset classes that are more highly correlated with U.S. stocks have struggled in recent days. High yield bonds (NYSEARCA:HYG), which effectively trade like stocks, have fallen steadily since May 8 although the magnitude of the decline has been a relatively modest -2% to this point. And REITs (NYSEARCA:VNQ), which have been just as intoxicated as stocks by QE this year, have fallen by a notable -6% since last Wednesday, May 22. As for stocks, they are once again pushing up against new all-time highs.
What is the cause of this broad asset class decline over the last several weeks? One popular theme being tossed about in the media is concerns over the Fed beginning to "taper" its asset purchases in the coming months. Before going any further, I offer a quick editorial. The fact that the idea is even being considered that the Fed thinking about possibly scaling back but still purchasing less than the $85 billion in assets each month at some point in the future is potentially having a negative effect on investment markets highlights the complete ridiculousness of the current environment. But I digress.
So let's take this first idea at face value. Suppose the idea that the Fed is going to cut back on its QE3 asset purchases has the market worried. This, of course, was a revelation that came to the surface on May 9 following the leak of a pending Wall Street Journal article by Jon Hilsenrath. If this is true, exactly where should the negative impact be most felt? Does it make sense that it would be the asset classes that have not benefited at all from the program to this point? Or would you expect the pain to show up in the category that has benefited the most from QE? Logic would certainly suggest that it should be the latter. But logic often does not apply in today's markets.
For since the Fed added daily U.S. Treasury purchases to its QE3 program at the beginning of January, stocks had already soared by +15% through May 9 when the tapering news first hit. By comparison, long-term U.S. Treasuries had effectively gone nowhere while gold has been badly beaten at down -12% for the year. In short, stocks had been the clear beneficiary from QE to this point, while Treasuries were largely unmoved and gold had been brazenly punished.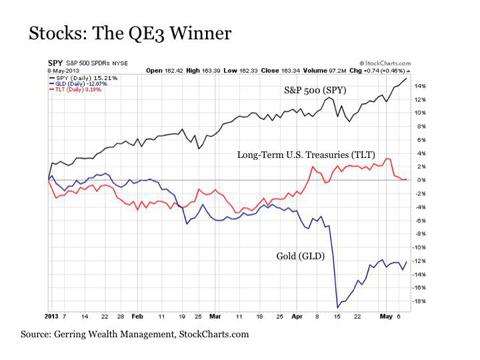 Yet once the tapering speculation struck the markets, the performance gap widened instead of narrowing. While gold has dropped by -6% and long-term U.S. Treasuries by -5% since these tapering worries first surfaced, stocks have managed to add another +2% to the upside.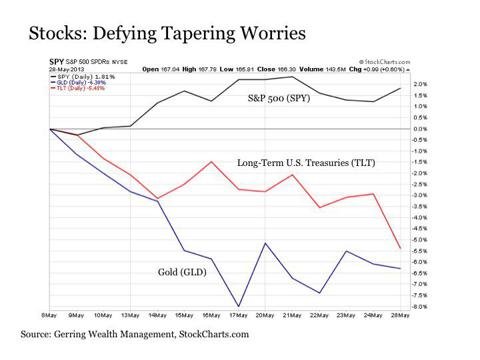 So let me get this straight. The asset classes that have apparently suffered as a result of the Fed QE3 stimulus program are being sold off over concerns that this program might be getting phased out, while those that have benefited most are completely shrugging it off and continuing to rally higher? Granted, such an outcome might make sense if we were witnessing a robust economic recovery finally taking hold with rapidly accelerating hiring activity and upwardly revised corporate earnings estimates among many other forces, but such is not at all the environment we are operating in today. Clearly, something does not smell quite right.
Such a market reaction makes even less sense when reflecting on how these three categories have performed without the support of Fed asset purchases. For when looking at the collective performance of these three asset classes during periods when the Fed or the European Central Bank (ECB) was not engaged in balance sheet expanding monetary stimulus, the exact opposite has occurred versus what the market is currently implying. For example, long-term U.S. Treasuries have enjoyed impressive cumulative gains of nearly +70% during post crisis periods when central banks are not actively engaged in balance sheet expanding stimulus. Gold has also done respectably during these periods, gaining a cumulative +18%. Stocks, on the other hand, have declined by as much as -20% during these periods without stimulus including short bursts of sharp downside volatility that has required the almost immediate verbal comforting from the Fed to stem the decline.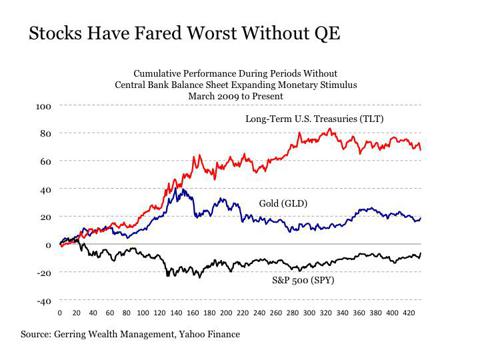 In this context, stock investors should be far more concerned over the prospects of QE being phased out over their bond and gold counterparts, but such is not the case in today's market.
This raises an important point. Perhaps Fed tapering has nothing to do with the recent market declines across virtually all asset classes save U.S. stocks. With this in mind, it is worth exploring what if anything else has occurred since May 8 that may have global markets on edge with the exception of the oblivious U.S. stock market.
This leads us to the other biggest risk facing stocks right now. Indeed, it was around this very same time in early May that yields in the Japanese government bond market began going completely haywire. Although implied volatility in the Japanese bond market increased dramatically in the days immediately following the Bank of Japan's extraordinary policy announcement in April, bond yields had been generally holding steady in the 0.50% to 0.60% range on the 10-year through early May. But as the month progressed, these yields began spiking sharply higher with further volatility and wild swings. Through early Wednesday, 10-year Japanese government bond yields had risen back above 0.90% after having crested at 1.00% a few days earlier. While such moves may seem modest from an absolute yield perspective, they are dramatic from a convexity standpoint and warrant the recent attention they deserve.
It had been previously speculated that the April liquidation in gold might have been tied to the increasing volatility in the Japanese bond market. And it has been suggested from the likes of Bill Gross that the recent turbulence in the bond market including U.S. Treasuries may also be attributed to the increasing instability among Japanese government bonds. If this is truly the case, particularly if major institutions are liquidating other assets in a desperate attempt hold the line on their Japanese government bond holdings, how much longer can U.S. stocks go unscathed before succumbing to the same pressures? And given the fact that stock margin debt is now at all time highs, what are the potential knock on effects to the downside from any immediate liquidation threat to stocks?
With U.S. stocks increasingly walking alone to the upside with each passing trading day, it is prudent for investors to consider whether this market may soon be next to play catch up to the downside. While I continue to maintain stock exposures with an emphasis on high quality names offering attractive valuation, current income and strong technicals such as Exxon Mobil (NYSE:XOM), International Business Machines (NYSE:IBM), General Electric (NYSE:GE), McDonald's (NYSE:MCD), Oracle (NASDAQ:ORCL), Emerson Electric (NYSE:EMR), Qualcomm (NASDAQ:QCOM) and Cisco Systems (NASDAQ:CSCO), I will be watching closely in the coming days if it appears that broader stock market may finally be setting up for any sustained break to the downside.
Disclaimer: This post is for information purposes only. There are risks involved with investing including loss of principal. Gerring Wealth Management (GWM) makes no explicit or implicit guarantee with respect to performance or the outcome of any investment or projections made by GWM. There is no guarantee that the goals of the strategies discussed by GWM will be met.
Disclosure: I am long CSCO, GE, XOM, MCD, IBM, QCOM, ORCL, EMR, TLT. I wrote this article myself, and it expresses my own opinions. I am not receiving compensation for it (other than from Seeking Alpha). I have no business relationship with any company whose stock is mentioned in this article.
Additional disclosure: I am long gold via the Central GoldTrust (NYSEMKT:GTU) and the Central Fund of Canada (NYSEMKT:CEF).