Although we tend to look for investments in the less-followed, less-Wall Street covered, smaller-cap, special-situation areas, Ackman's nearly year-long campaign and recent presentation at the Sohn Investment Conference sparked our interest in Procter & Gamble (NYSE:PG). We tend to look for three scenarios in our deep value strategy, scenarios that are specific identifiable catalysts that can create true value for investors. One is special situations/event-driven, the second is M&A targets, and the third is a return to intrinsic value.
P&G happens to be an undervalued, return-to-intrinsic-value play. Part of our process is to try to break a business' business model. We like to know what this does to earnings, cash, and the stock price -- this is where we often times find a margin of safety. Companies with solid margins and stellar balance sheets tend to perform the best under highly stressed scenarios. Let's see if there's any value in P&G and if the upside/margin of safety is justifiable.
Company Overview
Headquartered in Cincinnati, Ohio, Procter & Gamble is a branded consumer products company that manufactures and markets its products in more than 180 countries. P&G competes in a total of 37 product categories and owns 50 leadership brands, of which 25 are billion dollar brands that generate $1 billion to $10 billion sales annually. Its five segments include Beauty, Grooming, Health Care, Fabric Care and Home Care, and Baby Care and Family Care. Key billion-dollar brands include Head and Shoulders, Olay, Gillette, Crest, Oral-B, Vicks, Dawn, Duracell, Gain, Tide, Bounty, Charmin, and Pampers.
The Billionaire Bet
Let's take a look at billionaire Ackman's numbers and see how much actual margin of safety billionaire Bill Ackman and Pershing Square has built in. As a side note, it's worth noting is that billionaire Warren Buffett is also on the long side. Buffett and Berkshire own some 2% of the company, which is 4.79% of their portfolio.
Ackman's presentation from Sohn reiterates his investment thesis in P&G. Ackman's key thesis is that P&G can be better managed, more profitable, and, as a result, more valuable. His catalyst is a change in management and cost structure, which should bring EPS and lead to multiple expansion.
Ackman's Numbers
The key behind Ackman's thesis is that P&G will see 5% organic growth vs. the current 3% over the next two years and EBIT margin expansion from 19% to 24%, and then this leads to $6 in EPS for fiscal 2016 at a 20x price to earnings multiple the upside is 60% over the next two years.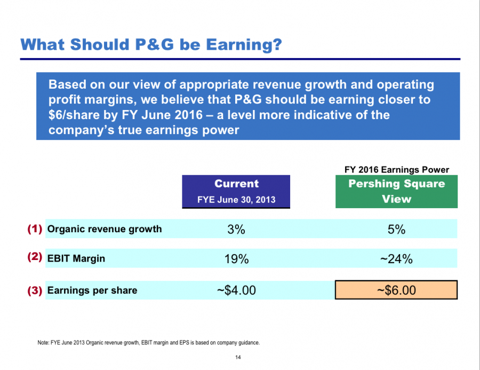 Click to enlarge
The first question is: Is the P/E justifiable? Ackman is assuming a multiple expansion of almost 10%. In taking a quick look at the peer group on a P/E basis, we see that P&G is trading at the bottom of the pack compared to some of the major comps -- Church & Dwight (NYSE:CHD), Clorox (NYSE:CLX), Unilever (NYSE:UL), Kimberly-Clark (NYSE:KMB) and Colgate-Palmolive (NYSE:CL).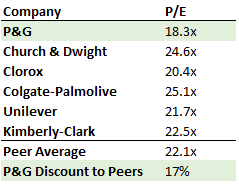 Yet, historically the company has managed to trade in line with peers.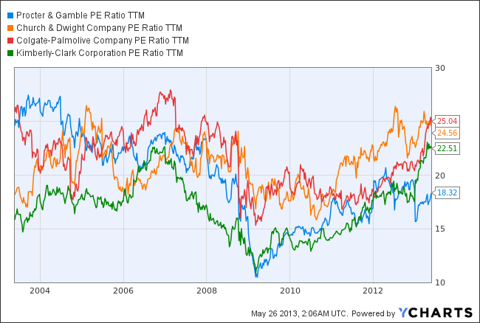 So how do we justify this multiple expansion, and what will help promote this multiple expansion? The company has a solid profit margin that tops many competitors.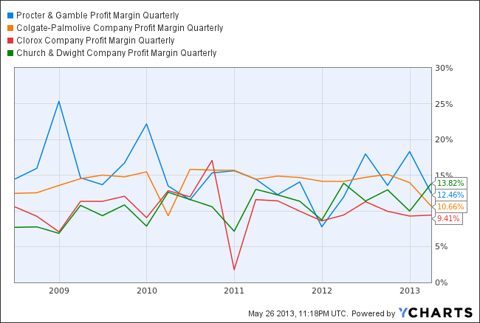 Also, P&G has an impressive return on equity that has rebounded nicely, and now trends above the likes of Church & Dwight.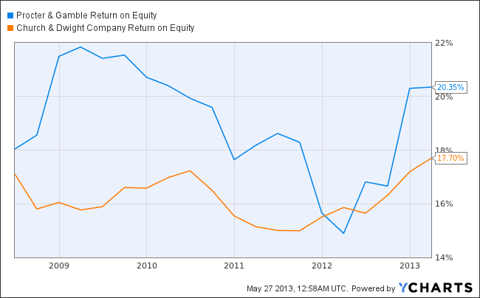 What to Expect?
Now that we can justify the multiple expansion, how about the EBIT margin expansion and revenue growth. In the matrix below, the return for investors over the next two years is outlined. This includes various scenarios for revenue growth and EBIT margin. One constant is that P&G will trade closer to its historical and peer average of 20x earnings.
Under Ackman's (best case -- highlighted in green below) scenario, the annual return for investors is around 22.5%. Yet, even in the case that revenue growth stays the same (3% annually) and there is no EBIT margin expansion (remains 19%), the return is close to 6% annualized (highlighted in red below).

Click to enlarge
The 6% isn't so bad in the context of what investors should expect from a mega-cap consumer staples company that pays a nearly 3% dividend yield. The required rate of return (based on WACC) for P&G is around 6.4%, so the 6% return, which we see as more of a worst-case scenario, is well in line with market expectations.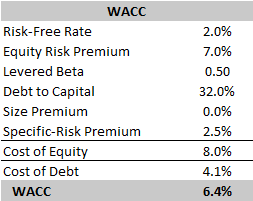 What's more is that through all its troubles, P&G is still generating a return on invested capital that is in excess of its weighted average cost of capital. P&G's current ROIC is around 6.54%, which is above the 6.4% WACC above.
Bear with me as we work through other scenarios. Let's assume we're wrong and there is no multiple expansion to Ackman's 20x earnings, rather P&G sees multiple contraction to 17.5x. One possible reason for this is that P&G will see slowing growth after fiscal 2016. However, even at this multiple, the total return is still two-thirds that of Ackman's best case scenario: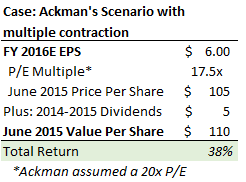 Also, even if we assume multiple contraction to 17.5x earnings, and growth remains weak (3% revenue growth) and only a 19% EBIT margin the downside is limited. Based on the above metrics, the annual return for investors is close to 0%: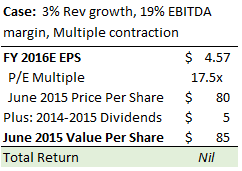 Variant View
Let's take a look at some headwinds and risks to the above expectations:
P&G's sustainable growth rate is 8%, yet, Ackman is projecting a 22.5% growth in earnings over the new couple of years.
Analysts expect EPS growth at a 7.65% CAGR over the next five years.
23 Analysts have a mean 12-month price target of a mere $83.11.
What About the Downside Protection?
Even if the status quo remains for P&G, the downside appears limited. In addition, P&G has a solid balance sheet. From a debt to equity standpoint, P&G is in line with major peers, and actually better positioned than Colgate.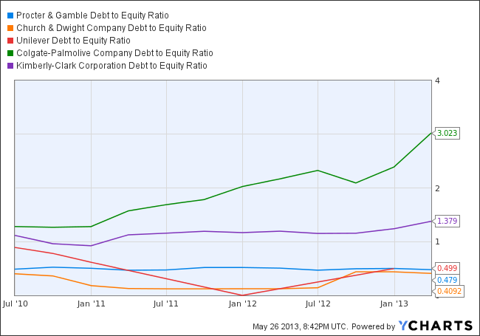 The Real Tailwinds?
So what are the real tailwinds that will help P&G create the value for investors, while also providing the downside protection? P&G is now focusing on the 40 largest and most profitable businesses; these businesses account for about 50% of sales and 70% of operating profit. The other part of P&G's business is a focus will be on driving its 20 biggest innovations like Tide Pods, Always Radiance, Bounty Trap and Lock, and Bounty Unstoppables to new more markets. P&G already has a strong position in market share across the board.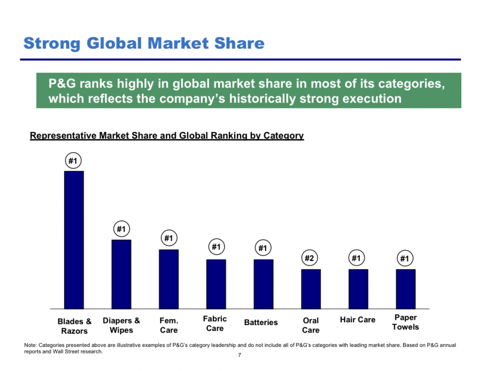 Click to enlarge
Back in 2012, P&G invested around $2 billion in innovation, 45% more than any of its close peers. As well, the company plans to reduce costs by some $10 billion through fiscal 2016, which should drive the expected EBIT margin expansion: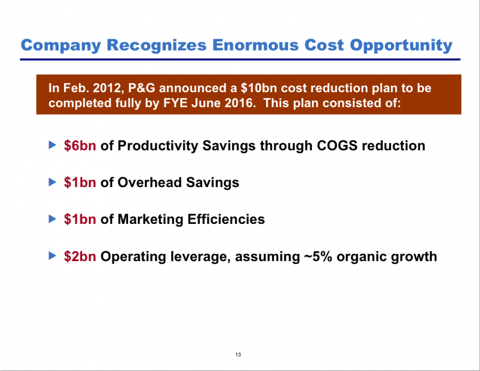 Click to enlarge
One of P&G's big initiatives is to increase its presence in the fast growing developing markets as the company sees sluggish growth in developed nations. This should help drive the increase in organic revenue growth over the next couple of years. P&G already has one of the best positions in the emerging markets.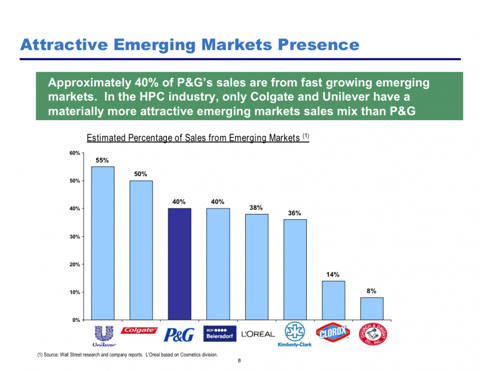 Click to enlarge
Bottom Line
P&G has a robust product portfolio and strong brand recognition, not to mention a robust presence in emerging markets. Plotting P&G on a more normalized outlook, Ackman expects 60% upside targeted for June 2015. However, I'm not quite as optimistic. Yet, our base case still has upside to $99 over the next two years, with a P/E multiple of 20x applied to the base earnings of $4.96, plus the $5 dividends, putting the potential upside to 27.2%.
Bottom line, even in our worst-case scenario, it will be difficult to lose money in P&G. If the top line continues to grow at current levels, margins stay compressed and the stock continues to trade at the bottom end of the peer group, the stock should trade roughly in line at today's levels in two years' time. Although this is not enough upside to warrant a position from us, it could be a solid turnaround investment for investors looking to get into a mega-cap consumer staples stock for the long term.
Disclosure: I have no positions in any stocks mentioned, and no plans to initiate any positions within the next 72 hours. I wrote this article myself, and it expresses my own opinions. I am not receiving compensation for it (other than from Seeking Alpha). I have no business relationship with any company whose stock is mentioned in this article.