Investors searching for decent yields nowadays face one of three choices: (1) accept a lot of risk; (2) look for oddball companies; or (3) forget the whole idea tolerate the mini-yields that are so prevalent today. For many who need or really want current income, option three is off the table. The high-risk route is, of course, possible, but we've often seen that the dividend cuts among cash-flow-strapped firms tend to happen a lot; i.e., don't dismiss these scenarios as pro forma risks recited by lawyers and prudent financial planners merely as a matter of ritual. While option two - the oddball route - also entails some risk, I've found this one to be fairly manageable.
CTC Media (NASDAQ:CTCM) is an oddball 5.1%-yielding stock I found using my stock screener to search for issues combining above-average yields with tolerable risk. There are lots of ways to measure income-stock risk and the ranking system I use to prioritize among stocks passing a basic screen includes the usual suspects: payout ratio, cash-flow coverage, financial strength and so forth. But I've found that the most intriguing metric is, often, Mr. Market himself. Ben Graham, Warren Buffett and Charlie Munger can go on as they wish talking about how neurotic he is, offering too-high bids one day and too-low bids the next, but my experience and testing suggests Mr. Market is better than many realize when it comes to evaluating dividend security. In other words, he tends to do a pretty good job matching the highest yields with the greatest likelihood of dividend cut.
On paper, we might hope that the extra income from top-yielders that make good will adequately offset losses from those that don't, but in reality, I've not been satisfied with the outcomes. I've had much better results generally in the middle range, the sweet spot of the income spectrum and that's a key factor in my screen. The only stocks that get sorted under my dividend-security ranking system are those that fall into the middle-yielding range as defined by my screen. The 5.1% "Goldilocks" yield (not too high, not too low, just right) sported by CTC Media is an example of this. I also include a rule requiring that the stock's current relative (to industry) yield not be too high relative to the five-year average relative yield (too big a jump relative to peers suggests developing angst on the art of Mr. Market).
Before getting into detail on CTC, I want to provide a sense of the performance of the strategy through which it turned up. Figures 1 and 2 summarize the performance of this model, known as Equity Income - Aggressive strategy as depicted in the Portfolio123 Ready-2-Go area.
Figure 1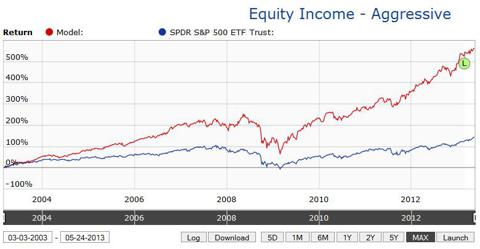 Figure 2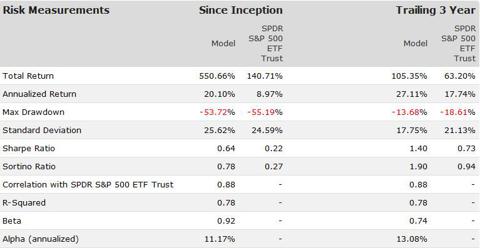 This doesn't guarantee we won't slip on a banana peel now and then, but it indicates that at least historically, we've had enough favorable outcomes to allow us to tolerate those bad situations that did arise.
There's no theoretical reason why oddball companies should feature prominently in this sweet-spot model, but it does seem to have been working out that way. In March, I discussed business development companies in this light. Today, I want to switch the focus to media, more particularly, Russian television.
The company operates three free-to-air television stations in Russia: CTC, its flagship network featuring general family-oriented programming; Domashny, a network focusing on women's lifestyle and interests; and Peretz, an edgy comedy-oriented network. In terms of audience share, CTC ranks a fifth (the top two networks are state owned in whole or in part).
As in the U.S., the television business in Russia is challenging. The proliferation of channels means the audience has been becoming more fragmented, causing everybody to have been experiencing declining audience percentage shares in recent years. The good news, however, is that prospects for the overall pie look good. Media investors in the U.S. have sometimes been taken by surprise regarding how volatile ad spending can be (just because it doesn't have a smokestack doesn't mean it isn't cyclical) and that's been the case in Russia too in the late 2000s. But in Russia, there may be more room for secular growth in television ad spending. Expenditures on advertising in Russia are low as a percent of GDP (0.5% in 2012 versus 0.7% in Germany, 0.8% in the U.K., and 1.0% in the U.S.). Meanwhile, television advertising in there can be particularly cost effective. Free-to-air television remains popular in that region and the cost-per-thousand viewers was $1.8 (U.S.) in fiscal 2011 versus $2.90 for radio, $4.90 for internet, $5.40 for newspapers and $6.00 for magazines. While internet consumption in Russia has been growing, it does not, at least yet, seem to come out of TV's hide (average viewing minutes per day in 2012 were 259 versus 228 in 2005). So there is room for the overall ad pie to grow as Russia's consumer economy continues to develop.
In addition, as in the U.S., advertisers assign varying valuations based on different demographic profiles. CTCM is looking to improve its stance by fine tuning the segments at which its programs aim. Starting this year, the CTC network focused its aim on 10- to 45-year old viewers, as opposed to its prior generalized age 6-54 focus. Peretz has also trimmed the upper end of its target age range: it now aims at the 25-49 year group, as it no longer seeking to target viewers in their 50s. Domashny, meanwhile, is pretty much staying the course with a 25-59 year female age target.
Growth prospects are all well and good but when an investor today looks at a 5.1% yield, little on this score is expected. If the company can produce modest dividend growth over time or even maintain the dividend and keep its stock more or less steady, that would better than a lot of other alternatives. Higher interest rates down the road would, obviously, be bothersome as would be the case in the rest of the income universe. But when the current yield is high, investors can cushion some capital loss with increasing reinvestment returns (i.e., interest-on-interest).
Here's where CTCM is noteworthy relative to other media plays. This tends to be a highly leveraged sector. CTCM, however, has just a negligible amount of debt; just $6.1 million (bank overdraft) at 3/31/13, versus $750 million in equity. Trailing 12 month cash from operations was $136 million. That has been more than ample to cover trailing 12 month dividend payments of $79.5 million. Adding in capital spending of $13.8 million still does not burden cash flow. In fact, besides paying dividends, the company is also buying back stock.
This dividend-and-buyback combination is a bit unusual but including buybacks does provide a more discretionary component to the company's desire to return cash to shareholders. In 2011, the company jumped to a much higher dividend payment which actually exceeded cash from operations ($128.9 million in dividends versus $115.8 million in cash from operations and 19.8 million in capital spending). It finally slashed the quarterly dividend late that year from $0.22 to $0.13 - not surprisingly, causing the stock to get hammered. When circumstances mandate a slowdown in the pace at which cash is returned, shareholders are much more tolerant of slowdowns in the pace of share buybacks than they are regarding dividend reductions. So now, dividend increases are much more modest (the payout rise to 0.15 in 3/13 and to $0.16 in 5/13, a rate that is expected to hold steady for the rest of this year).
Needless to say, there is general business, political and currency risk. That's a big reason why Mr. Market is offering a 5.1% yield on a profitable, cash-generating company like this. Helping too is CTCM's one-of-a-kind quality. If a U.S. media firm had financials like these, I doubt the yield might not get much above 3%, assuming it even reaches that level. This is a representative example of the kinds of risk-return tradeoffs you find in what I refer to as the sweet-spot yield area.
Disclosure: I am long CTCM. I wrote this article myself, and it expresses my own opinions. I am not receiving compensation for it (other than from Seeking Alpha). I have no business relationship with any company whose stock is mentioned in this article.