We are all in search of companies that meet our criteria for what we want in a stock. Searching can be a daunting task especially since all we hear about are the larger names. The small regional companies seldom come across our radar. Mercury General Corporation (NYSE:MCY) is a small regional property and casualty insurance company headquartered out of southern California. Mercury writes insurance in California as well as Florida, Arizona, Georgia, Illinois, Michigan, Nevada, New Jersey, New York, Oklahoma, Pennsylvania, Texas and Virginia.
As you may know I like to run some basic numbers of a company to see where they sit. You can learn quite a bit about a company by running a few basic numbers, so here we go.
As of the first quarter 2013 Mercury had revenues of $2.8 billion for the last twelve months. Its current assets are $4,189,686,000 and the liabilities are $2,347,189. Mercury has $2,916,551,000 in long term investments. This category alone can pay for any and all debt of this company. I like this, I like it a lot.
Mercury General has paid out a dividend for 27 years. The current payout ratio is at 122%. Currently, the dividend is $2.45 a share at a 5.30% yield.
The current earnings are $2.00. At a P/E of 20 this would place a price of $40.00 on the stock. The Graham Number currently sits at $39.20.The earnings for the past seven years are as follows.
| | | | | | | | | | | |
| --- | --- | --- | --- | --- | --- | --- | --- | --- | --- | --- |
| Year | 2012 | 2011 | 2010 | 2009 | 2008 | 2007 | 2006 | | AVG | 25 P/E |
| EPS | $2.13 | $3.49 | $2.78 | $7.32 | -$4.42 | $4.34 | $3.92 | | $2.79 | $69.75 |
Challenges
The risks and challenges with any casualty and property insurance company are an influx of claims. The past couple of years we have seen natural disasters hit California with fires, New Jersey and New York with hurricanes, and Oklahoma with tornadoes. We want to make sure the company can pay out claims as they are obligated to when such disasters hit, so our fellow Americans can get their lives back on track.
Mercury General is coming out of a restructuring phase in which it has consolidated operations outside of California into three hubs located in Florida, Texas and New Jersey.
Someone is buying
The earnings for the past seven years are all over the map, no doubt to a large amount of claims and restructuring costs. The past couple of years have not been kind as earnings have gone down. Currently, 51% of the company is owned by insiders. I usually do not go over technicals but I thought this would be noteworthy.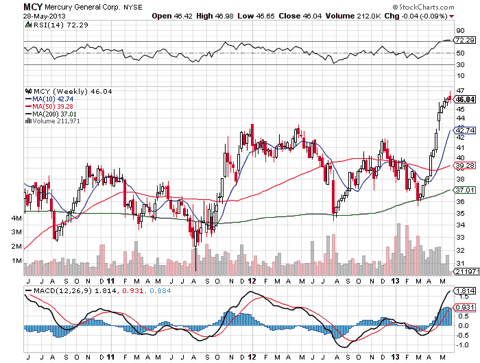 Starting in mid-March, someone is picking up shares of Mercury. In almost three months this stock has gone from the mid-thirties to mid-forties for a 30% increase. Someone is buying this stock. I wish I could say whom, but right now I'm not sure. Earnings are usually higher than what they have been for the past 18 months. It looks like someone has taken advantage of the restructuring of this company.
Conclusions
Mercury is a well managed company that plays it close to home. The company has solid financials and has paid out a dividend for over 25 years. The past 18 months Mercury seems to be in an earnings slump but it is not too much of a concern as the company is restructuring to reduce costs in the long term.
Someone thinks this company is undervalued as they have been scooping up shares since mid-March. Currently, the company looks a little over bought. If you are interested in starting a position I would advise caution and perhaps wait for a pullback. An increase of 30% within three months is a little too fast for me. Due to the volatility in price as well as earnings, I would not feel comfortable reinvesting dividends in this company. Instead I would take the payout and use it for other investment opportunities or perhaps paying those pesky car insurance premiums.
Disclosure: I am long IBM, KO, MPC, WMT. I wrote this article myself, and it expresses my own opinions. I am not receiving compensation for it (other than from Seeking Alpha). I have no business relationship with any company whose stock is mentioned in this article.