By Imari Love
Canada remains one of the few telecom regions to offer meaningful subscriber upside in its addressable market, rational competition, and a benign regulatory environment. With fledgling subscale new entrants beginning to fade at the low end and competitive aggression at the high end among the Big Three starting to ease, the sector is positioned to generate strong economic profits. Given scale efficiencies, network quality, and spectrum holdings, we see continued support for the narrow economic moats of Rogers Communications (NYSE:RCI), Telus (NYSE:TU) and Bell Canada (NYSE:BCE) in 2013 and beyond. We believe Rogers is best positioned, and we still see nearly 30% upside from its current stock price.
When gauging a telecom sector's relative attractiveness, Canada stacks up well for a number of reasons. First, its relatively low penetration rate portends a longer runway for addressable subscriber growth. Second, Canada is one of the few developed markets with three evenly balanced major carriers that compete rationally. The rational competitive landscape, coupled with a reasonable regulatory backdrop and the sustainable economic moats of the Big Three oligopoly, has created an operating environment conducive to long-term economic efficiency and visible cash flow generation.
Canada's penetration rate is lower for a number of reasons. First, the industry has focused on attracting higher-value postpaid customers, whereas carriers in Europe and Latin America have historically focused more on prepaid consumers, which accelerates the penetration rate curve. In the first quarter of 2013, Rogers' postpaid average revenue per user was nearly 5 times higher than it was on its prepaid side. In Canada, more than 80% of the subscriber mix is postpaid, while in Latin America, it's the inverse. Second, Canada has had one of the most reliable and lowest-cost landline systems in the world, which has slowed fixed to wireless substitution rates. Third, in Canada, we do not see the multiple SIM card phenomenon that is so prevalent in Europe, where customers arbitrage across multiple closely locked countries and related carriers.
We believe these dynamics give Canada a very visible runway for sustained subscriber growth. Five years ago, the penetration rate was 61%, and it has been growing only 4 percentage points per year. At that clip, it will take another six years before Canada reaches the current 104% level of the United States. Even at that point, Europe and Latin America have shown there will still be plenty of legroom for further growth in years to come.
Canada Has the Lowest Penetration Rate of All Developed Countries (2012)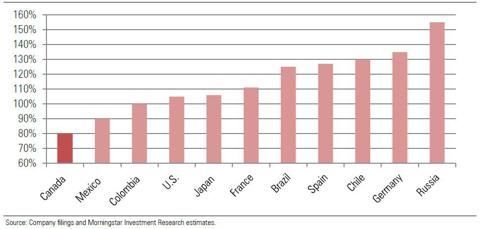 Click to enlarge
Canadian Operating Landscape Is Structured for Moat Sustainability
Canada has three strong players with relatively equal market share that compete on a national basis with strong brands. Each incumbent has higher market share in its legacy wireline territories, but all three have a solid nationwide presence. While new entrants such as Wind Mobile, Mobilicity, and Public Mobile have launched service in the past few years, the incumbent oligopoly still owns 95% of the market. Of the small share that the new entrants have managed to steal, nearly all of it has come in the lower-value prepaid segment.
Just as important as the number of players in a sector is the level of competitive intensity. Competition in Canada among the Big Three has historically been strong yet rational. Each management team has prioritized market share of earnings over market share of customers. The competitive intensity has been slightly amplified on the high end over the past three years since Bell and Telus combined to upgrade their network and began offering the iPhone. However, now that Bell and Telus have largely closed the gap in terms of incremental postpaid net additions and growth among the new entrants has slowed considerably, we expect the competitive backdrop to be more benign. This should be reflected in a sector-wide slowdown in monthly churn, which in turn should ease the pace of retention spending increases.
The Canadian wireless industry has historically been highly deregulated, but foreign ownership restrictions have effectively blocked out foreign competition. This has allowed the Big Three to build and strengthen their respective economic moats through scale and reach. In 2012, however, Canada decided to loosen restrictions a bit. Under the new mandate, foreign companies are now allowed to buy carriers with less than 10% market share by revenue. The regulator also said it will set aside wireless spectrum in the upcoming auction and cap the Big Three at 75% of what it calls "prime" spectrum. While this sounds prohibitive on the surface, we view it as a positive that only four blocks of spectrum will be available in each major territory. This ensures a maximum of only one new entrant will have a viable chance to compete, and it sets the stage for the new entrants to either scramble to consolidate or fold up shop altogether.
A somewhat similar scenario played out in the Canadian telecom sector roughly a decade ago, when new entrants Clearnet and Microcell ran their unprofitable mobile operations into the ground and sold out to Telus and Rogers, respectively. And Clearnet and Microcell were in a far better competitive position than these current new entrants on a number of levels--comparatively more spectrum, low wireless penetration, and incumbents that weren't as strong as they are now.
The combination of lower wireless penetration rates, organized rationality, and a stable regulatory backdrop has created a profit-rich environment. Consolidated wireless EBITDA margins across the Canadian players are on par with or slightly higher than those generated by the American-based telecom providers. Plus, despite having far less scale, the Canadian mobile majors tend to be more profitable, and have consistently posted higher monthly average margin per user.
Key performance indicators are showing steady signs of improvement. ARPU trends reflect a pattern of higher highs and higher lows when compared with their respective year-ago periods. This has been driven by an easing of the magnitude of declines in voice ARPU coupled with the surging growth of data ARPU. Essentially, customers have been willing to digest higher monthly fees because the price per data bit consumed is falling. Before Bell and Telus upgraded their joint network, Rogers was the only carrier able to offer the iPhone. In the few years since the upgrade, Rogers was forced to relinquish some smartphone share and capitulate on pricing. The firm seems to have recently reached an inflection point, however--after eight consecutive quarters of year-over-year ARPU declines, Rogers managed to generate ARPU growth in its last three quarters, including a 3.5% year-over-year increase in the first quarter of 2013, the best pace in years.
The ARPU improvements have been driven by the pace of declines in voice ARPU easing, while data ARPU growth continues to accelerate. Given that Rogers still holds the sector lead in terms of smartphone mix (71% of postpaid base) and smartphone share (39%), we believe it should be able to regain its ARPU lead.
When analyzing AMPU, we note there is a major seasonality component embedded into the number. While historically the fourth quarter brought margin pressure to the carriers because of holiday promotions, today margins are tied more to product launches (specifically the iPhone) than anything else. Once again, we are seeing a positive trend when looking at each quarter's year-ago comparable. The new iPhone will probably go on sale this fall, so we would expect to see margins take a sequential dip in the fourth quarter.
Generally speaking, churn trends are moving in the right direction. The past couple of years have seen Rogers go from first to worst in terms of its relative churn. Customers who had been on long-term contracts with Rogers before the Bell and Telus upgrade suddenly found themselves with more options once their lockups expired. In speaking with Rogers' management, it's clear that reversing these churn trends is among the firm's highest operational priorities. To that end, Rogers recently started an initiative in which customers are allowed to upgrade devices anytime after the six-month point in their contract at the subsidized price. This should extend the lockup life of postpaid customers and lower churn rates. Longer term, we expect postpaid churn to level out, with all three incumbents posting around 1.2%.
Rogers Still Owns the Strongest Moat in Canadian Telecom
The four key components of a moat in the telecom industry are network quality, scale economies, financial flexibility, and regulatory relationships. We believe all three incumbent firms have narrow economic moats, but Rogers is the best positioned for a number of reasons. Given its unique operational profile, attractive valuation (fundamentally, and the least expensive on a multiple basis), and superior returns on invested capital, we believe Rogers has the most balanced and attractive investment profile in Canada.
Although Telus has closed the ARPU/AMPU gap, Rogers' first-mover advantage allowed it to build a considerable scale advantage of roughly 1.5 million more postpaid customers. This sets the stage for enhanced scale economies and stronger cash-generating capability as those postpaid customers mature through their upgrade cycles. Smartphone ARPU is almost double the average of voice-only wireless customers.
Rogers has the most exposure to wireless in the sector and, given its media units and cable business, it is the least exposed to the dying legacy home phone business. Rogers has less than 4% of its revenue from this business, while it drives roughly 20% of the mix for Bell and Telus. As a point of reference, Telus posted a 29% EBITDA margin for its wireline unit in the fourth quarter of 2012, roughly 8 percentage points below the margin of its mobile unit.
Rogers also has a considerable spectrum advantage, with 145 megahertz of spectrum (which will jump to 165 MHz once the Mountain Cable deal with Shaw closes). Telus and Bell, which share a network and spectrum, have only 80 MHz and 100 MHz of spectrum, respectively. While each carrier will incur a major cash outlay in the upcoming auction, starting from a position of strength means Rogers' cash flow horizon has less relative risk as the other two play catch-up in the upcoming auction and beyond.
Rogers offers the most unique integrated operating profile in North America, with the rare combination of being the leading wireless player in the country and the biggest cable name as well. That would be akin to U.S.-based telecom players Verizon and Comcast merging into a single entity. This integrated position gives Rogers an edge with quadruple-play services and other bundling opportunities.
Rogers' diversification is unmatched. The firm owns multiple TV networks, four sports TV networks, City and OMNI, four Sportsnet regional networks, 55 radio stations, 53 magazines/trade publications, the Shopping Channel, the Toronto Blue Jays, the Rogers Centre event venue, and a 37.5% stake of Maple Leaf Sports Entertainment (which owns the Maple Leafs, the Raptors, and the Toronto FC soccer team).