Not all of the best companies have a market cap above $100 billion. Not all the best companies are household names that you see advertised on television. Some of the best companies are ones you have contact with on a regular basis but do not think twice about. Automatic Data Processing (NASDAQ:ADP) is a company many Americans know of but might not consider as an investment.
ADP started in 1949 as a manual payroll services company. ADP went public in 1961. It is one of only four companies with a triple-A rating by both Standard & Poor's and Moody's. Currently, ADP has generated $10.73 billion in revenues for the past 12 months. ADP has $40,166,300,000 in assets and $33,605,200,000 in liabilities. This is far from being categorized as being a conservatively financed company, according to Graham. However, since ADP is only one of four companies with a triple-A credit rating, there really is no concern here.
ADP has increased its dividend since 1975. For 38 years, ADP has not just paid a dividend but has increased it on an annual basis. Currently, the dividend is $1.74 at a yield of 2.5%. The payout ratio is 56%. With earnings at $2.94, its P/E should place the price at $58.80. The Graham Number sits at $29.92. The earnings for the past seven years are as follows:
| | | | | | | | | | | |
| --- | --- | --- | --- | --- | --- | --- | --- | --- | --- | --- |
| Year | 2012 | 2011 | 2010 | 2009 | 2008 | 2007 | 2006 | | AVG. | 25 P/E |
| EPS | $2.82 | $2.52 | $2.40 | $2.62 | $2.19 | $1.83 | $1.45 | | $2.26 | $56.50 |
ADP has a steady share buyback program. It also has reduced its outstanding shares by 14.5% over the past 20 years. This is comparable to Coca-Cola (NYSE:KO), the king of long-term share buybacks. In 2012, ADP CFO Christopher Reidy had this to say to the Wall Street Journal about the company's share buyback program:
'We don't try to play the market in our own stock price,' Reidy told CFO Journal in an interview following the release of ADP's third-quarter earnings, which increased 6.7% from a year earlier. 'We think of it as returning cash to shareholders.'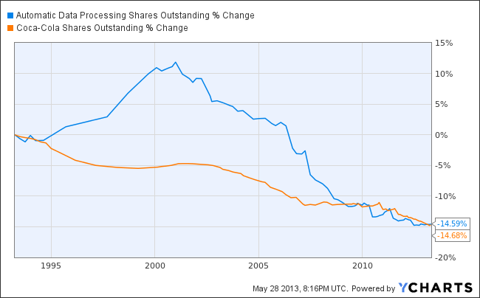 ADP is one of those companies that have a large moat. They are the company others go to when they need payroll solutions. Even though there was an almost catastrophic recession, ADP was still able to maintain earnings and quickly grow them as the economy strengthens. ADP publishes a monthly jobs report, where it reports an increase or decrease in non-farm jobs in the private sector.
Conclusions
I like ADP; it is the payroll company and has been so for quite some time. ADP should be on any long-term dividend investor's list. At current prices, the company is overbought for my tastes. Based on the current valuations, I'd like to see the price come down to around $60.00 before opening a position, perhaps selling some puts.
I would categorize this as a forever stock, as it pays increasing dividends for almost 40 years. It has a moat and is considered the authority in payroll services. The recession did not affect the company's earnings, which means this is a very defensive stock. If you are interested in ADP, make sure you wait for a pullback as last thing you want is to pay too much for any stock.
Disclosure: I am long IBM, KO, MPC, WMT. I wrote this article myself, and it expresses my own opinions. I am not receiving compensation for it (other than from Seeking Alpha). I have no business relationship with any company whose stock is mentioned in this article.