(Note: For those who need some background on the advantages and disadvantages of high yield closed end funds and bonds, see my article here.)
There has been a good deal of talk in the markets in the last week about the possibility of a "tapering" in the Fed's QE program. The result of all of this chatter was an unusually volatile week which ended with investors seemingly no more sure of what to expect from the Fed than they were at the start of the week. Given this volatility, the wise thing for investors to do is to look for stocks, bonds or ETFs which are doing well under current conditions, but would also do even better if the Fed begins tapering off QE and shows signs of letting rates rise.
With that in mind, I went looking for investments that would benefit specifically from an increase in rates, but which are doing reasonably well now also. Specifically, those assets that would do best if QE begins to taper off are the ones that have assets which earn a floating interest rate. These floating rate notes come in a variety of packages, but all of them pay an interest rate which is tied to a benchmark rate that rises and falls based on the Fed and short term rates.
One good investment to profit from QE tapering will be floating rate closed end funds like the Eaton Vance Senior Floating Rate Trust (NYSE:EFR) and the Eaton Vance Income Floating Rate Trust (NYSE:EFT). Both of these CEFs own debt that is floating rate and rises whenever interest rates go up. Each has a 10-year history which is long enough that we can go back and look at what happened to their dividend payments as interest rates rose in the mid-2000s. In the case of EFR, it was paying a MONTHLY dividend of $0.09 a share in December 2003. By the end of 2006, when the Fed funds rate peaked, EFR was paying out $0.14 monthly per share as this dividend history shows. This was accompanied by a stable equity price that was roughly 10-20% above EFR's current price. Given today's low rates, it should be no surprise that EFR is back to paying about $0.09 per share, but if the fund's history is any guide this should increase with any tapering of QE. An almost identical pattern holds with the closely related EFT. Today, EFR pays 5.9% or so, while EFT pays around 5.5%
For those looking for ETFs instead of CEFs, the Highland/IBoxx Senior Loan ETF (NASDAQ:SNLN) and the Powershares Senior Loan Portfolio (NYSEARCA:BKLN) may be appealing. A recent USA Today article discusses BKLN and the newly launched First Trust Senior (NASDAQ:FTSL) as options for investors. Both BKLN and SNLN invest primarily in floating rate debt and has the potential to appreciate significantly in price and yield if interest rates start to rise. SNLN currently offers a yield of about 5.3%, while BKLN has a yield around 4.7% with the possibility of another 3-5% from selling call options on the issue (see my article on this here).
Some investors may not be comfortable with the high yield investments made by the ETFs and CEFs I have suggested thus far. Instead, the iShares Floating Rate Note Fund (NYSEARCA:FLOT), SPDR Barclays Capital Investment Grade Floating Rate (NYSEARCA:FLRN) and Market Vectors Investment Grade Floating Rate (NYSEARCA:FLTR) may be more interesting. All of these invest in assets with very little credit risk and are floating rate investments, but they lack the high yields I discussed above. Instead these investments usually pay between 0.33% and 1.5% depending on price. However, these could see further price appreciation if talk of QE tapering becomes more definitive.
Investors who are not interested in floating rate debt instruments and want to stick with fixed rate debt can turn to low duration high yield funds like the SPDR Short Term High Yield Bond Fund (NYSEARCA:SJNK) with a duration of about 2.9 and a yield around 6.2%, and the Vanguard Short Term Bond Fund (NYSEARCA:BSV) with a yield of 2.1% and a duration of 2.8.
Finally, for those investors who insist to stick with equities, the best long bet is likely to be community banks. These banks tend to be more profitable as rates rise and they can begin making loans at higher rates. Further, higher rates on loans also usually provide the opportunity to add additional fees providing even more profit to the firms. Stocks like Suntrust (NYSE:STI), First Horizon (NYSE:FHN), US Bank (NYSE:USB), Synovus (SNV) and Keycorp (NYSE:KEY) all did well when the Fed raised rates between 2003 and 2007 as the following chart shows. Here brown is the Prime Rate used by banks in making loans, black is USB, yellow is KEY, green is STI, purple is SNV, and blue is FHN.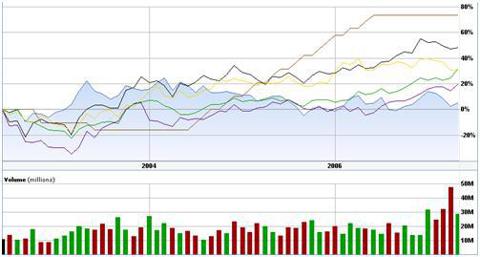 For those interested in short plays, one of the best is probably to bet against the mortgage REITs (NYSEARCA:MORT), like Analy (NYSE:NLY), American Capital Agency (NASDAQ:AGNC), Two Harbors (NYSE:TWO), Anworth (ANH) and Invesco (NYSE:IVR). The theory here is that since these firms borrow at short term rates and lend at long term rates, that as short-term rates rise, the firms will be in trouble. This will be particularly damaging to the firms if short term rates rise rapidly, or if long term rates fail to rise.
In summary, whenever the Fed eventually begins to taper off QE be it in 2 months or two years, investors will face challenges finding investments that can continue to provide an acceptable return. This article outlines floating rate investments and community bank stocks as potential long investments for investors to consider, while mREITs are short investments worth considering.
Disclosure: I am long EFT, EFR, FHN, NLY, GNC, MTGE. I wrote this article myself, and it expresses my own opinions. I am not receiving compensation for it (other than from Seeking Alpha). I have no business relationship with any company whose stock is mentioned in this article.