(Editors' Note: This article covers a micro-cap stock. Please be aware of the risks associated with these stocks.)
Shares of Celsion (NASDAQ:CLSN) have rocketed over the past two trading days, closing up 8% on Tuesday and currently up about 15% on Wednesday on zero news from the company. On Tuesday, Celsion traded 10.6 million shares and has already traded 9 million shares on Wednesday by 9:45 central standard time; that theoretically puts the company on pace to trade over 45 million shares today -- wow. The company's 100-day trading volume average was 3.5 million shares and the company's 22-day trading volume average is 2.9 million shares. So, what the hell is going on? I have two pretty good guesses.
I've been covering Celsion since the beginning of January 2013, when it was anticipating its Phase III results for ThermoDox with RFA (radio frequency ablation). ThermoDox is a unique liposomal delivery method of getting doxorubicin to the site of cancer tumors being treated. Preliminary trials looked great and the idea behind ThermoDox was one that made sense: delivering a concentration of an often-used cancer drug to the site of the tumor by its liposomal transport system, and using heat to activate it en masse.
On May 22nd, I penned an article making my argument that Celsion could be worth $4 a share in the not too distant future, citing the emotional speculation that came with the original ThermoDox hype and Celsion's restructuring and corporate strategy. Celsion was trading at $1.04 at the time. I noted a couple of reasons for my long position in Celsion at under a dollar:
the technicals were starting to shape up in the right direction
the company had been looking at cost reduction (of which they did a great job of in Q1)
the company was looking at acquiring other companies, to give themselves other legs to stand on aside from ThermoDox
the company received favorable data from "large" subgroups of ThermoDox patients who showed "marked" improvement in PFS and OS when RFA was optimized in their cases
Many people are asking what the cause for the recent run-up is, and the purpose of this article is to let people know the two most likely causes, in this investor's opinion.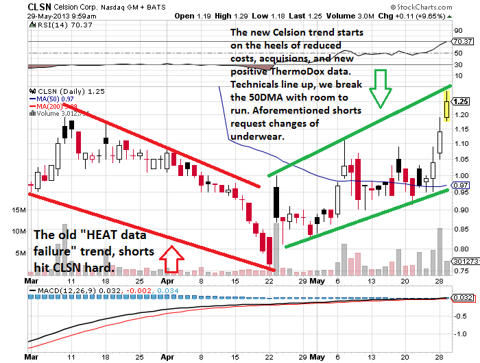 This Could Be a Short Squeeze and/or Institutional
Shorts had a pretty strong argument when the HEAT results came back catastrophic and it seemed the company was as clueless about why as the shareholders were. The argument was that based on the fact that since Celsion's entire pipeline revolves around its heat activated liposomal transport system, that ThermoDox's failure may have just set the precedent for total failure for the company.
The volume is key here; the fact that Celsion is trading 3 or more times its averages indicates that this could be a major short squeeze, squeezing out everyone who shorted down from the Phase III data until the recent conference call, where the company dodged and weaved from their seemingly grim path by cutting cost, finding good subset data on ThermoDox, and seeking out acquisitions to give the company another leg to stand on. Kudos to management for making these moves to, essentially, pull themselves from the grave.
I was bullish on the sentiments that Celsion was going to re-apply for FDA testing with ThermoDox after summer's end, and this is what could have shorts in a panic, rushing to cover.
There is also the sentiment that this could possibly be institutional investors entering into Celsion, which would explain the massive volume and the price run-up as they compete with retail to pick up shares.
Like peanut butter and jelly, nothing goes great with a short squeeze more than some panic buying, and that is also something we may be seeing here. There's no doubt that many people that have been sitting on the CLSN sidelines since the Phase III results may have found a reason, as speculative as it may be, to jump back into Celsion here.
This Could Be Good News Coming
Remember the weeks before the HEAT data was released? I do; very clearly. Remember the inadvertent pre-data-release "flash crash" that happened on zero news from the company? I do; very well. It was a sign that bad news was coming that we all missed and attributed to a "bear raid." Let me take you back to what I wrote about it after the data was released and Celsion longs were taken to the cleaners:
On Wednesday of last week, in what seemed like normal trading, Celsion's shares plummeted in a matter of seconds on nearly 1 million shares traded. Earlier in the day, Seeking Alpha published a editorial called "Taking Some Profits in Celsion," on the heels of which followed a bidwhacking bonanza. Celsion fell off a cliff, trading lower by roughly 30% before a single circuit breaker halt was issued, stopping the chaos in its tracks. I ignored my caveats with this one.

A 900k share order goes off at market, destroying the bid and causing a halt. Could this have been someone wanting to make their exit quickly? With the pending class action investigation now taking place, I'd be interested to see the results of a full investigation of when the company actually had the data in hand in comparison to the analyst downgrades and "bear raid". I hate that I'm even writing that, as someone who truly believes in the integrity of the company and executives; and their mission. But sometimes, if it walks like a duck and talks like a duck...again, "there are no coincidences".
What I learned from this was to pay attention to signs, and what we're witnessing could certainly be a sign that something has just swung Celsion's way. I'm convinced now looking back that the flash crash was insiders (at the company, or not) potentially dumping shares on the internal news of the ThermoDox results. We may never know, but if this same sentiment holds true for good news, we might be looking at a sign of news to come.
If this is a news leak that happened over the weekend or Monday, we should expect to see a filing and/or corresponding press release from the company by the end of the week, as per SEC regulation FD disclosure rules. We'll then know that the inside buying was no coincidence. Should we hear nothing from the company in regards to news or a comment on the trading, we'll know that this is either a short squeeze or institutional investors loading up.
Conclusion
I pointed out last week that insiders continue to buy on the open market at Celsion at under a dollar. Just to clue you in, insiders are called insiders for a reason: they know exactly what's going on behind the scenes. When insiders buy, it means they're confident based on their knowledge of what's going on behind the scenes. Has Celsion just acquired another company? Has Celsion got some more good ThermoDox news? Time will tell the tale here. To other Celsion investors, enjoy the ride, remember the importance of taking profits, and best of luck.
Disclosure: I am long CLSN. I wrote this article myself, and it expresses my own opinions. I am not receiving compensation for it (other than from Seeking Alpha). I have no business relationship with any company whose stock is mentioned in this article.