Thinking of buying some Kinder Morgan Energy Partners? (NYSE:KMP)? It is a great choice in terms of the company that is chosen, but it may not be the best Kinder stock to buy. You may be puzzled at the above statement. But this is my reason: KMP trades as an MLP, which will undoubtedly be a little "messier" for investors, with K-1 forms being sent and also taxes such as unrelated business taxable income (UBTI) that investors are subjected to. In addition, like all dividend payouts, its distributions are also eligible to the 30% withholding tax to overseas investors.
On the other hand, although every unit of Kinder Morgan Management (NYSE:KMR) represents a unit of Kinder Morgan Energy Partners, the distributions are paid in more units. This means no unnecessary taxes or documents, as distributions are directly being paid in units. This will also be benefit investors who have the habit of reinvesting their distributions (or dividends).
What's better, although KMR is supposed to track KMP, it does not do it that perfectly. But this imperfection is beneficial to KMR investors. KMR has been outperforming KMP over the past 10 years, as shown in the chart below. The red line represents KMR's stock price, while the blue line represents KMP's stock price. KMR has actually outperformed KMP by a whooping 80% over the past 10 years. Thus, I believe the KMR is the better choice as compared to KMP, especially when KMR is still priced lower than KMP.
Click to enlarge images.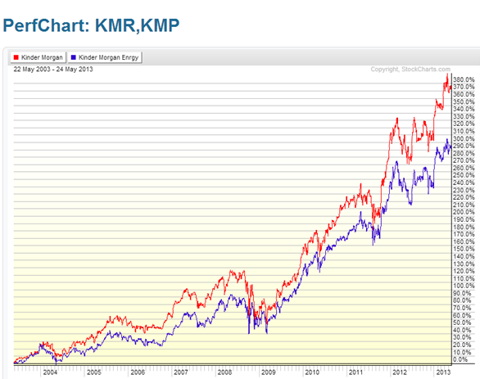 Click to enlarge
Although this is the case, the fact is that KMR tracks KMP and the assets that KMR stands for are the same as those owned by KMP. Thus, I feel that it is appropriate for me to do an analysis of Kinder Morgan Energy Partners. As you will see from this article, I like the company's future business prospects. Read on to find out why.
Business
First, let's talk about Kinder Morgan's business. Kinder Morgan is the largest pipeline transportation (midstream) and energy storage company in North America. The company either owns an interest, or operates approximately 46,000 miles of pipelines and 180 terminals (as of fiscal year 2012). Its pipelines deliver all kinds of energy products, including gasoline, carbon dioxide, natural gas, crude oil and other fuels like diesel and jet fuel. This can be seen through the picture below, courtesy of the company's website, showing the various pipelines and terminals that it owns.
Kinder Morgan's business can be thought of as a "toll road" for energy products, which charges clients every time they want to utilize these pipelines. The good thing is, Kinder Morgan remains largely unaffected by fluctuations in the pricing of the energy products that flow through its pipelines.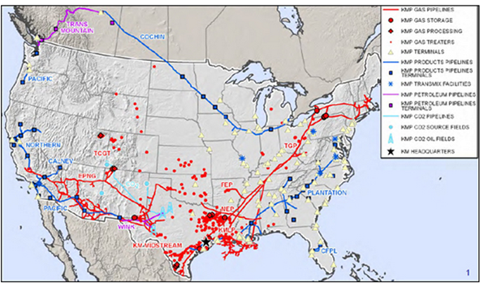 Click to enlarge
Snapshot
To let readers get a better idea about the company's fundamental figures, I feel that it is always essential to provide a simple snapshot of key metrics. Please note that all information (including valuation metrics) are for KMP and not KMR.
Price (28.05.2013)

KMP: $87.81
KMR: $85.74

Market Cap
$33.44B
FFO (Trailing 12-mths)

$3.91B (P/FFO: 8.55)
(Forward P/FFO: 7.03)

Sales (Trailing 12-mths)
$9.46B (P/S: 3.53)
Book Value Per Share (BVPS)
$31.28 (P/B: 2.81)
Debt/Equity Ratio
1.51
FFO Growth Past 10 Years
8.52% per annum
Dividend
$5.20 (5.93%)
Dividend Growth Rate (5-yrs)
7.4% per annum
Payout Ratio
50.68%
I will be elaborating on these further in the article. Here are some points why Kinder Morgan looks like a great pick to me.
1. Distributions
Kinder Morgan pays a high, consistently increasing dividend of 5.92% for KMP and 6.06% for KMR. It currently pays $1.30 per quarter, and has been increasing quarter over quarter since 2008. In fact, it has increased its dividends 47 times over the since 1997. The only time over the past 16 years the company that the company let its dividends remain flat was during the 2008-2009 recession, which is rather impressive overall.
Besides this, I am rather satisfied with the company's dividend growth rates as well, growing its dividend by 7.4% per annum over the past 5 years and 7.5% per annum over the past 10 years. This quite obviously outpaces inflation. Here is a chart showing Kinder Morgan's past distributions to unitholders: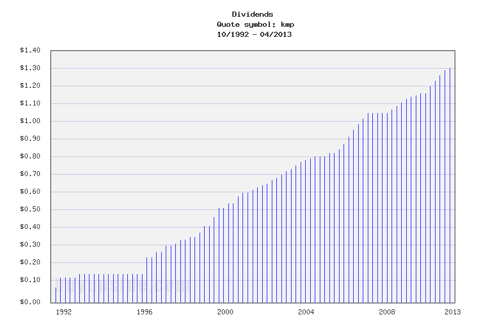 Click to enlarge
Source: Buyupside.com.
2. Past Growth in FFO
| | | | | | |
| --- | --- | --- | --- | --- | --- |
| Year | 2003 | 2004 | 2005 | 2006 | 2007 |
| FFO | $4.53 | $5.32 | $5.64 | $5.80 | $5.97 |
| Year | 2008 | 2009 | 2010 | 2011 | 2012 |
| FFO | $8.15 | $7.79 | $7.54 | $8.52 | $10.26 |
The company has proven to be a relatively stable-growing stalwart, with FFO numbers being grown at a steady pace of around 8.5% over the past 10 years, although there were some periods of time where the company experienced slightly slower growth. As shown above, the company has increased FFO numbers eight out of the past 10 years, which is rather remarkable. Although this is the case, some would attribute some of this growth to the tax benefits and special treatments and MLP receives.
But these numbers are all history, let us take a look at some possible drivers of future earnings and growth.
3. Favorable Future Prospects
Aggressively Acquiring/Investing in New Pipelines
The company has been acquiring or investing in new pipelines and other facilities recently. After the acquisition of the 13,600-mile Tennessee Gas Pipeline (NYSE:TGP) and the 10,200-mile El Paso Natural Gas (EPNG) pipeline system (both transports natural gas), a few more new projects and acquisitions has been made. Kinder Morgan currently has over $11 billion in expansion and joint venture investments, and plan to invest $3 billion more into such projects this year, as shown in a news report here.
BOSTCO
One of its biggest projects currently, Kinder Morgan owns a majority 55% stake in this project. BOSTCO owns around 185 acres of land, and the area is expected to commence operations in the third quarter of 2013. The initial stage of this major project includes the construction of 52 storage tanks with a capacity of 6.5 million barrels (of petroleum), and also the construction of five docks for ships to dock in, for the pumping of the energy products to take place. The first phase of the project will also enable high speed pumping rates of around 25,000 barrels of petroleum per hour. More information about the BOSTCO project can be found here.
TransMountain Expansion
Besides this, another large project which the company has recently proposed is the TransMountain pipeline in Canada. The project is still in its early stages, and still awaiting approval, but if approved, would include an expansion of its existing facilities in the TransMountain area, increasing the capacity of the area to around 890,000 barrels a day from the current 300,000 barrels a day. Kinder Morgan expects to invest $5.4 billion in the project. Besides this, management has also stated that it has already received commitments from customers, totaling to 700,000 barrels per day, therefore there will be no shortage of demand. Upon approval, the new TransMountain pipeline is expected to start operating in 2017. I expect this project to pay off for Kinder Morgan in the following few years.
For investors that are worried that this expansion may not be approved, still being in its early stages, they can be assured by the fact that this is not the first time that Kinder Morgan has expanded its TransMountain pipeline. The previous expansion, which added 160km of new pipes and a dozen new power stations, lasted from 2006 to 2008 and went smoothly.
All these projects will only strengthen its portfolio of pipelines, and maintain its moat -- which refers to its competitive advantage over its competitors, as I will elaborate on later. The full list of Kinder Morgan's current projects can be found here.
Largest Transporter and Marketer of CO2
Kinder Morgan is also the country's largest transporter and marketer of carbon dioxide (CO2). Kinder Morgan, which owns a stake of some of the biggest CO2 shales in the country, delivers approximately 1.3 billion cubic feet of CO2 per day through over 1,300 miles of pipelines. Besides transporting and marketing CO2, Kinder Morgan also uses CO2 flooding to boost production in mature oil fields. They now inject CO2 into oil producing fields, and one of its most valuable CO2 shales, the Permian Basin, even produces around 20% of the total oil produced in the U.S. through this method.
High Barriers to Entry, Able to Maintain Dominance
The barriers of entry of the midstream/pipelines industry is undoubtedly very high, making it very difficult for new competitors to enter the industry and compete, or let alone take away Kinder Morgan's dominant position in the industry. It would also very difficult for new entrants to gain approval from governments to build pipelines somewhere, even with sufficient capital.
Kinder Morgan, being the largest pipeline operator in the country, also has some advantages due to its sheer size, which includes having the most capital to invest in different operations. It will also have the broadest network of contacts, thus being able to maintain its dominance in the industry. For example, the company is also benefiting from the exploration for oil and gas in some areas of North America, as these places had little or no infrastructure. The news report can be found here.
4. Balance Sheet
First, Kinder Morgan's total assets grew much faster than its liabilities over the past three years, as shown in the table below. From fiscal year 2008 to fiscal year 2012, the company's total assets had increased from $17.89B to $32.09B, an increase of $14.2B, or 79% over five years. On the other hand, its total liabilities had increased from $11.84B to $20.77B, an increase of $8.93B, or a marginally less 75% increase over the past five years. Even though the increase in terms of percentage may not look too impressive, when comparing the company's assets and liabilities, its shareholder's equity has been increasing every single year over the past five years, which is a good sign. All these information are reflected in the table below.
Fiscal Year
Assets ($)
Liabilities ($)
Equity ($)
2008
17.89B
11.84B
6.05B
2009
20.26B
13.62B
6.64B
2010
21.86B
14.65B
7.21B
2011
24.10B
16.60B
7.51B
2012
32.09B
20.77B
11.32B
Growth Over Five Years

$14.2B
(79% Increase)

$8.93B
(75% Increase)

$5.27 B
(87% Increase)
Second, Kinder Morgan has no preferred stock, which is a good sign for the company and its shareholders - it does not need to pay extra special dividends, which would only drain its cash reserves, which can be used for other operations. A company that has preferred stock also shows how cash-strapped it is to have to borrow money from its shareholders, technically, at higher interests than normal (being obliged to pay special dividends to shareholders). Although this is the case, one must note that Kinder Morgan has more current liabilities than current assets. I will elaborate on this further in the section "Key Risks And Flaws."
5. Valuations and Stock Pricing
| | | | | |
| --- | --- | --- | --- | --- |
| Company | P/FFO | Forward P/FFO | P/S | P/B |
| KMP | 8.55 | 7.03 | 3.54 | 2.81 |
| KMR | 8.36 | 6.88 | 3.46 | 2.67 |
Kinder Morgan is also attractively valued in terms of valuation. With both entities with P/FFO ratios between 8.3 and 8.6 currently, and both their forward P/FFO ratios between 6.8 and 7.1, they look very attractively valued indeed, especially when KMR is the subject of this article. In addition, KMP's nominal valuation over the past 15 years has been around 9.5. Thus, the current valuation range seems acceptable to me.
Basic Calculations Using Historical P/E Ratio and FFO
KMP has a estimated 2013 FFO number of $12.47 and has a projected five-year growth rate of around 13%. Therefore, taking a more conservative 11% growth rate, the company will have an FFO number of $21.01 in 5 years time. Calculations are shown in the table below.
| | |
| --- | --- |
| Year | FFO ($) |
| 0 (2013) | 12.47 |
| 1 (2014) | 13.84 |
| 2 (2015) | 15.36 |
| 3 (2016) | 17.05 |
| 4 (2017) | 18.93 |
| 5 (2018) | 21.01 |
Assuming that the stock's price reverts to its average P/FFO of 9.5 in 2018, the company's stock will be worth a whooping $199.59 per share, which equates to a capital growth rate of around 17.9% per annum over the next five years (if one buys today), which is a good return. In addition, all the hefty dividends that this cash-cow will pay unitholders over the next five years will only add more color to the aforementioned capital return. Furthermore, when you are talking about the topic of this article -- which is automatically reinvesting tax-less KMR (all the above calculations were for KMP) -- the returns will simply look more impressive.
Stability During Past Recession
KMP has a beta of 0.39 while KMR has a beta of 0.45. Beta, in case you didn't know, is a measure of a company's past volatility. Beta's benchmark is the S&P 500, which essentially means that the two entities are, on average 0.4 times as volatile as the general market. This is especially good for a dividend investor seeking low beta stocks like me. This stability has also been proven during the previous recession, as shown in KMP's seven-year chart below.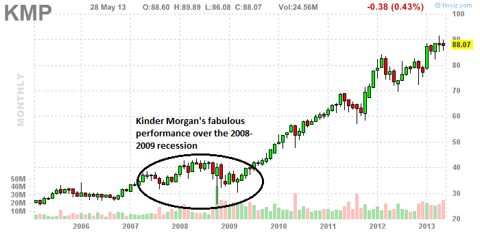 Click to enlarge
As shown in the chart above, KMP's drop in share price was relatively mild, from a high of around $40 to a low of around $30, representing of drop of around 25% even though the general market had dropped over 50%.
6. Key Risks and Flaws
Although this is the case, every company -- no matter how impressive -- also has some key risks and flaws. Here I will elaborate on some of Kinder Morgan's key risks.
Distributions Growth Could Be Endangered by Nature of Business
Although Kinder Morgan's payout ratio (dividend/FFO) is only in the 50% range, it may face challenges such a lack of capital- given that it is operating in the capital-intensive pipeline industry. As shown above, it has to spend large amounts of capital investing or acquiring in new pipelines to sustain growth. In addition, although it is very committed to paying distributions to unitholders, a delay in the completion of a project could endanger both company growth and distribution growth rates. Investors must note that nothing is really certain when it comes to such operations.
More Current Liabilities Than Current Assets, High Amount of Debt
In addition, Kinder Morgan has more current liabilities than current assets, with a current ratio (current assets/current liabilities) of merely 0.74. A current ratio below one means that the company has more current liabilities than assets, and therefore the company could have difficulties paying off short-term obligations. The table below shows the exact figures as reported on KMP's Q1 2013 financial statements.
Current Assets
Current Liabilities
$2.362B
$3.194B
Current Ratio: 0.74
Besides this, KMP has a high amount of debt. The total amount of debt it has as of Q1 2013 totaled to $19.591B, which represents over 50% of its current market capitalization of $33.55B. It also has a debt/equity of 1.51, which is an unbearably high figure to me. I would normally like a company's debt/equity ratio to not be higher than 0.5. This ratio shows the proportion of equity and debt the company is using to finance its assets, and the higher the ratio, the more debt, rather than equity is financing the company. Besides this, a high level of debt compared to equity may also result in volatile earnings and large interest expenses. Although Kinder Morgan is a capital-intensive business and may require a fair amount of debt to sustain its growth (and thus should be classified as "good debt"), it is still quite a large flaw in my eyes.
The Takeaway
KMP has proven to be a great investment for the long term, with its numerous benefits that will fuel further growth over the long term. The more tax-efficient, higher-returning and cheaper-priced (for now) KMR truly gives one the chance to have the cake, by getting the opportunity to own a piece of a wonderful business, and also eat it, by receiving further benefits from KMR.
In my opinion, KMR definitely deserves a place in the portfolios of all dividend investors. In fact, I hold KMR shares in my portfolio, and all I am doing now is sitting back and relaxing -- but also watching my shares compound over time, of course.
Disclosure: I am long KMR. I wrote this article myself, and it expresses my own opinions. I am not receiving compensation for it (other than from Seeking Alpha). I have no business relationship with any company whose stock is mentioned in this article.