In the last 3 months, the NASDAQ Composite Index has posted an approximate gain of 20%. Since March lows, technology stocks have been leading equities higher. However, recent bullish momentum has decreased as traders have become less optimistic about the next few months ahead.
As optimism decreases, pessimism is slowly increasing, and traders are beginning to position themselves for a moderate retracement from the recent highs. Across the technology sector, option traders have positioned themselves for a near-term reversal. In particular, Atheros Communications (NASDAQ:
ATHR
) has been experiencing high levels of put buying and short interest.
Taking a closer look at the options for the front and back months, we see the following: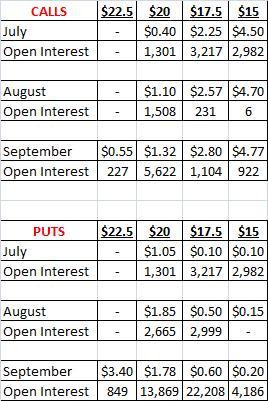 High levels open interest lie in the back months for the August and September put contracts. In addition to high levels of put interest, it is important to recognize the Put/ Call Open Interest. Since June 1
st
, the Put/Call Open Interest Ratio has raised June's lows of .29 to the current high of 3.4. What does all of this mean?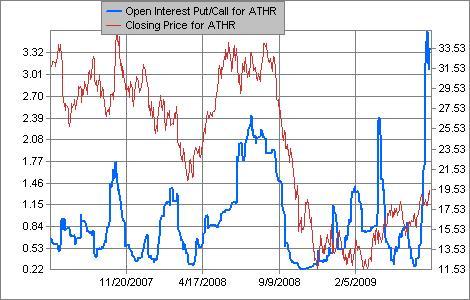 Option traders have gone from purchasing 1 put for every 3.33 calls to the purchase of 3.4 puts for every 1 call. This swift change in sentiment has not only increased the Put/Call Ratio 1,033% during the last month, but has set 2-year high for the ratio exceeding its previous high of 2.4 set this time last year.
For those looking to commence a bearish position on
ATHR
, consider the following analysis:
Bearish
Buy one AUG $20 strike put option contract, one SEP $20 strike put option, and sell 1 SEP $17.50 put for a total cost of $273 (100*1.6+100*1.78-100*.65).
The final cost for your Bearish position should be a $273 with a Break-Even price of $18.63.
Disclosure:
Author does not own ATHR.