Whether you walk on the Long Trail, or drive a Fire Engine, or fly a passenger plane, or move an armored column up to the North Korean border, the odds are that you use a Global Positioning System -- GPS for short.
To quote a Time article from May 26, 2009:
"Satellite navigation owes a debt to Sputnik, the pioneering Soviet satellite launched in 1957. U.S. scientists learned they could track the satellite's orbit by listening to changes in its radio frequency, relying on the same principle that explains why the pitch of a car's horn seem to change as the car speeds by. The Navy's TRANSIT navigation system was developed in the 1960s, relying on six satellites and designed originally for use by submarines. More than 10 satellites were eventually launched, though ground units had to wait up to several hours to pick up a signal. Meanwhile, engineers Ivan Getting and Bradford Parkinson began leading a Defense Department project to provide continuous navigation information, leading to the development of GPS (formally known as NAVSTAR GPS) in 1973. The military launched the first GPS satellite in 1978 and completed the system in 1995. GPS uses a "constellation" of 24 satellites orbiting 12,000 miles high, each circling the globe every 12 hours. The 2,000-lb satellites broadcast radio signals to Earth with information about their location and the exact time the signal was transmitted (each satellite carries an atomic clock). By calculating the difference between radio signals received from four or more satellites, GPS receivers on the ground can determine their own location, speed and elevation with great accuracy -- usually within a few meters or even less."
The U.S. today has a total of 64 NAVSTAR satellites. Europe started its own system, the Galileo, in 2011 and now has four satellites -- going to a total of thirty by end of this decade, when it will provide global coverage. Russia, too, has its own GPS satellite system -- Gleonass -- with now 24 satellites in orbit. As of now, only the United States' NAVSTAR and Russia's Gleonass are fully globally operational. China is in the process of expanding its regional Beidou system to provide global coverage by 2020. India is also building its own regional system, expected to be operational by 2014. Japan is in the process of developing a regional navigation systems in order to reduce its dependence on the U.S. NAVSTAR system..
GPS became widely available to the public in the early nineties and has since then changed from being mainly a stand-alone gizmo to one that has invaded virtually all consumer electronics products, from smart phones to tablets to laptops. This is good news for the providers of GPS information, but bad news for the makers of Portable Navigation Devices -- PND for short..
The two market leaders in PNDs are Garmin (NASDAQ:GRMN) and TomTom (OTCPK:TMOAF). Garmin is a U.S.-based manufacturer, in business since 1989, and the larger of the two. Its products have consistently been rated very highly by Consumer Reports. While its Automotive and Mobile business is by far the largest segment of its business, the company is also involved in products designed for the Fitness, Aviation and Marine segments.
When you look at the U.S. mass retailers, Garmin is by far and away the market leader: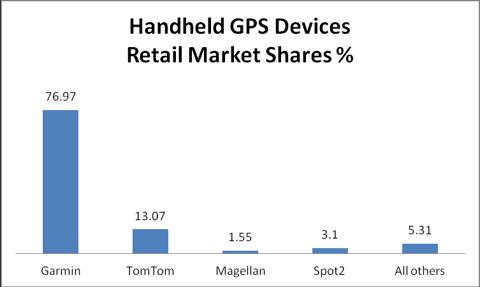 Source: Klosters Retailer Panel [Wal-Mart, Target, ToysRUs, Costco, RadioShack, BestBuy, Amazon, Sears]
However, Klosters' Retailer Panel data makes it clear that handheld GPS devices are declining in the U.S., and buyer feedback from the large international retailers suggests that this is a worldwide trend, caused by inroads from smart phones, tablets and other consumer electronics.
Google Trends, showing worldwide web searches for the two companies, reinforces this view: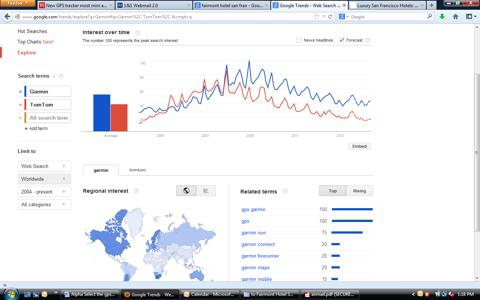 No market share increases by Garmin or TomTom will be able to compensate for this ongoing decline. For instance, nearly 70% of all GPS usage by consumers is done by using smart phones, and all indications are that this trend is accelerating. To give an example -- when a new version of Google's free map and navigation app became available for iPhones in December 2012, 10 million people downloaded it in just two days -- almost as many as buy a Garmin GPS in a year.
The unavoidable consequence is a continued erosion of Garmin and TomTom's business, and a review of their sales tells the story: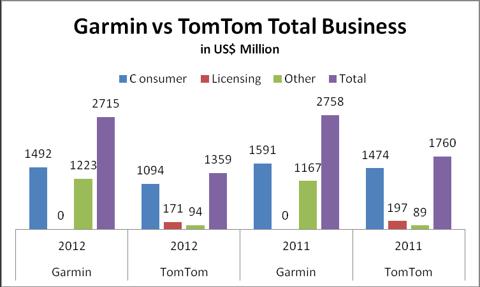 Source Annual Reports Garmin and TomTom
While TomTom's sales declined much more sharply than those of Garmin, the market leader nevertheless suffered substantially. Their core consumer business dropped worldwide by 6.3%, and had it not been for market share gains, mainly in the non-Hardware segment, this drop would have been in excess of 10%. This is clearly demonstrated if you look at their Hardware business in isolation: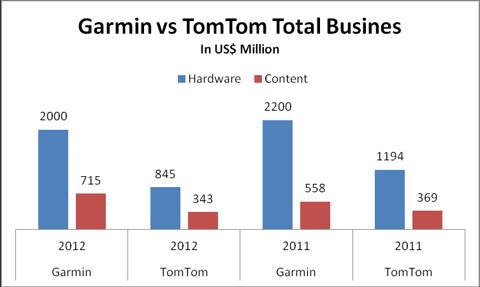 Source Annual Reports, Garmin and TomTom
This trend is also visible if you look at geographical segments: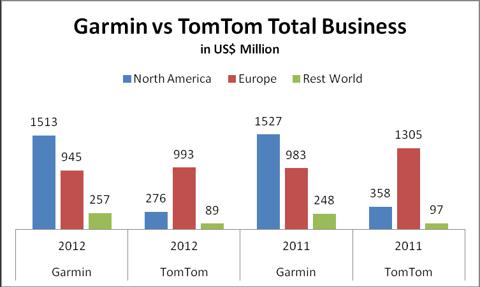 Source Annual Reports, Garmin and TomTom
To give credit where it is due, the management of Garmin had recognized this trend away from PNDs to cell phones from the moment the first iPhone -- the iPhone 3G -- hit the market with a GPS facility in 2008. At that point, it took steps to diversify away from the general consumer business into more specialized applications. Had it not been for this, 2011 and 2012 sales results would have been very much worse: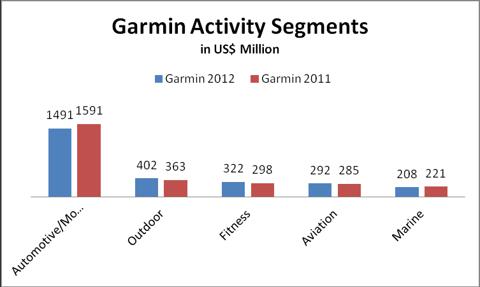 Source Annual Reports, Garmin and TomTom
As we can see, not only did the four specialized segments contribute significantly to the total, three of the four also showed growth in 2012.
Garmin also decided to enter the smart phone market itself and launched the Nuvifone G60 in late 2009. There were a couple of significant problems with it. One was the price of $799.99 compared to the Apple IPhone 3GS of $599 at that time. The other was that the device was great for its GPS capability, but was lacking in many respects as a phone -- screens tended to freeze, and it had unacceptable camera performance, very short battery life and no car charger. Not so surprisingly, it was a total failure and has been discontinued.
Seeing that Garmin was branching out into new fields, TomTom finally decided to bestir itself and also diversify, but this was three years after Garmin had already taken the plunge. TomTom entered into a partnership with Nike and released the SportsWatchPlus GPS in January 2011. However, the venture was less than spectacularly successful -- today, the gizmo is only available at Amazon [where is in 22nd place of the TomTom products carried by this retailer] and #5 at BestBuy.
On April 17, 2013, TomTom announced that it would launch two new GPS watches but without Nike -- the TomTom Runner and the TomTom Multi-Sport -- the former for the jogger and the latter, which is waterproof, designed for cycling and swimming. Today, 45 days later, neither of the two new products is carried by any of my retailer panel participants -- Wal-Mart (NYSE:WMT), Target (NYSE:TGT), ToysRUs (TOYS), Costco (NASDAQ:COST), BestBuy (NYSE:BBY), RadioShack (NYSE:RSH), Amazon (NASDAQ:AMZN), or Sears (NASDAQ:SHLD). Some of the national buyers told me that they did not think that either product was a major improvement over the Nike watch, and that they would most likely not carry them.
Whatever the case may be, the GPS-enabled watch is a good idea since the GPS fitness watch market is set to reach $1.07 billion in this year, according to an ABI Research announcement from February of this year.
In spite of these diversification efforts, the outlook for the two companies is not promising. For 2013, their expectation is continued declines in the PND segment -- Garmin down 17% and TomTom about the same -- and hence sales decline for the overall topline of about 6% for each company as well. When I speak to the national buyers both in the U.S. and in Europe, they predict continued sales erosion for both Garmin and TomTom for the foreseeable future. The reason for this is that smart phones will begin to focus into the more specialized GPS functions as well, not just in the straightforward mobile and automotive segments.
The one area where expansion and growth should be attainable is Asia. In the case of Garmin, Asia/Pacific at $257 million represented in 2012 a mere 9.5% of its business, but it at least is a growth area -- up 3.6% over 2011. In the case of TomTom, Asia is a non-factor in that the company provides GPS maps only for Borneo, Brunei, Hong Kong, Indonesia, Malaysia, Singapore and Thailand, but not for China, India or Japan, whereas Garmin does.
However, Asia is not only a promise, but also a challenge. The promise is that the development of regional GPS systems in India and Japan will accelerate the penetration of consumer GPS devices. The decision by the Chinese Government to turn Beidou from a purely defense-focused system to one that also allows consumer usage will without doubt rapidly and massively expand this market place (of which the Chinese Government expects Beidou to capture at least 80%). However, the decision by the Chinese Government to roll out Beidou to the rest of Asia and to make it a commercially active competitor represents a major challenge to existing systems (e.g., Garmin) because Beidou will make inroads and is expected to reach a market share of at least 17% within the next two to three years.
Other than geographical expansion, what are the choices for the Garmins and the TomToms of this world?
One obvious one is to turn to GPS to find people or pets or things. The police have used this technology to great effect with their electronic ankle bracelet. Transport companies routinely track the whereabouts of their vehicles via GPS. ABI Research early last year estimated that GPS personal tracking devices and applications could well reach worldwide sales of more than $1 billion each by 2017.
While TomTom has so far stayed away from this market segment, Garmin entered it early 2011 with its GTU 10 designed to track pets, kids, luggage, etc. However, when talking to the buyers at the various major retailers, one gets the sense that this product is not doing too well. This is the status today of the device among the eight retailers making up the Klosters Consumer Electronics retailer panel:
| | | | | |
| --- | --- | --- | --- | --- |
| Retailer | Carries | Sales Rank | Out of total Garmin SKUs carried | Retail Price |
| Wal-Mart | Yes | 15 | 190 | $119.00 |
| Target | Yes | 75 | 100 | $174.99 |
| Sears | Yes | 920 | 950 | $177.00 |
| Amazon | Yes | 60 | 400 | $134.40 |
| ToysRUs | No | | | |
| Costco | No | | | |
| Radio Shack | No | | | |
| BestBuy | No | | | |
Source: Klosters Retailer Panel
Interestingly but not totally surprisingly, the device does best where it has the lowest price point -- Wal-Mart at $119 and at Amazon at $134. National buyers at the major retailers thought that GPS-enabled people trackers would require a retail price point at about $75 or less to make significant inroads into the mass market. In essence, they are looking for devices that meet four criteria -- inexpensive, accurate, easy to use, and with long battery life.
Contacts at the large electronics manufacturers in China expressed the opinion that the GTU 10 should easily be able to meet the $75 criterion if Garmin ordered at least 100,000 pieces at a time.
In essence, what should we think when we consider the two companies -- Garmin and TomTom? That is what a very senior executive at a large U.S. retailer said to me a few days ago:
"Garmin has the right instincts and they see where the market is heading. It is just that their execution is flawed. None of their major initiatives away from their core GPS technology has worked. Their smart phone was a disaster. Their GTU 10 people tracker is not going anywhere. The smart phones are eating their lunch even in the more specialized applications. Unless they are getting their stuff together, they will be toast in a few years. But you have to give them credit for trying. TomTom is slowly waking up to the fact that they have to find new ways or they will not be able to survive between an aggressive Garmin and the all-encroaching smart phones. That is why the recent switch of Apple, first away from Google to their own mapping technology and then to TomTom's, is so interesting. What this suggests is two things. One is that the cooperation between Apple and TomTom is likely to accelerate. The second is that Garmin could possibly take a leaf out of TomTom's book and talk to Samsung, who is now using Google."
In other words, if you can't beat them, join them!
Disclosure: I have no positions in any stocks mentioned, and no plans to initiate any positions within the next 72 hours. I wrote this article myself, and it expresses my own opinions. I am not receiving compensation for it (other than from Seeking Alpha). I have no business relationship with any company whose stock is mentioned in this article.