The Texas Railroad Commission reports that Eagle Ford shale oil production has risen from next to nothing in 2009 to over 500,000 barrels/day in March of this year: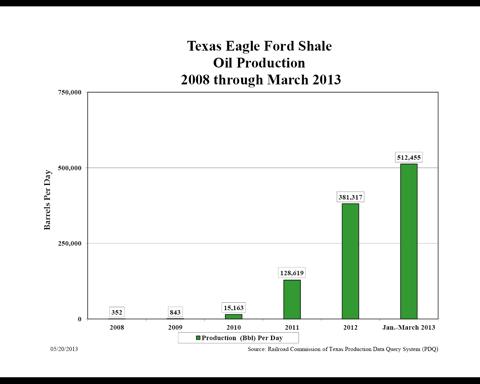 Click to enlarge
Two companies currently dominate Eagle Ford shale production:
The big picture here is that EOG and COP pump roughly 50% of the total production from the fastest growing and arguably the most economical shale play in the US: the Eagle Ford. More importantly, a recent EOG slide shows that while the Bakken's rate of production growth appears to be slowing, Eagle Ford production growth is still on an upward trajectory: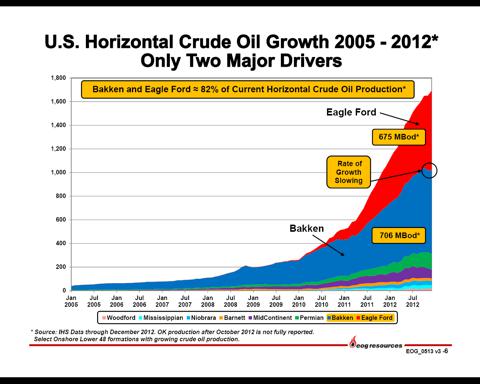 Click to enlarge
EOG Resources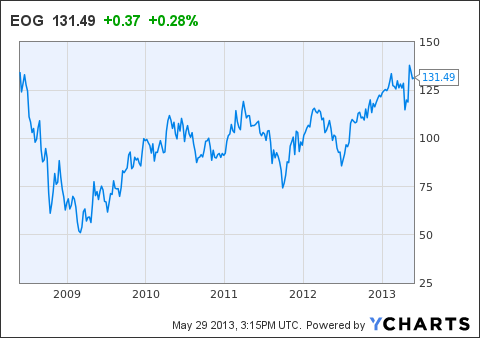 EOG = $131.49
Mkt Cap = $35.7 billion
P/E = 48
EPS (ttm) = $2.74
Div (Yield) = $0.75 (0.6%)
EOG has been the biggest benefactor of Eagle Ford shale resources. It has 639,000 total acres, of which 569,000 are in the oil window.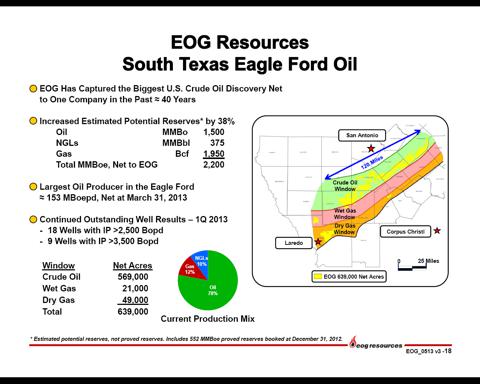 Click to enlarge
As a result, EOG has made a brilliant transition from a predominately dry gas producer to a majority liquids producer. Oil and NGLs composed 86% of total 2012 production: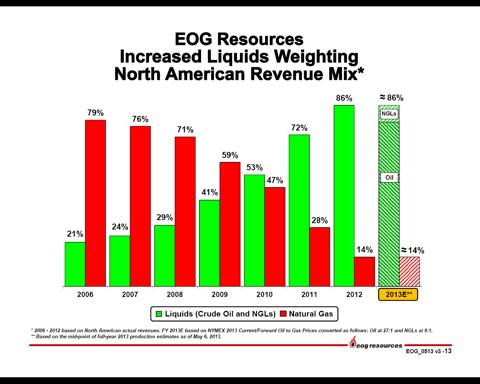 Click to enlarge
This transition has enabled EOG to increase cash margins by over $15 per boe over the past 4 years: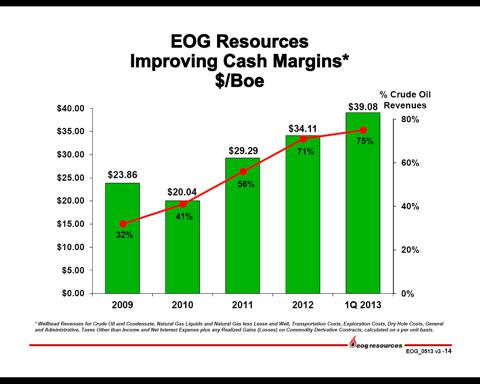 Click to enlarge
All these factors helped EOG announce a spectacular Q1 2013 earnings report. Fellow SA contributor Bret Jensen reports 33 analysts covering the stock have a $155 median price target on the shares. S&P has a "Buy" rating and a $161 price target on EOG.
ConocoPhillips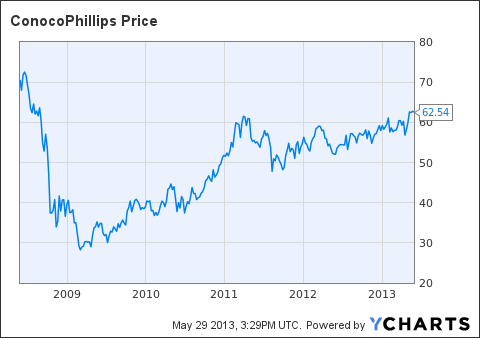 COP = $62.54
Mkt Cap = $76.4 billion
EPS (ttm) = $6.16
P/E (ttm) = 10.13
Div (yield) = $2.64 (4.2%)
ConocoPhillips is a more widely diversified play on the Eagle Ford than EOG Resources. For Q1 2013, COP's Eagle Ford production accounted for about 6.3% of total production. That said, the Eagle Ford is and has been an important part of the company's multi-year strategic plan. COP owns 227,000 net acres in the play acquired at an average price of $300/acre. I have reported extensively on COP's Eagle Ford operations and will not repeat myself here.
Summary And Conclusion
The Eagle Ford shale is arguably the best shale play in the U.S. and production continues to ramp up. Investors can participate by investing in the two leading producers in the play: EOG and COP. EOG has a greater percentage of its production coming from the Eagle Ford and is growing earnings faster than COP. On the other hand, EOG has a P/E over 4x that of COP and pays a 0.6% dividend compared to COP's 4.2%. COP is a more diversified company with a quality asset base of conventional, unconventional, and oil sands resources. Both appear to be good long-term investments. It's hard for me to recommend one company over the other. Why not just split your investment in half and buy shares in both?
Disclosure: I am long COP. I wrote this article myself, and it expresses my own opinions. I am not receiving compensation for it (other than from Seeking Alpha). I have no business relationship with any company whose stock is mentioned in this article.
Additional disclosure: I am an engineer, not a CFA. The information and data presented in this article was obtained from company documents and/or sources believed to be reliable, but has not been independently verified. Therefore, the author cannot guarantee its accuracy. Please do your own research and contact a qualified investment advisor. I am not responsible for investment decisions you make. Thanks for reading and good luck!