Company: Gannett Co., Inc.
Exchange: New York Stock Exchange
Symbol: (GCI)
Gannett is one company, which fundamentally looks very strong, offers good dividend yield, has excellent cash flows, and has a good balance sheet. It has a place in the Berkshire Hathaway's portfolio. Company offers a "low risk high return," long-term investment opportunity with dividend yield of above 3% (Considering current price and FY 12 dividend payout).
Company summary:
Broadly speaking, Gannett is a media and marketing solutions company with a diverse portfolio of broadcast, digital, mobile and publishing companies.
In past years, the company's performance had been affected: due to emergence and growing acceptance of new digital content delivering platforms, including Internet and most importantly mobiles apps; and also due to economic downturn.
Now the other side of the story: the positive side; in all these years of decline company transforms itself to a digital power house and today its problems are its strength. Management focus on planning and implementation has started showing its results, revenue decline has been contained and with the economic recovery, growth should follow. Currently company is trading at near 52-week high, at a P/E of about 12.
Company operates under three segments
Publishing & circulation
Broadcasting
Digital
Table below demonstrates how the company transforms itself to overcome its problems and making them its strength.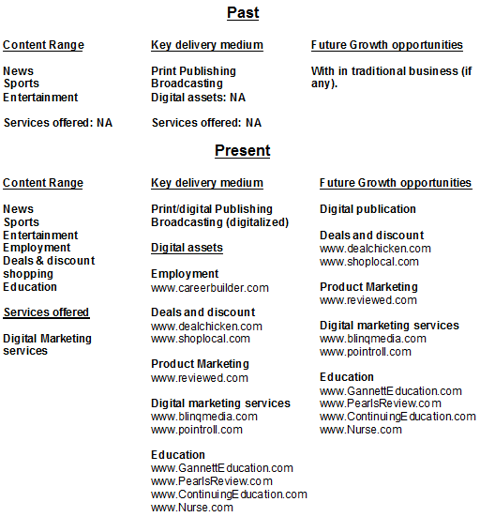 Company's strength:
1. Its operating assets and brands:
It owns brands like: USA TODAY (print, website, mobile, tablet), CareerBuilder (website)
At the end of 2012, the company and its subsidiaries had approximately 30,700 full-time and part-time employees.
The company operated 82 U.S. daily publications, including USA TODAY, and over 480 non-daily local publications in 30 states and Guam. (Publishing segment)
Operates 23 television stations in 19 U.S. markets (broadcasting segment)
Its main digital platforms: (Digital segment)
More than 130 publishing websites.*
21 TV websites.*
USATODAY.com*
USA TODAY Sports Digital Properties*
Various other marketing related websites.*
CareerBuilder.com, the nation's top human capital solutions site.
*Many of the company's digital offerings are tightly integrated within its existing infrastructure and publishing or broadcasting product offerings.
In addition to it company has also launched over 200 mobile products, including new tablet editions, multiple USA TODAY mobile products for phone and tablet, and the Broadcasting iPad apps for digital delivery of content.
Subsidiary: Gannett subsidiary Newsquest is one of the United Kingdom's leading regional community news providers with 17 daily paid-for titles, more than 200 weekly print products, magazines and trade publications and a network of websites. More than 9 million unique users access the Newsquest network of news websites each month.
2. Its reach: (ref Annual report 2012 page 3, Page ref number as printed on annual report not as per they appear in pdf document.)
Its rich portfolio of iconic national brands, such as USA TODAY and CareerBuilder, as well as its unique local brands in more than 100 communities has vast and deep reach in its markets.
Gannett reaches 54.6 million unique visitors monthly or about 24.7% of the U.S. Internet audience, as measured in December 2012 via websites including CareerBuilder.com, USATODAY.com and USA TODAY Sports Digital Properties.
Company's broadcasting operations reach nearly 21 million households, 18.1% of the U.S. population.
Its print products reach 11.1 million readers every weekday and 12.7 million readers every Sunday.
3. Strong Free cash flow: (ref Annual report 2012 page 77)
Company has got strong operation cash flows, good enough to fuel future growth and a healthy dividend payout.

4. Strong Financials:
Balance sheet is strong.
Accounting practice is very transparent and all assets are revalued every year according to their future earning potential (Impairment charges). So no misleading assets on balance sheet particularly under "Goodwill assets.": (ref Annual report 2012 page 31)
5. Dividend story: (ref annual report 2012 page 4)
In FY12 company announced a new capital allocation plan, which aims to return over $1.3 billion to shareholders by 2015. As part of that plan, the company increased the annual dividend by 150% to $0.80 per share; and launched a new $300 million share repurchase program in February 2012. Company has got enough cash flows to support the above plan without any adverse effect on its balance sheet.
Key concerns:
Negative shareholders' return:(ref Annual report 2012 page 28)
(Comparison of shareholders' return - 2008 to 2012)
The following graph compares the performance of the company's common stock during the period Dec. 31, 2007, to Dec. 31, 2012, with the S&P 500 Index, and a peer group index selected by the company. The graph depicts representative results of investing $100 in the company's common stock, the S&P 500 Index and Peer Group index at closing on Dec. 31, 2007. It assumes that dividends were reinvested monthly with respect to the company's common stock, daily with respect to the S&P 500 Index and monthly with respect to each Peer Group company.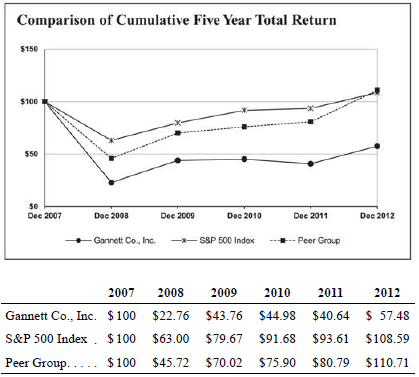 Continuous decline in revenues:(ref Annual report 2012 page 76)
Company has shown continuous decline in revenues (expect in FY 12) due to economic slowdown and emergence of new technologies for content delivery like internet and most importantly mobile and tablet products.

High dependence on economic growth.
Developments that can lead the company to a great future:
1. Technological transformation/integration:
Since the last few years company is focusing on transforming its content delivery base, from old technologies to new integrated technology-based mediums. Company is making its content available through every possible medium: from print to digital; television to computer to mobile; and from paper printed to digital apps.
2. Widening its content base:
In recent years company has widened its content base by adding employment, education, shopping and marketing related contents, which traditionally was limited to news, sports and entertainment. Employment related content (CareerBuilder) is already contributing significantly to revenues.
3. Investment in acquisitions: (ref Annual report 2012 page 77)
Since 2008 company is making investments in new age content and technologies mostly through acquisitions including CareerBuilder, reviewed.com, BLiNQ Media, LLC etc. These acquisitions allow company to speed up its digital presence and today company gets nearly 25% of its revenues from services offered on digital platform.
4. Introduction of services related to digital marketing:
In recent years company leaves no stone unturned on the technological front, not only for itself but also for its clients through Gannett Digital Marketing Services (GDMS). GDMS is currently offering a robust suite of digital services, to tens of thousands of small and medium-sized businesses, for using digital technology more efficiently to reach their customers. Company's digital marketing companies offer innovative marketing solutions for any audience. PointRoll, an industry leader in rich media advertising solutions and technology, powers more than 50 percent of all rich media campaigns online and serves more than 150 billion ad impressions each year.
5. Integration and consolidation of back office operation/services:
This will help company to build scale and save cost on its various in-house services and also allow company to provide these services to third party (publishing services, marketing services)
6. Online product marketing:
Its offerings range from its own products such as "DealChicken," an online coupon and special offers site, which tripled revenue in 2012 compared to 2011, to Internet advertising and social media optimization services. ShopLocal is its leading provider of online marketing solutions that connect retailers with shoppers through innovative and effective marketing, enabling more than 100 of the nation's top retailers to deliver localized promotions directly to shoppers.
7. Growing presence in new segments:
Company has entered in segments which has high growth potential like education, digital marketing, online product marketing. Moreover its growing presence in digital content space also offers a great opportunity for future growth.
8. Core values are intact and getting stronger:
Company is building its future on its core values (its reach, its content, its quality). Everything that company is doing from acquisitions to technological advancements is giving more strength and utilization to its core assets.
Peers:
The New York Times Company (NYSE:NYT)
The Washington Post Company (WPO)
News Corp (NASDAQ:NWSA)
Disclaimer:
Investments in stock markets carry significant risk, stock prices can rise or fall without any understandable or fundamental reasons. Enter only if one has the appetite to take risk and heart to withstand the volatile nature of the stock markets.
This article reflects the personal view of the author about the company and one must read the offer prospectus and consult its financial adviser before making any investment.
Disclosure: I have no positions in any stocks mentioned, and no plans to initiate any positions within the next 72 hours. I wrote this article myself, and it expresses my own opinions. I am not receiving compensation for it (other than from Seeking Alpha). I have no business relationship with any company whose stock is mentioned in this article.