Shareholders of Netflix (NASDAQ:NFLX) have been riding a roller coaster over the last three years, as it was trading at around $53.00 a share in January 2010, and soared to a little over $295.00 a share on July 4, 2011. Just a few months later it was trading at under $64.00 a share, on November 21, 2011. Go ahead to July 30, 2012, and it was trading at $53.91, less than a dollar above it's January 4, 2010 trading level. From there it skyrocketed again, climbing to as high as $239.00 a share on May 13, 2013.
Proponents of the stock like to go back to years ago when the company was trading in the single-digit range, and talk about those that held on from there having made gigantic gains. I understand the temptation to do that, but very few people continued to hold on to this volatile stock from those days. Those that did, in fact did make a lot of money. But you could do the same thing with any good company, as far as taking specific share price points and building the narrative you want to from it. This is why there are three charts below showing how Netflix has performed over the last year; the last two years; and finally the last five years.
The charts tell the story.
Netflix One-Year Chart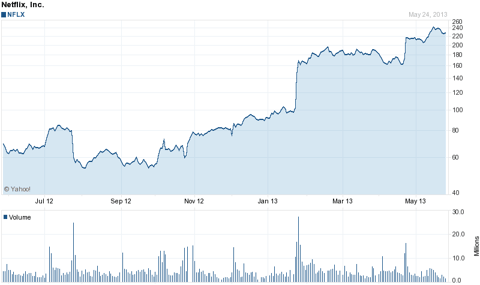 Netflix Two-Year Chart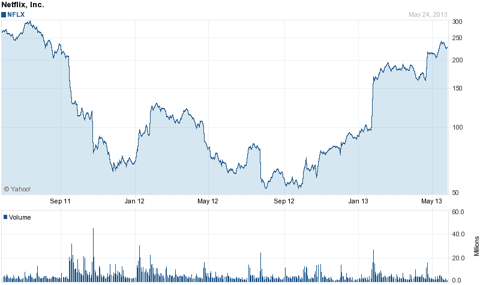 Netflix Five-Year Chart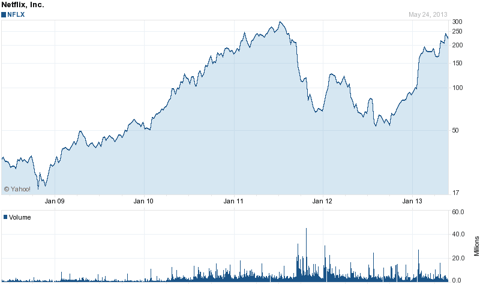 Core Vulnerability of Netflix
The reason Netflix is so volatile is its extremely vulnerable business model, which can easily be replicated by a new competitor with some deep pockets and a few engineers.
Netflix is of course attempting to address that vulnerability by signing streaming deals with as many media companies as they can, of which they have won some and lost some, adding to the uncertainty on whether or not the company can be counted on by consumers to provide a predictable group of shows and movies if they sign up for the service.
All of this is old news of course, and not the specific couple of vulnerability that's going to be talked about in this article. But to not include this vulnerability in the investment decision-making process would be a mistake.
Exclusive Shows
Another way Netflix is attempting to build a moat around itself is by offering its own exclusive content. That's a good strategy, but a very expensive one, even when the company gets actors to lower their pay to be part of it, as the company did with Arrested Development.
Since to effectively compete over a long period of time Netflix will have to differentiate its content, the risk is if actors start to resist lowering their pay demands, and the company can't afford to create quality shows and/or movies.
Trying the old tech strategy of building economies of scales is one way Netflix is trying to overcome that. If it's able to grow to a certain size, it'll have the money to pay more attractive salaries to actors, and those grow out its exclusive offerings.
What is challenging there is there is no guarantee what it produces will be a hit. Like its content competitors, they will have to go through the costs of discovery of hits as they do. Since it's all streaming, they do have a lower barriers-to-entry, but it's still a time-consuming, costly process that has no guarantees.
Even the much-hyped Arrested Development was in general, underwhelming to those following the stock. It doesn't matter that fans of the show go around the Internet on social networking sites in an attempt to make it appear far more appealing to a wider audience than it actually was. The truth is it is at best a break-even venture, even though it temporarily got a boost in streaming for the company.
Its first two original offerings - House of Cards and Lilyhammer - were also underwhelming, to say the least. That said, attempting to show customers the company is committed to original fare is important. It possibly could help keep them in the fold, waiting to see what the company has in its pipeline.
Pricing Risk
With the need to provide something different from existing and future competitors, Netflix will have to continue to create original series to be successful over time.
From there another problem is raised that must be solved, and that is how much Netflix will have to charge its customers to offer all of this content. How much will customers be willing to pay to use Netflix? It's a question that has yet to be answered.
Comments around the Internet show it's not a lot more than is being paid now. That could change if the content is superior, but again, there are still price limitations in regard to customers.
What is yet to be determined is if Netflix can provide what it's promising to and not price itself out of the market. Again, is this is a legitimate business model that's sustainable?
We come around again to whether or not people are willing to pay much more for the service, being somewhat of a commodity, and remaining that way without more original content.
A la carte
What is attractive to Netflix users, or users of any streaming company, is the ability to watch a show at any time and any place on almost any device. If that is taken away from Netflix, it would basically be game over.
A la carte is something many people want, and since cable companies continue to refuse to offer it, it gives Netflix and similar companies an edge in the market. But with a la carte comes reruns, and that's the new vulnerability the tech company now faces, as networks are changing their strategy as to not offering as many repeats as they have in the past.
This year with some ratings continuing to fall and cable hits like "The Walking Dead" being big hits, the networks are going to launch a number of scripted shows in the summer months. There will be far less repeats and more original shows this summer for the first time in many years. It is a response to cable competitors, but it could have an impact on the streaming hours of Netflix.
There could be opportunity for Netflix here if it is able to land some deals associated with these new series. Yet rival Amazon (NASDAQ:AMZN) has already beat them out for a sure hit: "Under the Dome," which is based on a Stephen King novel.
Even so, I see Netflix and other streamers getting some pressure here, as not too many people say they'll wait to watch an original TV show on Netflix. They may say it for a movie, but who is going to say and do it for a TV series that can be watched at least several days before.
What is at stake is if repeat shows will lose a lot of their appeal with the new focus on original, summer scripted fare from the networks. If the decide to go that route in what is becoming a reality TV-fatigued audience, it could put even more pressure on streamers who have to wait to offer the TV series to customers.
The pressure comes from people choosing to watch the original series as soon as they come on, rather than watch old reruns. This summer will provide some answers as to the effect of more original network programming and how it may have an impact on the giant streaming company.
"Because there is so much time-shifted programming on demand and on DVRs, people don't watch repeats as much as they used to," said a network programming executive. "The value is diminishing and there's a need for more originals."
Conclusion
Fans and blind followers of Netflix continue to call it a disruptive company, but I don't see that in light of how vulnerable the company is. It may be a disruptive technology, but I don't see any moat with Netflix that could reasonably protect it from its growing number of competitors. And though it isn't the focus of this article, valuation, debt, and questions as to whether or not it can afford some of the deals it has been making also weigh on the future performance and viability of the company.
At this point the usual mantra of 'you just don't get it' could be interjected, but in fact I do get it. Netflix is trying to grow to levels where its size will be the moat it will have to make deals, create original content, and fend off its competitors. That's not just a tech thing, it's been a strategy that has been employed by companies in a variety of sectors for years.
The problem is there is a huge question as to whether or not growth can keep up with the deals being put in place. That, and the fact the networks are getting smarter, and consumers, now that they're tiring of reality TV, could come back to original programming at the expense of the streamers. That's disruptive in and of itself, to the alleged disruptor's.
There are a lot of potential customers for Netflix, but it remains to be seen if the company can keep costs under control while continuing to make content deals. Starz and A&E show it's not a given. Also questionable is whether actors will continue to play nice, or want a bigger piece of the pie. If that's the case, Netflix will have to raise its prices to compete, and it's there that the future of the company will be determined.
Its customers could opt for another competitor like Amazon, which has much deeper pockets and proven longevity to work with, assuming it decides to compete on price if it senses an opening.
Taking all this into consideration, Netflix will remain an extremely volatile company, although those that are patient when it participates in its inevitable huge share price swings, and buy near the bottom, will be able to make a lot of money. I think Netflix is due for a big drop in price, and when it comes it will be time to enter in and ride it back to the top.
It remains to be seen if Netflix will survive in the long haul, or maybe another company buys it up. In the meantime, it's going to be a rocky road for those holding shares in the company.
Disclosure: I have no positions in any stocks mentioned, and no plans to initiate any positions within the next 72 hours. I wrote this article myself, and it expresses my own opinions. I am not receiving compensation for it (other than from Seeking Alpha). I have no business relationship with any company whose stock is mentioned in this article.