Vector Group (NYSE:VGR) a small tobacco company based in Florida just exchanged up to $450M 7.75% unregistered senior secured notes due 2021 for registered 7.75% notes also due in 2021.
the New Notes will be free of the transfer restrictions that apply to our outstanding unregistered Original Notes... but will otherwise be identical in all material respects to the Original Notes...
The prospectus provides some context for the exchange that has taken place:
On February 12, 2013, we completed a private placement of $450,000,000 aggregate principal amount of the Original Notes. In connection with that private placement, we entered into a registration rights agreement in which we agreed to, among other things, complete an exchange offer of the New Notes for the Original Notes.
Vector Group's new notes are rising to the top of current listings for high yield bonds:
| | | | |
| --- | --- | --- | --- |
| | credit rating | price | yield |
| Vector Group Ltd Sr Nt 7.75% 2021 (cusip: 92240MBB3) | - / B+ | $109 | 6.26% |
Since I have run across a few incorrect bond listings recently, I called Vector Group to verify:
the amount issued
the usage of the funds being raised
bonds call protection
Vector sent a written reply within a few hours. As you will see I still needed to clarify their points by locating the prospectus, which they did not send.
Related to call protection - The Company may redeem some or all of the Notes at any time prior to February 15, 2016 at a make-whole redemption price. At any time prior to February 15, 2016, the Company may also, on any one or more occasions, redeem up to 35% of the aggregate principal amount of the Notes...

Vector Group's Written Reply
It appears the bonds are inaccurately listed as "call protected" on the secondary market. I spoke to a broker who cross referenced the bond listing on Bloomberg and confirmed these bonds are callable.
Locating Bonds' Prospectuses
Regardless of your experience level, the steps I took to clarify the call provisions are important to take note of. Since the bond's issue date is listed as May 28th, I looked for a recently filed prospectus (Here is the listing, note in red is mine).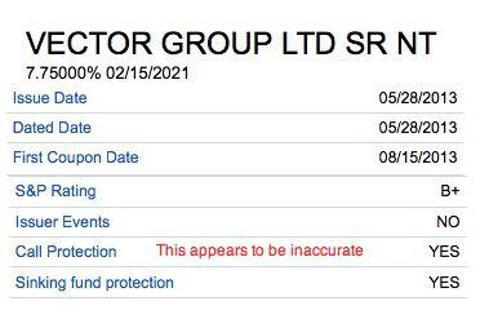 I went to Vector's investor relations and found their SEC filings, however I did not see a prospectus filed this month. After the company responded, I looked further back and found a prospectus dated April 26th, which clarified the call provision as part of an optional redemption. The answer was in the prospectus all along, however the fact this particular issue is part of an exchange from unregistered to registered bonds added a layer of complexity.
Often times a prospectus is filed in closer proximity to the issue date, however these bonds appear to have been available to be exchanged earlier. Original note holders had until May 28th to make the exchange.
Vector Group also sent over an explanation for the usage of funds:
Related to use of proceeds - The Company used the net cash proceeds from the Notes offering to pay a portion of

I. the consideration for a cash tender offer for the Company's 11% senior secured notes due 2015 (the "Existing Notes"),

II. the redemption price for Existing Notes that were not tendered in the cash tender offer, plus accrued and unpaid interest, and

III. fees and expenses in connection with the cash tender offer and redemption of the Existing Notes.
The usage of proceeds is interesting because Vector announced the tender offer for the 11% bonds in January; they raised funds with new 7.75% bonds due in 2021. The 2015 senior secured notes yield more than Vector's stock, whereas the new 2021 bonds yield less than the company's stock:
VGR Dividend Yield data by YCharts
Vector Group's stock yields over 9.5%, however, it has underperformed over the past couple years; whereas the overall market has soared.
Vector's Total Return & Net Income
Take a look at Vector's performance relative to competing tobacco companies:
VGR Total Return Price data by YCharts
Keep in mind Vector Group is much smaller than the tobacco companies in this comparison. Let's look at Vector Group's net income compared to Reynolds (NYSE:RAI), Lorillard (NYSE:LO) and Altria (NYSE:MO):
VGR Net Income Quarterly data by YCharts
Obviously there is a huge difference, Vector Group's most recent quarterly loss was $1.6M, Lorillard made $328M.
Now take a look at Vector Group on its own:
VGR Net Income Quarterly data by YCharts
Take a look at the EBITDA picture:
VGR EBITDA TTM data by YCharts
Vector's most recent quarterly EBITDA was $31M, however their interest expense was $33M. So you can see why the company has issued bonds that yield over four times current 7-year treasuries; to try to attract investors, given lack of profitability.
Tobacco Dilemma: A State of Denial
Vector owns Liggett Group, a historic North Carolina tobacco brand and the fourth largest cigarette maker in the U.S. Liggett's brands include:
Liggett Select
Eve
Grand Prix
Eagle 20's
Class A (exclusive to the military)
The tobacco industry is dogged by major health concerns and restrictions. A few months ago the U.S. Supreme Court refused to hear R.J. Reynolds and Vector's appeal of a $20M verdict found against them.
The tobacco companies had been seeking to limit the effect of a 2006 Florida Supreme Court ruling that a jury's factual findings against the industry in a class-action lawsuit could be the starting point for individual suits against the companies. Reynolds and Liggett said in their appeals that about 8,000 plaintiffs have cases pending in Florida courts, and that about 65 of those cases have gone to trial, resulting in awards that surpass $300 million.
Investors simply cannot dismiss the vulnerability of tobacco companies in this respect. What's more is that in this particular case the family offered to settle for a small fraction of the ultimate award:
Prior to the trial, the clients offered to settle the case with RJ Reynolds for $75 thousand and offered to settle with Liggett for $25 thousand. These offers were rejected. SearcyLaw.com
The companies' decision to refuse the initial offer and appeal to the U.S. Supreme Court seems to indicate a state of denial.
Vector's New Bonds
The new Vector Group bonds are currently trading at $109 and yield 6.26%. Listings for the new bonds only show S&P's B+ rating, which is a highly speculative junk designation.
Moody's gives Vector Group a B2 corporate family rating and rates their senior secured notes due in 2015 Ba3, with a stable outlook as of January 2013.
Vector's B2 Corporate Family Rating ("CFR") reflects its relatively small scale and more limited pricing flexibility as a deep discount manufacturer in the highly regulated and declining domestic cigarette industry. The ratings are also constrained by Vector's high leverage, negative free cash flow, and the ongoing threat of adverse tobacco litigation. Vector's ratings are supported by its sustainable MSA cost advantage, its track record of gaining share in the retail distribution channel and good profitability metrics. Vector's real estate investments are conservatively managed and provide an additional, albeit potentially volatile, source of earnings diversification and cash flow with modest capital requirements.
Vector Group's New Valley LLC is heavily involved in residential real estate:
New Valley owns 50% of Douglas Elliman Realty, LLC, which operates the largest residential brokerage company in the New York metropolitan area.

Vector 7.75% 2021 Exchange Offer Prospectus
However, investors should be aware the new bonds are not guaranteed by Vector's real estate operations:
The notes will not be guaranteed by any of our subsidiaries engaged in our real estate businesses conducted through our subsidiary New Valley LLC.
To further provide context for Vector's new high yield junk bonds let's take a look at the current momentum of treasury rates.
Now the 7-year is at 1.53%
In 2012 the 7-year was around 1.17%
In 2010 the 7-year was around 2.75%
The new Vector Group bonds yield 6.2%, and mature in 2021; the current 7-year daily treasury yield curve rate is 1.53%, up 43% from 1.07% on May 1st. Now let's look to last year, then to 2010 to understand the behavior of the all-important treasury rate.
On May 1st 2012 the 7-year daily treasury yield curve rate was 1.35% and by May 29th it dropped 13% to 1.17%. To put this in perspective go back to 2010, the 7-year was 2.75% at the end of May.
High Yield Funds vs. High Yield Bonds
Investors who do not want to invest directly into Vector Group bonds might consider exposure through a mutual fund. One place to begin looking for a mutual fund is Morningstar's shareholder page; I see Osterweis Strategic Income Fund (OSTIX) was a top holder of Vector Group bonds.
I've pulled up Osterweis Strategic Income's homepage and complete holdings. The fund had 1% of its assets invested in Vector Group 11.49% convertibles due in 2019, as of 3/31/2013. I've also noticed Osterweis' Strategic Investment Fund (OSTVX) had 0.66% of its assets invested in the same convertible notes as of 3/31/2013. Osterweis Strategic Income Fund is rated 4 stars by Morningstar whereas the Strategic Investment Fund is newer and currently is unrated.
A 6.2% yield for bonds that should mature in 2021 is certainly an attention getter currently. However, there are also many high yield funds that have similar yields. Given the current state of the tobacco industry and rising rates, investors who are interested in Vector Group might keep these bonds in mind for a better entry point. Additionally it might be helpful to follow the company's performance over the next few quarters; keep an eye on the company's credit rating and outlook.
If you have any thoughts on Vector Group's new 7.75% corporate bonds, or tobacco bonds in general please leave a comment below.
Disclosure: I am long VGR. I wrote this article myself, and it expresses my own opinions. I am not receiving compensation for it (other than from Seeking Alpha). I have no business relationship with any company whose stock is mentioned in this article. I am long OSTIX. Though I hold VGR stock, I do not recommend it, I bought it for the dividend and the stock has underperformed. This article is not a recommendation to buy or sell. Please consult a financial adviser to determine proper allocations (if any) to high yield bonds, and exposure to -- or avoidance of the tobacco industry.