I only have about a 0.4% stake in Illumina (NASDAQ:ILMN), so I am going to take about a 8% loss on this last batch (stock is down about 10%) on the earnings warning. The stock had just been flopping around listlessly, so it was not a major position for us, thankfully.

A large gap has been created which is going to take time to work through and time is money. It's not exactly a "value buyers" dream down here either as it is still rich.... valuations like this are based on continued excellence in execution and ILMN's armor has been penetrated from that angle. The stock is down a lot less than in after hours Wednesday (when it was down -20%) unlike Myriad Genetics (NASDAQ:MYGN) which was obliterated and down far worse than in the after hours the night before - so there is (relative) promise there.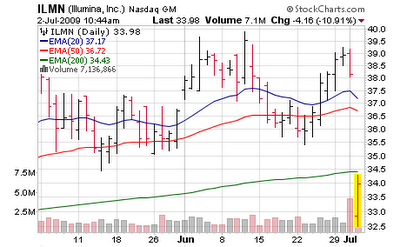 From a portfolio perspective, I don't have confidence to add to the position here with the chart set up, and I can't rely on valuation either, so I'd rather just exit and come back later in the year when things are more clear. All they've really done is gone back to guidance at the beginning of the year, rather than what was given in early spring - but either way, the damage is being done to the stock.

There is some language in their warning about disappointing funding from Obama's stimulus, but if they were counting on that in their estimates, I blame management.... I take a lot more seriously the drop off in foundation spending, since this is a big source of purchase for their products.
Illumina Inc (ILMN) reported a lower-than-expected second-quarter revenue as customers delayed purchase of its arrays, and cut its 2009 revenue view, sending its shares tumbling 21 percent after the bell.
Illumina, which makes tools for genetic analysis, said the delay in purchase decision by its customers has reduced revenue by about $10 million to $15 million in the first half of 2009. The life sciences tools maker reported preliminary revenue of about $161 million for the second quarter and lowered its 2009 revenue outlook to a range of $690 million to $720 million. In April, Illumina raised its 2009 revenue forecast to $700 million to $720 million.
For the second quarter, analysts were expecting the company to post revenue of $172.6 million, according to Reuters Estimates. The company had forecast revenue of $168 million to $173 million for the quarter. Analysts were expecting 2009 revenue of about $717.7 million.
The company

cited the impact of reduced foundation funding in a few key accounts and

order delays tied to stimulus funding under the American Recovery & Reinvestment Act, for the lower revenue.
But there is still some hope here on the foundation side - as long as orders are simply being pushed out rather than canceled...
Illumina expects the academic and research stimulus funding to have a positive impact in fourth quarter and in 2010, but not in the short term. "The program has caused order delays as customers wait to learn whether and to what extent they will receive incremental funding," the company said in a statement.
But in the stock market, the "fourth quarter" is an eternity, and it might as well be 2014. The average focus of investors timeframe nowadays is "tomorrow".
Disclosure: No position