This is Part 7 of a series of articles that compares the risk profiles for the 25 business development companies ("BDCs") recently covered in my "The Good, The Bad, And The Maybe" series and focuses on the portfolio yields and credit quality trends for BlackRock Kelso Capital (NASDAQ:BKCC), KCAP Financial (NASDAQ:KCAP), PennantPark Investment (NASDAQ:PNNT), Apollo Investment (NASDAQ:AINV), and Solar Capital (NASDAQ:SLRC).
Previous Risk Profile Articles:
When evaluating BDCs I focus on five general criteria: profitability, risk, payout, analyst opinions, and valuation. When assessing risk relative to other BCDs I take into account many factors including: portfolio credit quality, investment asset classes, diversification, non-accrual rates, portfolio yield, fixed/variable rate loans, leverage, interest rate sensitivity, volatility ratios, market capitalization, insider ownership and trends, institutional ownership and trends, and management/operational history. I will cover each of these areas as well as the other factors I use to rank the risk profiles for each BDC. Below are the current risk rankings for each BDC and for the most recent overall rankings see "Latest BDC Rankings For Q1 2013."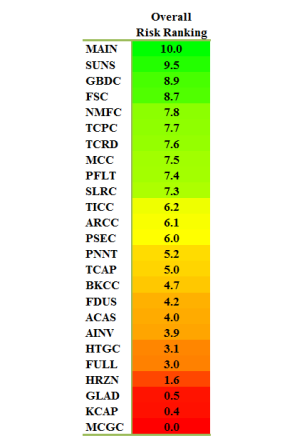 Portfolio Credit Quality
Portfolio credit quality is one of the most important indicators for many areas of BDC analysis including earnings predictability, NAV growth, dividend sustainability, valuation and risk profile. BDCs have many different methods of indicating the credit quality of the portfolio and are often inconsistent making it difficult to compare. A few measures that are consistent but not necessarily the best are average portfolio yield, asset class mix, and inputs used in the market approach of fair value measurement of investments. I will cover these and some of the others provided by each BDC, as well as some of the other measures used earlier such as "Portfolio Asset Classes and Non-Accrual Rates."
Below is a table showing the average 'portfolio grades,' portfolio yields and general direction of yields and credit quality, which is described in more detail in the following sections.

BlackRock Kelso Capital
Below is a table showing the last two years of portfolio yield and asset class breakdown by quarter. The yield on each class as well as the total portfolio increasing from 11.4% to 12.4% is potentially implying more risk.

The table below shows the range and weighted average market yields used to assess fair value by asset category as of the end of March 2013.

Since the financial crisis BKCC has increased its debt to EBITDA multiples to 4.9, higher than the pre-crisis 4.7. Typical multiples are less than 3 but the BDC industry focuses on higher leverage lending to get higher yields but with higher risk as well. Ratios greater than 4 or 5 usually indicate that a company is likely to face difficulties in handling its debt burden, and less likely to be able to raise additional loans required to grow and expand the business and it can result in a lowered credit rating.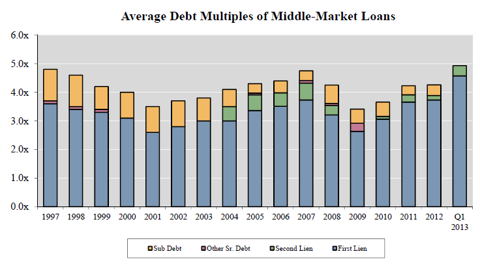 KCAP Financial
KCAP currently has the highest average portfolio yield at 18.3% due to its investment in riskier collateralized loan obligation ("CLO") securities with a yield of 44.7%. In previous articles I discussed some potential issues with these types of investments including: less transparent than direct investments in portfolio companies, repayment priority of more senior debt holders, thinly traded, not listed on traditional exchanges, making them less liquid, difficult to value and more volatile. As shown in the chart below, KCAP has been investing in riskier asset to achieve higher yields showing a large year-over-year increase.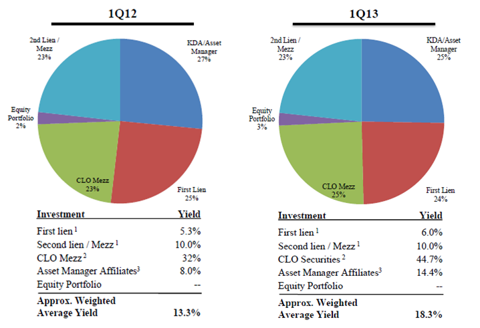 PennantPark Investment
PNNT has increased average yield on debt investments from 11.1% in 2008 to 13.5%. The most recent quarterly stated 'The companies in which we invest are typically highly leveraged, and, in most cases, are not rated by national rating agencies. If such companies were rated, we believe that they would typically receive a rating below investment grade (between BB and CCC under the Standard & Poor's system) from the national rating agencies'.

On the most recent earnings call Arthur Penn (the CEO) stated "A healthy current coupon with de-leveraging from free cash flow over time is a favorable outcome. That said as the more liquid capital markets have rallied, that overall tone has impacted the middle market. Pricing had continued to compress and purchase price multiples and leverage multiples have increased. The average yield on new debt instruments was 13.4%, expected IRRs generally range from 13% to 18%." Later in the call he mentioned the ratio of debt to EBIDTA on the overall portfolio was 4.5 times and then added some comments regarding direction and concern levels: "You look at it deal-by-deal, and in certain cases, we might stretch a little bit in leverage, but if we think the wins at the back of the particular company, and we think there will be a quick de-leveraging so that you get into more comfortable mode pretty quick. We might do some investing in that way where you say okay it might be five times today, but it's going to be down to 4.5 and 6 months based on the trends in the market and what's going on. You can more comfortably do that today than you could in some other times. That said if on average you see a market that's in the mid-fives again in terms of debt to EBITDA which is kind of it where it was in '07 very minimum actually give you some pause."
Below is a chart showing portfolio growth and associated yield since June 2007 (only through June 2012).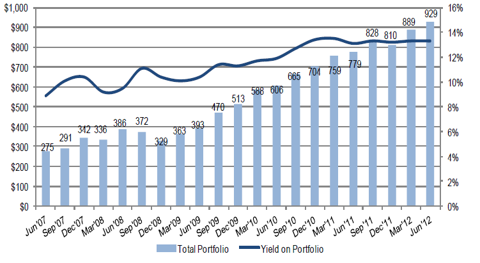 Apollo Investment
AINV has maintained its portfolio yield between 11% and 12% over the last two years and is currently 11.9%. On the most recent earnings call the CEO mentioned "Despite a market backdrop of lower yields, we achieved our target mix while maintaining the overall portfolio yield and adhering to our underwriting standards. Given the current liquid market conditions and the easing of credit standards in the broadly syndicated credit markets, we believe that our direct origination capabilities have provided us with attractive opportunities to deploy capital throughout this past year."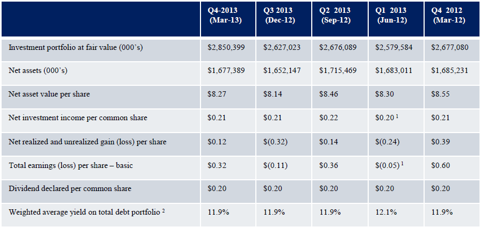 AINV uses an investment adviser to monitor portfolio companies on an ongoing basis and also monitors the financial trends of each company to determine if they are meeting respective business plans, grading the credit risk of all investments on a scale of 1 to 5 (1 involves the least amount of risk and 5 indicates higher risk and declining performance). Recently the portfolio measured a weighted average risk rating of 2.3 at the end of March compared to 2.4 at the end of December.
Solar Capital
SLRC is one of the few BDCs to reduce its yield on investments at fair value from 17.1% in 2008 to 13.3% as of March 31, 2013. However, it still has a larger portion of riskier equity investments at 35% of the portfolio, up from 12% in 2008. In the most recent earnings call, the CEO reiterated what the other BDCs have mentioned regarding credit standards and leverage multiples stating: "We believe the modest economic recovery has improved borrower fundamentals only at the margin, while lender liquidity has driven up leverage multiples especially with borrowers with attractive credit profiles. The result has been more aggressive lending at tighter pricing and at higher risk levels, particularly in the high yield and liquid leverage loan markets."

The table below shows the range and weighted average market yields used to assess fair value by asset category as of the end of March 2013.

Portfolio credit quality, portfolio yields, interest rate sensitivity, fixed/variable rate investments, industry diversification, market capitalization, insider and institutional ownership, leverage, volatility ratios, portfolio investment grades, and non-accruals are many of the considerations when evaluating risk for BDCs. In the remainder of this series I will cover the portfolio credit quality for the remaining 20 BDCs, using the metrics they provide, as well as other risk considerations.
For more information about BDCs and how I evaluate them, please see this article.
Disclosure: I have no positions in any stocks mentioned, and no plans to initiate any positions within the next 72 hours. I wrote this article myself, and it expresses my own opinions. I am not receiving compensation for it (other than from Seeking Alpha). I have no business relationship with any company whose stock is mentioned in this article.