Long-time readers will know I made a lot of outperformance in the coal space in late 2007 through mid 2008. While everyone was in oil, I was pounding the table in the stealth rally in coal. [Dec 6, 2007: Coal Stocks Quietly in a Bull Market]

One name that was a very strange combination was Walter Industries (WLT), which at the time was a combo 'housing/coal' stock (yes, I'm serious). [May 1, 2008: Walter Industries - the Most Fascinating Company] Now they've refocused the business just as a coal pure play - specifically metallurgical coal (for steel).

As the "reflation" trade crowd gets its head handed to them the past 3 weeks, I bring up this name because Thursday it is green, and it's been performing at a pace completely outside its peer group. I'm always looking for anomalies or outliers, which usually means "someone(s)" with a lot more access to information than the rest of us, knows something.
I'm not sure if this signifies some news specific to Walter coming or just a relative valuation trade, but seeing it green on multiple days when the rest of the coal group is down has me wondering if something is coming. Maybe someone is sniffin' around [Jul 18, 2008: Wilbur Ross Believes M&A Activity in Coal Will be Unprecedented in Next 12 Months]

Below is a 1 month comparison of performance of Walter versus some of the larger coal names

(click to enlarge)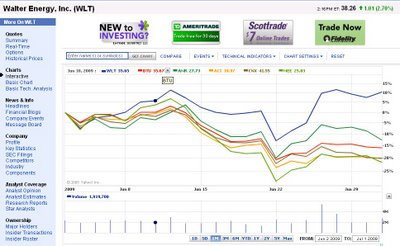 [Jul 29, 2008: Walter Industries with Blowout Earnings]

No positions