The following is an article that my team put together on NFLX. Enjoy!
As Arrested Development fans impatiently clicked "play" on the new season of the show on Sunday, May 26, investors were still widely divided on Netflix's (NASDAQ:NFLX) future. This note is not comment on the valuation of the company or a yes/no statement regarding its long-term success. Instead, I will focus on an underreported strength of Netflix - its recommendation system. This sophisticated algorithm helps the company decide what content to invest in and led to the creation of the new season of Arrested Development.
Netflix's recommendation system
Wikipedia describes the idea of the algorithm. Netflix's recommendation system:
... offers predictions of movies that a user might like to watch based on the user's previous ratings and watching habits (as compared to the behavior of other users), also taking into account the characteristics (such as the genre) of the film.
In other words, the recommendation system is the brain behind this screen: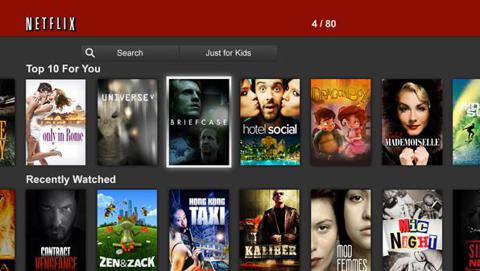 "Top 10 For You" is indeed custom and personalized for you.
Netflix users will have noticed the direct benefit of the recommendation screen. It removes the need to think about what to watch next. In turn, users spend more time watching and thus value Netflix more. Customers who value the service more are less likely to unsubscribe and more likely to recommend it to friends. The company spells out this reasoning in its 2012 10-K filing.

However, the recommendation system also benefits Netflix in another, more subtle way.
Recommendation system helps with content strategy
The central issue in most debates on Netflix is content and its acquisition cost. The recommendation system is critical in helping the company decide how much to bid for content. Thanks to the system, Netflix knows how much customers are likely to watch and like a show. With a good estimate of the value of a content piece to its existing and potential subscribers, Netflix can make smarter bids to acquire shows. This advantage applies to both old and new content.
For old content, such as past seasons of "South Park," Netflix has data on who watches it and whether these viewers have alternatives in the library. When considering whether to renew its license for "South Park," Netflix can estimate whether the show's fans will unsubscribe or simply migrate to a similar show. If users value "South Park" a lot, Netflix will be willing to bid high to acquire the show. However, if the title is not worth it, it is optimal for the company to drop it from its catalog.
Netflix displayed this principle at the end of April when it announced that it chose to not renew the license for 1,800 titles. In fact, in a library of 75,000 titles, there must be more than 1,800 that are not worth renewal.
Similarly, when investing in new content, the company can estimate the value based on the content's similarities with other shows in the catalog. For example, Arrested Development season 4 should be very similar to Arrested Development seasons 1, 2 and 3.
How did Netflix decide to invest in the new season of Arrested Development?
In a recent interview, CEO Reed Hasting is open about the decision:
'Arrested Development' seasons 1, 2 and 3 had an incredible passion index, once (viewers) get into it they're like, "More and more and more!" and loving it, so that helps us really zero in on the content people love as opposed to merely like. And so that's when we knew season 4 had the potential to be a great success.
The algorithm wanted to recommend more of Arrested Development to its fans. But there wasn't any more Arrested Development, so Netflix made more! It was the recommendation system that led to the investment decision.
Arrested Development is just an example, unimportant on its own
Does it matter whether Arrested Development season 4 is ultimately successful? Not much. Certainly the buzz around the new season has been welcome free advertising and a flop might damage Netflix's image. However, in directly bringing new subscribers even the biggest show is a small contributor to revenue over the long run.
The main advantage of the recommendation system is that on average it works better than guesswork across the many, many investment decisions that Netflix has to make. Arrested Development is just a high-profile demonstration of how Netflix makes these decisions. But the recommendation system helps even more in managing the catalog's long tail. As the company said in its recent Long-Term View publication:
… we've realized that the 20th documentary about the financial crisis will mostly just take away viewing from the other 19 such docs, and instead of trying to have everything, we should strive to have the best in each category.
How do you decide which 19 to keep? You cannot value thousands of pieces of content based on expert opinion. You need automated algorithms and data.
Netflix is the leader in video recommendation systems
The recommendation system gives Netflix an advantage over its direct competitors HBO (NYSE:TWX), Hulu (NASDAQ:NWS) and Amazon (NASDAQ:AMZN), which all bid for the same content.
The mathematical problem to predict what users like is not trivial and Netflix is serious about improving its system. The company ran a widely publicized competition offering $1m to external parties that improve the company's own algorithm. Netflix discontinued the competition only because the Federal Trade Commission raised concerns over user privacy. Netflix has probably invested internally a high multiple of the prize amount to better its recommendation system. The company does not disclose the breakdown of its Technology and Development spending, which includes improving the recommendation system. However, the $329m spent in 2012 give a sense of Netflix's willingness to invest in better infrastructure.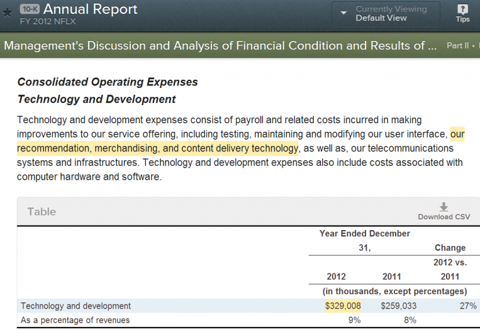 Still, the recommendation system would not make a difference if all competitors had similarly sophisticated algorithms. Indeed, competitors have their own recommendation systems. However, Netflix has a dramatic advantage in terms of breadth and depth of data, which is the key input for improving the algorithm. Netflix has more titles, more subscribers, who have watched more hours, and has started earlier than any of its online competitors. Cable companies have a larger user base but their data is much less detailed as they cannot track every click of the viewer. Thus, Netflix will stay ahead in the development of a recommendation system until any of its competitors achieve similar quantity and quality of data.
Conclusion
While you watch and read about Arrested Development, keep in mind that the same process that led to the creation of the new season underpins Netflix's content acquisition strategy.
If you think Netflix is doomed to fail because it has no differentiation against its competitors for content, think again. The recommendation system helps the company estimate very well the value of a show based on the behavior of its viewers. This advantage might well be the key to outsmarting Amazon and HBO when bidding for content deals.
Disclosure: I have no positions in any stocks mentioned, and no plans to initiate any positions within the next 72 hours.