On 5/28/13, American Realty Capital Properties (ARCP) announced its buyout offer of CapLease (NYSE:LSE). ARCP is to acquire LSE for a total price of $2.2B including debt assumption. Each common shareholder of LSE is to receive $8.50 per share upon execution. As the market price of CapLease shares has already risen slightly above $8.50, one may think that there is little opportunity in waiting for the payout. However, subtle details of the buyout reveal substantial upside to holding LSE relative to the risk.
The Risk and Reward Tradeoff
I will argue that purchasing CapLease at its recent market price of $8.55 has a $0.45 or 5.26% upside and virtually no downside. This claim will be substantiated in the following two sections which detail the best and worst case scenarios among the set of probable outcomes.
The Upside
I suggested an upside of $0.45 as compared to the current price of $8.55 because LSE may be capable of fetching a buyout at $9.0 per share. The terms of the merger with ARCP came with a window of opportunity during which LSE could solicit other entities for a superior offer.
"The merger agreement provides for a "go shop" period commencing immediately and ending on July 7, 2013, during which CapLease, with the assistance of its advisors, will actively solicit alternative transaction proposals from third parties."
Clearly the ability to solicit superior offers does not guarantee the event - it merely provides the framework. To truly argue that LSE could pull down an offer at $9.0 per share we must demonstrate its worth at that price.
Based on FactSet's estimated 2013 FFO of $0.57 for CapLease, a $9.0 acquisition price would represent a cap rate of 6.33. While there has been substantial cap rate compression among triple net property acquisitions, 6.33 is still slightly expensive. However, the acquisition involves far more than just the buyout of common equity. It also will dramatically change the property portfolio of the acquiring company.
Portfolio changes: CapLease's properties are mostly leased to investment grade tenants and to different tenants than the other triple net lease REITs. Consequently, acquisition of CapLease could diversify the portfolio of the acquiring company and increase its tenant quality.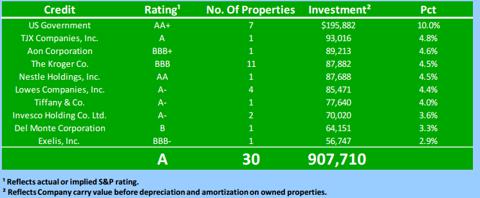 Click to enlarge
I believe this sort of portfolio diversification and strength would be desirable to potential buyout candidates. In my opinion, the most likely competing bids would come from the large triple net lease REITs such as Realty Income (NYSE:O) or National Retail Properties (NYSE:NNN). In the tenant concentrations shown below, we can see that both O and NNN have completely different tenants than LSE such that buying it would further their diversification.
O's tenants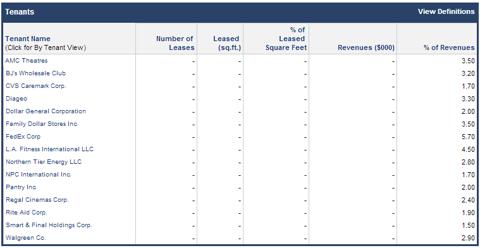 Click to enlarge
NNN's tenants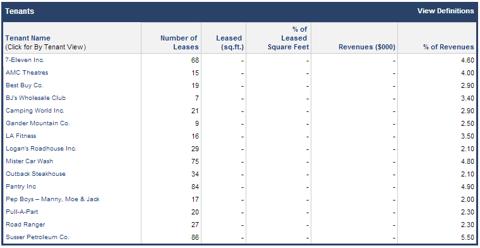 Click to enlarge
These 2 triple net giants also have access to very cheap financing and possess the liquidity to make a large acquisition. Additional potential buyout parties would be large pension funds such as CALPERS or CALSTERS. Already this year, a pension fund scooped up Sea Cube which formerly traded as BOX.
We have shown potential candidates, but still need to justify the value of such a deal.
Value of acquiring CapLease at $9.0/share
While a 6.33 cap rate is fairly low, there are numerous ways in which potential acquirers could extract more value.
Payoff of the high coupon preferreds
ARCP intends to redeem all outstanding preferred shares at par value plus the partial quarter's accrued dividend. Such a maneuver would be available to any other acquirer with the cash to do so. By removing the expense of these high coupon preferreds, it would substantially increase the profitability of the transaction.
Refinancing of expensive debt
CapLease has a fairly clean balance sheet, but its small size prevents it from having access to low-cost capital. Any spread an acquirer could obtain in refinancing its debt would directly add to the profitability of the buyout.
Economies of scale
Among small companies, simply running them can be costly. In 2012, G&A took away 7.18% of LSE's revenues. In acquiring LSE, the buyer could forgo this expense by operating the portfolio with its own management team.
This is one area in which ARCP is not electing to capitalize. Upon acquisition, ARCP intends to absorb much of LSE's management team. As ARCP is externally managed and perhaps lacks the capacity to run LSE's portfolio, this may be a strong move for them. It should also be noted that Paul McDowell (LSE's CEO) and the rest of the LSE team are highly talented and come with build-to-suit development capabilities.
Realty Income's internalized management, however, is already a full team and would not require additional management. O could expand the profitability of the acquisition of LSE through economies of scale.
Impending developments/acquisitions
In calculating the 6.33% cap rate, we used 2013 FFO. As the already contracted developments and acquisitions in LSE's pipeline make little contribution to 2013 FFO, these are not reflected in the cap rate. Let us look at LSE's impending developments.
LSE is engaged in a build-to-suit development for Vitamin Shoppe scheduled to complete in 2Q13. Revenues should begin flowing shortly at an 8% cap rate on the approximately $20mm development cost. The 15 year lease term comes with 1.5% escalations annually.
On April 16th, 2013 LSE entered into a binding contract to buy a Class A office building for $50mm. It is scheduled to close in the 2nd quarter. This purchase comes with a 9.5 year remaining lease term with an unnamed investment grade tenant at a cap rate in excess of 8%.
Together, these transactions represent over $70mm of accretive acquisitions at 8%-plus cap rates. This represents additional value in acquiring LSE.
Accretiveness of a buyout at $9.0
It is difficult to sum up the additional extractable value and calculate an adjusted cap rate as the magnitude of benefit would vary greatly by the situation of the acquiring company. However, we can say that the cap rate would be substantially higher than 6.33%.
Nick Schorsch (CEO of ARCP), who is prepared to extract most of the locked up value, gives us a glimpse of just how accretive the acquisition could be.
"The deal is immediately accretive and is expected to generate approximately 11 cents per share in additional AFFO annually."
11 cents of extra AFFO/share is a huge benefit that is made even more accretive by the increased portfolio size and quality. I believe O and NNN are equally well positioned to buy LSE and could receive similar absolute magnitudes of accretion. Given that the deal seems to be extremely beneficial to the acquirer at $8.50 per share, I believe there is enough wiggle room that it would still be sufficiently accretive to some buyers at $9.0 per share.
Summary of buy/hold thesis
While ARCP's proposed buyout of LSE at $8.50 per share seems to be beneficial to both parties, LSE is well positioned to get more. Buying now or holding has an upside equal to the difference between the current market price and the buyout price. The downside is limited by the already contracted $8.50 per share minimum buyout price. As demonstrated above, LSE could reasonably fetch a price as high as $9 per share and I believe this upside is sufficiently likely to justify the slight market premium over $8.50.
As always, I like to provide readers with both sides on an argument. There are some reasons to believe that LSE will not get a higher price. Three reasons should certainly be considered.
Paul McDowell seemed satisfied with the buyout on the associated conference call. While he will serve his fiduciary duty and actively search for a higher price, his attitude did not seem confident in that conclusion. As the ARCP deal allows him to keep his job, it may be a disincentive for him to find a better offer.
CapLease has a somewhat shorter weighted average remaining lease term than some of its potential buyers.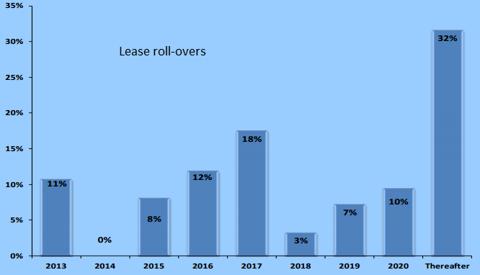 Click to enlarge
This may discourage those looking to maintain or even grow their weighted average remaining lease duration.
The downturn in the market price of REIT securities discourages the issuance of equity as a means of financing such a buyout.
The Bottom Line
There are strong arguments on each side, but as long as LSE is fairly close to $8.50 the upside outweighs the downside. The dividend paid while the deal is coming to a close should be sufficient to cover the premium such that no money is lost even if no higher bid is found.
Disclosure: 2nd Market Capital and its affiliated accounts are long LSE and ARCP. I am personally long LSE. This article is for informational purposes only. It is not a recommendation to buy or sell any security
Disclosure: I am long ARCP, LSE. I wrote this article myself and it expresses my own opinions. I am not receiving compensation for it (other than from Seeking Alpha). I have no business relationship with any company whose stock is mentioned in this article.