In what should be considered a healthy, corrective move last week, shares of REIT bellwether Realty Income (NYSE:O) lost better than 10% of their value after rising better than 35% YTD. The stock's sell off comes on the heels of unnerving Fed commentary, general investor flight from REIT shares, and a ratings downgrade from Goldman Sachs. While I'm not surprised at O's slide given the yellow flag I placed on the entire sector recently, the bigger question now becomes whether there is more downside to the stock.
Current Valuation And Operations
With shares hovering at the $49 mark and expectations for FFO per share of $2.36 (midpoint of published guidance) this year, the stock trades at an operating multiple of roughly 21. This compares to other net lease REITs including American Realty (ARCP), (which just acquired CapLease (NYSE:LSE) and raised FFO guidance) trading at an 18 multiple and Lexington Property (NYSE:LXP) at less than 13.
| | | | | | |
| --- | --- | --- | --- | --- | --- |
| STOCK | P/FFO | Debt/Market Cap | Yield | YOY '12-13 FFO Growth | YOY '13-14 Growth |
| O | 20.75 | 35% | 4.4% | 17% | 6% (Street) |
| ARCP | 18.13 | 37% | 5.2% | Negative | 24% (Co.) |
| LXP | 12.40 | 60% | 4.6% | 5% | 5% (Street) |
After a difficult 2011-12 operating environment, Realty Income appears to be righting the ship in 2013, with results now incorporating American Realty Capital Trust properties. The accretive acquisition of ARCT improved O's operating profile on a variety of fronts including portfolio occupancy, lease duration, and credit profile.
Forward Outlook
While the company has yet to guide on next year's FFO, consensus analyst estimates have the company posting $2.51 a share in 2014, representing about 6% YOY upside. Given exceptionally strong fundamentals in the REIT space and the impact of the ARCT acquisition, I think that might be a touch conservative.
Federal Reserve Chairman Ben Bernanke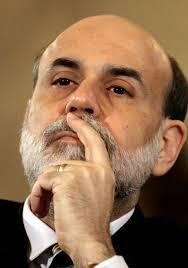 Meanwhile, Fed minutes last week which hinted at the potential for a tapering of QE seemed to particularly spook REIT investors. Despite Fed Chair Bernanke warning about the pitfalls of "premature tightening," many rate sensitive investments took it on the chin, fearing that the proverbial "punchbowl" would be taken away sooner rather than later.
Higher rates are generally considered a negative for REIT operations, given the pressure they put on general expansion capability and borrowing costs. I would hypothesize that a calculated, incrementally slow move upwards in rates might have only a mild impact on the group. A more drastic, forcible move on the other hand, could wreak havoc, especially on REITs with higher leverage positions. At 35% debt/market cap, Realty Income's leverage position is certainly not high compared to other REITs.
And while I continue to like the near-term prospects for O's core business, triple net stand alone commercial real estate property, cap rate compression in this space continues. As such, management will have to carefully balance sufficient acquisition activity at moderate pricing to generate positive returns and increase dividends for investors in the future.
Postulating Reasonable Buy Points for O
Given an assumption for mid- to upper-single-digit FFO growth going forward, I don't think it's prudent to pay in excess of 20X operating output to own this company. This is especially true when one can pay a lower multiple to own a peer growing at an assumed higher FFO rate like ARCP. While it may be argued that Realty Income is deserved of a valuation premium, I don't think investors should be paying up for what the market is currently asking.
Painting an optimistic forward picture, where current analyst estimates are too conservative, capital flow is free, borrowing rates low, and O is able to provide consistent forward return and dividend growth, I believe a valuation multiple of 17X forward FFO is appropriate for a company of O's stature in this market. Taking its shareholder-friendly behavior, investment grade credit rating, and management's generally positive record all into account, I believe this provides for a reasonable entry point in the $43-$44 range with an associated 5% yield, or about 10% lower than the latest trades. If one envisions a more daunting scenario, I would probably want to see an even further downdraft, perhaps back to the $40 level and a 5.5% yield point before considering shares.
(click to enlarge) O 6 mos chart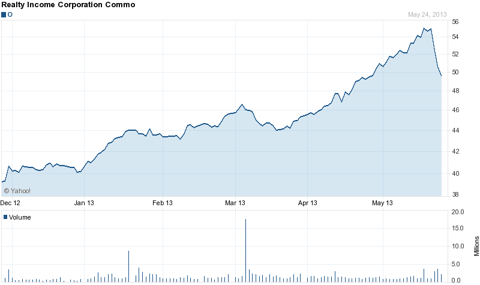 While this may sound like a substantial drop from current levels, our "optimistic" scenario only represents about a three month retracement in price. The more pessimistic scenario gets us back to the beginning of the year.
Conclusion
Though investors have smartly moved monies into the REIT space over the last couple of years, many companies are starting to see unreasonable multiple expansion in relation to their growth prospects. To achieve market beating total returns, one needs to maintain discipline, and avoid chasing after sectors and stocks that exhibit clear herd mentality. I believe now that the herd has stopped chasing after Realty Income, one would be wise to patiently wait for the dust to settle.
Disclosure: I am long ARCP, LXP. I wrote this article myself, and it expresses my own opinions. I am not receiving compensation for it (other than from Seeking Alpha). I have no business relationship with any company whose stock is mentioned in this article.
Disclaimer: The above should not be considered or construed as individualized or specific investment advice. Do your own research and consult a professional, if necessary, before making investment decisions.