Earlier today (Wednesday), we highlighted continued weakness in the defensive sectors, and most notably the Utilities. In fact, at one point today the Utilities sector was down more than 10% from its 4/30 high, putting it into official correction territory.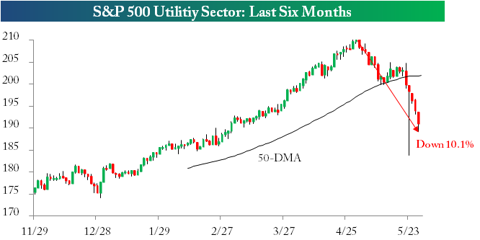 One constant of the market so far this year has been the fact that every time the market comes under pressure, investors step in to buy the dips. Within the Utilities sector today, it appears as though that trend may still be in place, and the dip buyer this time has been none other than Warren Buffett.
After the close today, Berkshire Hathaway's (NYSE:BRK.B) MidAmerican unit announced that it was buying NV Energy (NYSE:NVE) for $23.75 per share in cash. Compared to today's closing price, that represents a premium of 23%, which looks pretty attractive for NVE. However, when you consider the fact that the stock was trading as high as $21.63 less than a month ago, you can imagine that if it were not for the sharp sell off this month, this deal probably would have had a higher price tag.