Macro-Economic Growth Opportunities
Medco Health Solutions, Inc. (NYSE:MHS), is the #1 pharmacy benefit manager in the country and as a corporation, ranks #45 on the Fortune 100 list. We believe they are extremely well positioned as an excellent long-term investment choice.
Generally, Medco stands to benefit as a growing business based on three opportunistic trends and/or conditions.
First, the political environment favors their business. The major health care initiatives proposed by the current administration are major pluses for Medco because of their ability to reduce health care costs.
Second, demographics, specifically an aging population, indicate a large and growing market opportunity for Medco's products and services.
Finally, a weakened economy plays well for their lower cost offerings. Even as the economy recovers, consumers are more likely than not to continue consuming generic pharmaceuticals over higher priced branded drugs.
Company-Specific Growth Opportunities
More specifically, Medco possesses several exciting drivers for long-term growth. Recognized as one of the most innovative companies in the industry, Medco has numerous channels for growth. Sales are resilient, strong and are expected to continue to be so for the extended future. They have sustainable growth synergies in: Mail Order Prescriptions, Generic Drug Dispensing, Specialty Pharmacy, and they are poised to profitably exploit Medicare.
Importantly, Medco also possesses intriguing opportunities to leverage their clinical leadership through innovation towards improving health outcomes at lower costs. All these areas indicate a substantial platform for growth.
Maintaining Growth
Medco has proven itself as being very adept at customer retention and importantly winning new business. In 2008 and 2009 alone, Medco has won over $15 billion of new business and retained between 96% - 98% of their existing clients. Early indicators suggest that 2010 will meet or exceed those retention rates based on early elective renewals. They have already contractually added $2 billion in new business sales for 2010 which included expanded increases on top of a 2009 Coventry win. Importantly, this has been achieved organically not by acquisitions, essentially validating their competitive prowess.
However, acquisition opportunities are presenting themselves which represent additional opportunity. Medco is a consistent winner of new business, and generated over $51.3 billion of net revenues in 2008.
Growth Through Recession
Medco, as a stand-alone company prior to being acquired by Merck & Co., had produced a legacy of consistent and profitable growth exceeding 20% per year. This has not changed after they were spun-off from Merck on August of 2003. Utilizing our fundamentals-at-a-glance research tool illuminates this point. (See Figure 1 below) Since once again becoming independent, Medco has compounded earnings at 22.4% right through the recession.
FIGURE 1 MHS 7 Year Historical Earnings-Price Correlation (see short video).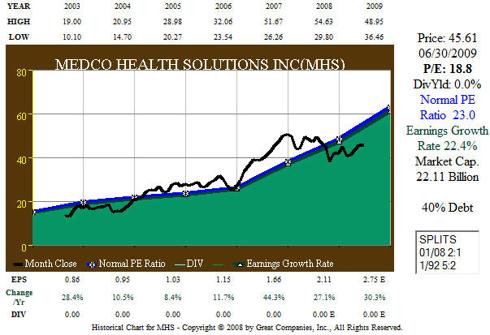 Medco does have 40% debt as a percentage of capital, much of which is attributed to a $2 billion one time dividend they paid to Merck, which they financed. However, as seen in Figure 2, Medco generates strong free cash flow and therefore should be capable of handling their obligations.
FIGURE 2 MHS 7 Year Historical Free Cash Flow Earnings-Price Correlation (see short video).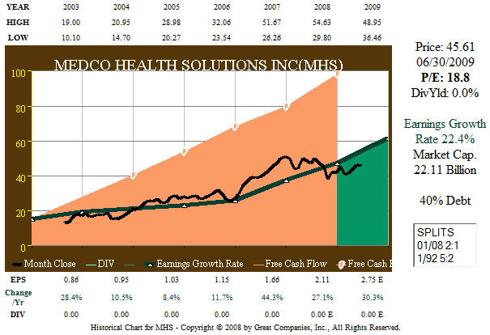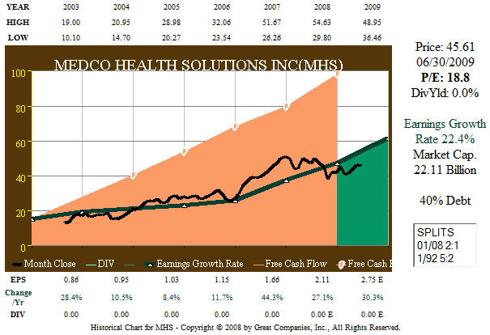 As can be seen from Figures 1 and 2, as well as Figure 3 below, Medco's stock price has held up better than most through the recession. However, at their current PE ratio of 18.8, they are trading at a discount to their more normal PE ratio of 23 or higher. As Figure 3 indicates, the consensus of 21 leading analysts as reported by FirstCall estimate five-year growth at 17.5%. Therefore, we believe that Medco offers the long-term investor a very attractive return for such a high-quality company.
FIGURE 3 MHS Forecasting (see short video).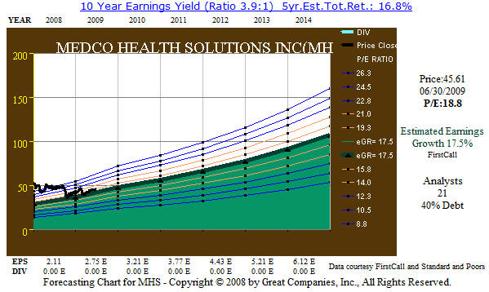 Since their independence as a public company on August 29, 2003, Medco has dramatically outperformed the S&P 500. Medco shareholders have earned 23.4% compounded annually versus a minus(1.6%) compounded loss for the S&P 500. (See Figure 4)
FIGURE 4 MHS 7 Year Track Record (see short video).

Conclusion
We believe MedcoHealth Solutions, Inc. represents a compelling long-term buy. With approximately $1.8 billion dollars of cash and strong cash flow generation, we believe they are well positioned to participate in industry consolidation. There are many acquisition opportunities presenting themselves that would be very attractive for Medco. Reducing the cost of health care is a high priority and Medco provides many viable solutions.
Also, we believe there is a lot of profit opportunity that is not currently reflected in their valuation or by current estimates for growth. The company has an experienced and highly capable management team to exploit the enormous opportunity before them. Therefore, investors would be hard-pressed to identify a more highly visible opportunity to invest for quality and attractive long-term growth.
Full Disclosure: Long MHS at time of writing.