This time it's different. How often has this been said at the speaker's peril and future embarrassment. Well, sometimes it's true.
Look at how the unemployment trend compares to the other recessions of the past 55 years in the following chart: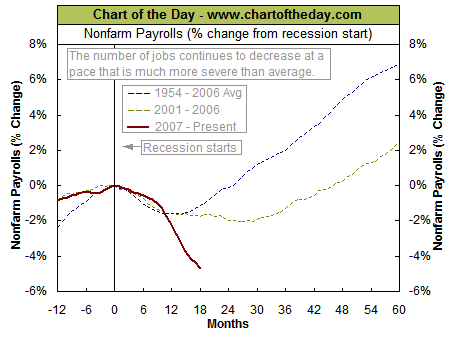 The chart is compliments of Chart of the Day.
There is another graphic on a post by Barry Ritholtz (The Big Picture) which is not nearly as pretty, but shows that the current unemployment curve (to date) is not that different from the 1957-58 and 1973-74 recessions.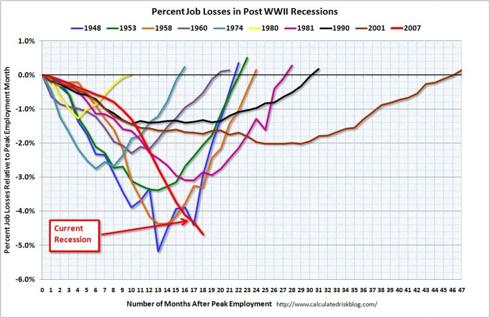 So this time is different from the averages, but so were two preceding recessions since World War II. It remains to be seen if the current recession will remain comparable to the two other recessions over the coming months. There are many predicting that the current recession curve will continue downward for several more months, at least, and that would make this time different.
Steve Hansen has pointed out that changes in measurement and analysis methodology may have changed the reported unemployment rate (less unemployment) today from what it would have been with older methods.
He also points out (correctly) that initial unemployment claims is a better coincident indicator of what is going on in the labor market and the economy. Read his entire comment here.