The Triple Net investing sector is on the verge of explosion as evidenced by the wave of REITs that have been formed over the last few years. Namely American Realty Capital Holdings, Cole Holdings, and W. P. Carey have been raising an incredible amount of money to fill demand for durable and safe fixed-income products.
So far this year, American Realty Capital has raised around $1.5 billion for its latest non-traded REIT, American Realty Capital Trust IV (ARCT4) and the sponsor has recently launched a fifth fund, American Realty Capital Trust V (ARCT5), that is targeted to raise another $2 billion in free-standing net-leased properties.
As explained in a previous article, Cole Holdings is merging with Cole Credit Property Trust III (CCPT3) this summer and that will bring another $7.4 billion of publicly-traded real estate to the market. In addition, Cole's earlier fund, Cole Credit Property Trust II (CCPT2), with around $3.4 billion in assets, will soon merge with Spirit Realty Capital (NYSE:SRC) bringing even more size to the growing investment class.
W. P. Carey's affiliated non-traded REIT, Corporate Property Associates 15 (CPA:15), is also likely to enter the liquidity markets soon with its $2.37 billion (based on assets) portfolio.
As liquidity concerns have become less problematic, non-traded REIT investors are becoming increasingly attracted to the Triple Net sector and that has generated significant demand. So far this year, the non-traded REITs have raised over $4.5 billion (in four months), an amount that should reach around $18 billion this year (and a record).

Earlier this year, American Realty Capital Trust (NASDAQ:ARCT) merged with Realty Income (NYSE:O) in a transaction that boosted Realty Income in size to over $3 billion. Also, American Realty Capital Trust III (ARCT3) merged in $3.1 billion with American Realty Capital Properties (ARCP) in a transaction that brought significant scale to the two-year-old publicly-listed REIT.

Yesterday, ARCP announced that the company was acquiring all of the outstanding shares of CapLease, Inc. (NYSE:LSE) in a transaction valued at approximately $2.2 billion. ARCP and LSE is set to include an amount payable to LSE in cash equal to $8.50 per share for each outstanding share of LSE common stock, and each share of Series A, Series B, and Series C preferred stock (of LSE) will be converted into the right to receive the sum of $25.00 (Par) in cash plus an amount equal to any accrued and unpaid dividends until the closing date of the merger. Also, ARCP plans to assume around $580 million of LSE's outstanding debt that totals around $1.2 billion.
The proposed deal with ARCP and LSE could provide one of the few missing components for ARCP's growing net lease brand: management. In a recent article, I argued the fact that ARCP needed to build out its infrastructure and begin to internalize operations:
I believe that when ARCP internalizes management, the valuation (of the shares) will move closer to the peer group. I do not think that Mr. Market places the same premium on ARCP (as compared with the peers) and in my analysis, that is a perceived risk. I think it is critical that you have confidence in your management team, not just in aggregating assets, but also in managing risk.
Investors in ARCP should recognize that the company has self-inherent conflicts with its externally advised model and by rolling up LSE's management team, "I will have more confidence in the most important thing: aligned shareholder interests."
In a recent article, Dane Bowler captured the "bottom line" nicely:
There are strong arguments on each side, but as long as LSE is fairly close to $8.50 the upside outweighs the downside. The dividend paid while the deal is coming to a close should be sufficient to cover the premium such that no money is lost even if no higher bid is found.
Triple Net REITs Hitting Some Dizzy Highs
This is no argument that Triple Net REITs have seen some dizzy highs, and recently some fearful dips. Like most REITs, fortunes have reversed over the last few days as investors got spooked by Mr. Markets mention of anything related to the word "dividend." In an article yesterday by Adam Aloisi, the author brought to life the significant sell-off in shares of "The Monthly Dividend Company:"
In what should be considered a healthy, corrective move last week, shares of REIT bellwether Realty Income lost better than 10% of their value after rising better than 35% YTD. The stock's sell off comes on the heels of unnerving Fed commentary, general investor flight from REIT shares, and a ratings downgrade from Goldman Sachs.
In fact, most all of the Triple Net REITs felt the "noise" as dividend-centric stocks became spooked: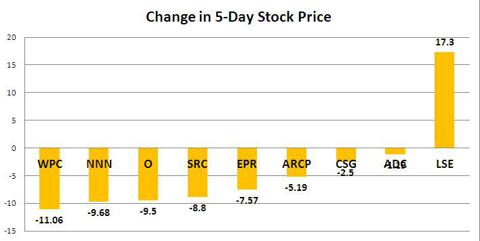 What happened? I thought the Triple Net REITs should not be as interest rate sensitive. After all, this "specialty" sector has been one the least volatile sectors in REIT-dom and unlike most other sectors, the Triple Net sector has a risk-aligned "match fund" model that has one of the lowest tenant default rates in the industry.
Most investors are attracted to the Triple Net sector because of the minimum lease-up risk and reduced volatility. By owning shares in a Triple Net REIT, investors can diversify, minimize loss of principal and maximize returns. But more importantly, the Triple Net REITs are structured to minimize volatility and it's important to recognize that in one of the most serious financial crisis recorded (the Great Recession), the Triple Net REITs performed the best. Why?
Remember that the high and steady dividends distributed by REITs year-in and year-out play a huge role in the total returns for REITs. Here is a snapshot below that illustrates the composition of total return (dividends and capital appreciation) for the S&P 500 Index between 1989 - 2010 (source: NAREIT):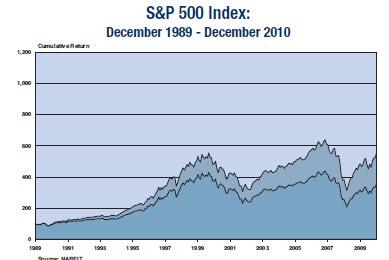 Now, as the chart below illustrates (remember, REITs are required to distribute annually to their shareholders at least 90% of their taxable income in the form of dividends), around 60% of total return comes in the form of dividends (compared with only 23% of total return from the S&P 500 Index):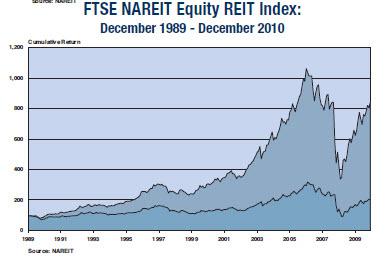 Now when it comes to weathering storms, the Triple Net REITs have become the best battleships. Why?
Remember the attraction to REITs are the cumulative impact of reinvested dividends on long-term investment performance. In other words, the generous dividend distributions of REITs (when reinvested) have provided investors with total returns that far exceed those of other equities. Conversely, the Triple Net REITs - paying the highest dividends - provide for a cushion to potentially weather the storms of losses incurred during severe sell-offs.
Simply said, the higher paying dividend REITs play a smaller role in total returns of other stocks, and investors in those stocks have far less cushion to weather the loss of value when the markets crash.
Can Triple Net REITs Grow Externally?
As mentioned above, we have seen significant external growth in Triple Net REIT-dom. Albeit, bulk portfolio transactions like ARCT (acquired by O) and LSE (proposed deal with ARCP) as well as smaller "one-off" deals.
Investors should recognize that the Triple Net sector is not an industry made up of just three of four REIT players, but instead this $2 trillion industry is made up of hundreds of operating businesses like Wal-Mart (NYSE:WMT), Target (NYSE:TGT), and Safeway (NYSE:SWY), who own significant free-standing products. Unlike many of the fragmented real estate sectors, the Triple Net REITs are in a position to "move the needle" much quicker by taking down large portfolios where the "law of large numbers" generate considerable external growth.
Unlike the other sectors, the Triple Net category provides ongoing capital solutions - much like a bank - and while most sectors rely on "supply and demand" the Triple Net REITs provide market solutions all of the time (so supply and demand is not the driving force).
Think of it like this… Realty Income, American Realty Capital Properties, National Retail Properties (NYSE:NNN), W.P. Carey, and EPR Properties (NYSE:EPR) are like banks, except, instead of lending money for consumers and companies, they are renting money to companies secured by net-leased real estate. The Triple Net REITs are also able to generate internal growth by efficiently managing risk and even without any external growth, the Triple Net REITs can grow rent by around 4% annually.
That Leads Me to The Most Important Thing
Why are you investing (or considering) in Triple Net REITs? What is your long-term goal? Will you get paid dividends continuously?
When you get your account statement, do you look for your income line or your value line first?
Relative to your other REITs, what else are you buying?
All of these are important questions to consider. Also, remember that the Triple Net sector is becoming a dominant sector; not as large as the other sectors, but over the next few years, I suspect that the Triple Net REITs will surpass the Healthcare REITs. The growing Triple Net sector has become increasingly institutionalized as Nicholas Schorsch, CEO with American Realty Capital Properties, explained to me today (by phone):
There is strong institutional acceptance for Triple Net REITs partially due to size. The Index funds have to buy them as well as larger institutional funds. Size matters. As Triple Net REITs get bigger they are more appetizing and the risk-aligned REITs make for a great bond surrogate.
Schorsch also pointed out that Triple Net REITs "don't have exposure to operating expense inflation - or seepage - these tend to nip away at cash flow. In a tough economy, that's a big deal."
So who will the Triple Net REIT leadership look like in five years? Will Tom Lewis, CEO of Realty Income, look like the next Deborah Cafaro (CEO of Ventas Inc.) - a $21 billion diversified healthcare REIT? Or will Nicholas Schorsch (CEO of ARCP) become the next James Flaherty (CEO of HCP, Inc.) - a $21 billion healthcare REIT? Or will Realty Income acquire ARCP and CapLease and move into a more dominating position?
I don't have those answers; however, I did make an investment in Realty Income today at $47.50 per share. As you will note, I am now long in O and I expect to increase gradually as I build out a college account for my children. I am perfectly content with the 4.6% current dividend yield and I feel as though the valuation (P/FFO) of 20x is deemed fair value. I intend to monitor the ARCP / LSE transaction as I think the benefits could weigh heavily towards future allocations.
As most of you know, I believe in the Triple Net sector and although the recent sell-off has created some fear, I firmly support the fundamentals of the sector and I don't think that Mr. Market gives enough credit for the risk management expertise. In fact, given the significant pull back (over the last few days), I argue that the market has created an irrational window for investors to take advantage of the opportunities today.
Having developed over 100 Triple Net properties between 1990 through 2002, I encourage investors to examine the risk-aligned attributes of Triple Net REIT investments (O and ARCP have an average dividend yield of 5%) compared with a stand-alone Dollar General (NYSE:DG) that returns around 7.5%. When asking yourself if a 250 basis point discount is sufficient, ask yourself: (1) do I have adequate diversification? (2) do I have full transparency, and most importantly (3) do I have liquidity?
I would love to see Realty Income move lower (in price), but I suspect that the shares will begin to move back up closer to $50 in a few days. Regardless, I have initiated the position based on the following merits (and as quoted by Benjamin Graham):
A long-term investor is the only type of investor there is. Someone who can't hold on to stocks for more than a few months at a time is doomed to end up not as a victor but as a victim.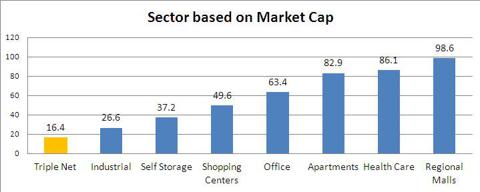 In closing, I believe that over the course of the next few years the Triple Net REIT sector will become a significant category for small investors, large investors, and large corporations. What we are seeing today is just the tip of the iceberg and I suspect that analysts and investors will one day recognize the financially engineered model to be a core REIT sector with several dominating players.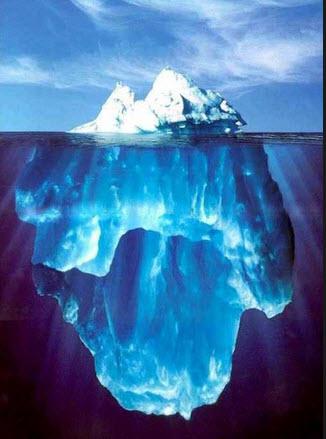 Source: SNL Financial, Stanger Reports, and NAREIT
REITs mentioned: (NYSE:WPC), (NYSE:ADC), (NNN), (EPR), (NYSE:CSG), (NYSE:VTR), and (NYSE:HCP).
Disclosure: I am long O. I wrote this article myself, and it expresses my own opinions. I am not receiving compensation for it (other than from Seeking Alpha). I have no business relationship with any company whose stock is mentioned in this article.