The aim of this article is to value Microsoft (NASDAQ:MSFT) in terms of share price. In this article, I calculate the fair value of the company thanks to the FCFF (free-cash-flow-to-the-firm) valuation model and show what will determine Microsoft share price in the future. I point out Microsoft's future business opportunities such as Xbox One, Android royalties, mobile computing (Windows Phone 8 and Skype), and cloud computing (Azure).
Windows 8
First of all, let's start with Windows regarding the computer space. According to Net Applications, Windows 8 market share has increased from 1.09% in November 2012 to 3.82% in April. By operating system, Apple's (NASDAQ:AAPL) Mac OS accounted for 7.01% in April 2013, when Windows accounted for 91.78%. According to this article, Windows 8 adoption rate is slower than Windows 7. The reason is that the new interface brought by Windows 8 is too innovative for traditional users. In fact, people are reluctant to use it because it is a bit more different than the previous versions (XP, Vista and 7). Actually, the only thing that changes is the opening dashboard and the embedded applications. Despite the fact that users adopt Windows 8 at a slower rate than Windows 7, I don't think Microsoft's new operating system is a failure, because it has some key advantages such as a faster startup, applications, SkyDrive integration, better security, etc. The only downside is that it will take just a little more time for the release of Window Blue to be totally accepted by traditional users. Windows Blue is an upgrade of Windows 8, which takes into account customer feedback about the previous version.
According to the third quarter 2013, Windows Division represented $14.828 billion for the nine months ended March 31 2013, having increased by 4% since the previous year. The business is still highly profitable with an operating income of $8.405 billion, which represents an operating margin of 56%. But, the operating income has decreased by 8% due to the fact that Microsoft has increased its sales and marketing expenses in order to launch Windows 8 and Surface. PC Sales also have declined in favor of tablets, which tend to reduce margins. Approximately 65% of revenues were generated by Windows operating system, purchased by OEMs.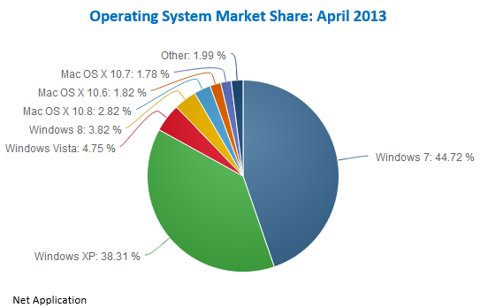 Windows Phone 8
In contrast, Windows Phone 8 is a little player in the mobile space. Right now, WP8 is in third place, way behind iOS (17.3%) and Android (75%) from Google (NASDAQ:GOOG), with a market share of 3.2% according to IDC. BlackBerry (NASDAQ:BBRY) is in fourth place with a market share of 2.9%, but it hasn't yet taken into account the successful launch of BB10 devices in countries such as the U.K. and Canada. Therefore, Microsoft's third place is at stake but the most important thing is that WP8 market share is still increasing quarter over quarter.
In its financial statements, Microsoft doesn't reveal how many Windows Phones were sold but according to IDC, 7 million Windows Phones were sold in 1Q 2013 in comparison with 3 million devices in 1Q 2012. It is a huge improvement (+ 133% in one year), but it is still too little compared to Android and iOS. But, the fact is that Windows Phone is gaining momentum despite all the bad press about it. Windows Phone revenues represent $948 million for the nine months ended March 31 2013 according to Microsoft.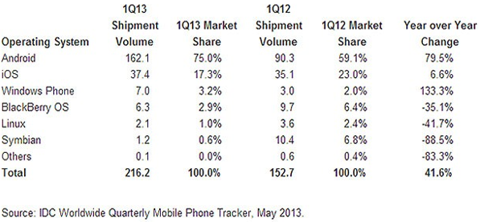 Android royalties
You also have to keep in mind that for each Android device sold, Microsoft earns more money than Google itself. According to Geoff Duncan from Digital Trends, Microsoft could earn $430 million in 2013 based on an average royalty of $1 per Android device, which is conservative. But if you take into account an average royalty of $8 per Android device, Microsoft could earn $3.4 billion by the end of 2013. In his analysis, Duncan added:
"By 2017, with the same assumptions, the figure could be almost $5.9 billion. If Microsoft collected royalties on 75 percent of Android devices sold, by 2017 that could be worth over $8.8 billion."
Other businesses
Now, let's have a quick look at other business segments: 'Server and Tools', 'Online Services Division', 'Microsoft Business Division' and 'Entertainment and Devices Division'.
Server and Tools is dedicated to enterprises and IT professionals. It is the third biggest part of revenues with $14.779 billion generated during the nine months ended March 31 2013, having increased by 10% from previous year. The operating margin represents 39% of total revenues.
Online Services Division includes Bing and advertiser tools. The majority of revenues come from advertising. This business generated $2.132 billion during the nine months ended March 31 2013, increasing by 12% from previous year. The operating margin is negative.
Microsoft Business Division designs software services such as Microsoft Office System. Total revenues were $17.511 billion, having decreased by 2% from the previous year. Office generated over 90% of total revenues. The operating margin represents 64% of total revenues.
Entertainment and Devices Division includes the Xbox 360 entertainment platform, Skype and Windows Phone. Total revenues were $8.25 billion increasing by 6%, with an operating margin of 11%.
Hypothesis and Valuation
Let's discuss the valuation of the company. First of all, I have calculated the WACC (Weighted Average Cost of Capital). Based on the 2012 Annual Report and cost of capital estimations from NYU Stern, the WACC is at 8.38%. Then, I used the cash flow from operations (NASDAQ:CFO) and the capital expenditures to calculate the FCFF. Capital expenditures include acquisition of property, plant & equipment, and business acquisition. Finally, I have discounted the FCFF by the WACC to get the current value of FCFF for the upcoming years.
Based on the third quarter 2013 results, I assume a decrease of 3.33% in cash flow from operations of 2013, due to Windows 8 slower adoption rate, despite its intensive marketing campaign all over the world. But, the future is likely to be brighter. In fact, Windows Blue may be the upgrade that could push Windows 8 sales up. Moreover, Microsoft brought to light its new gaming console, the Xbox One, which is far more than a gaming console. Actually, it is an "all-in-one home entertainment system" that includes some interesting features such as voice control. Microsoft has sold about 76 million Xbox 360s worldwide, so if Xbox One has the same success, imagine how many billions of dollars Microsoft will make in the future.
For the following years, I assume a conservative increase in CFO of 4% in 2014, 3% in 2015 and 2% in 2016. To assert these numbers, I estimate a continuing increase of market share for Windows Phone in the mobile computing, thanks to a successful launch of the new Nokia (NYSE:NOK) Lumia smartphones. But, I bet on the low-end devices built by Huawei for the Asian market to increase Windows Phone market share. According to IDC forecasts, Windows Phone could reach a market share of 11% by 2016. In the mobile computing space, you shouldn't underestimate Android royalties' potential impact on the sales.
I assume that Windows OS and Office will continue to lead in their respective market areas, with a market share of 90% or even higher in the years to come.
I also want to highlight the importance of cloud computing in the future; moreover Microsoft has some interesting and promising services/products such as Azure or Skype, which can increase its future revenues. According to Gregory Vousvounis (from Seeking Alpha), these sources of revenues accounted for $8 billion and could double or triple in the following years. The author said:
"More specifically, according to Gartner Infrastructure as a Service and Platform as a Service (Azure's markets) will grow at average annual rates of 41% and 27% respectively, through 2016. ERP and CRM will grow at annual paces of 23% and 16% and Skype keeps taking market share from telecoms at an astonishing rate."
Note:
I have estimated a cash flow from operations of $30.573 billion in 2013 (based on nine months ended March 31 2013), $31.796 billion in 2014, $32.750 billion in 2015 and $33.405 billion in 2016.
Acquisition of property, plant & equipment: I have assumed a continuous increase of 4% for the next four years.
Business acquisition: I have assumed a stable spending of $2 billion for the next four years, because the company will have to buy other companies to improve its business strategy and preserve its competitive advantage in its key markets.
Infinity (∞): I have assumed a constant growth rate of 1% reflecting the size of Microsoft, which cannot grow endlessly.
Based on 2012 data and Damodaran Research, the WACC is at 8.38%.

To improve the quality of this analysis, I built a matrix to understand how the firm value per share is affected by changing the WACC and the cash flow from operations.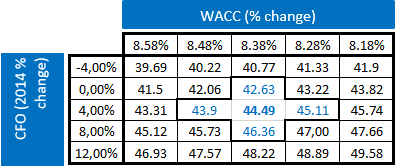 When I apply the FCFF valuation model to Microsoft, I get a fair value per share of $44.49, which represents a potential increase of 29.82%, based on a price per share of $34.27.
Conclusion
According to the FCFF valuation model, the company is undervalued by 29.82%, which shows that it's an opportunity to invest in right now, in order to take advantage of this market mispricing. The company still has a treasury of $74.483 billion (composed by cash and equivalents of $5.24 billion, and short-term investments of $69.243 billion), which represents a Price-to-cash ratio around 3.8.
But, keep in mind that Microsoft's success depends heavily on Windows brand, so invest in Microsoft only if you believe in a bright future for Windows. Microsoft will have to focus on mobile computing with its mobile OS and Skype to drive its market share higher and increase its revenues. The growth will also come from services and products related to cloud computing, and from Xbox One sales.
Disclosure: I am long BBRY. I have no plans to initiate a position in MSFT within the next 72 hours. I wrote this article myself, and it expresses my own opinions. I am not receiving compensation for it (other than from Seeking Alpha). I have no business relationship with any company whose stock is mentioned in this article.
Additional Disclosure: This analysis is based on current market conditions which include a positive U.S. GDP growth for the upcoming years, and a non-deteriorating situation in the Euro Zone. The analysis also assume a growing market share for Windows Phone 8.