The world's leading brick and mortar retailer Wal-Mart (WMT), has reported its earnings for the first quarter of 2013 in which it missed Wall Street expectations. This was partly due to the bad weather, delays in tax refunds and a payroll tax increase. However, there were some bright spots in Wal-Mart's performance. The company continues to grow globally in the e-commerce space while the management believes that Wal-Mart is increasing its market share in groceries, despite the lackluster performance as compared to some of its rivals.
Earnings
Wal-Mart's revenue increased only 1% to $114.19 billion from the same quarter last year while its income rose 1.1% to $3.78 billion or $1.14 per share. Analysts were expecting earnings of $1.15 per share from revenues of $116.3 billion.
Wal-Mart U.S. sales were nearly flat at $66.55 billion while same-store sales dropped by 1.4% as opposed to the 2.6% growth in the first quarter of 2012. This was attributed to the cold weather, tax refunds that came later than usual, the 2% increase in payroll taxes and an overall sluggish economic environment. In the U.S., comparable traffic decreased by 1.8% while average ticket increased by 0.4%. Sam's Club sales were also flat while comparable sales grew by just 0.2%. Traffic increased by 1.3% while average ticket fell by 1.1%, which offset most of the growth coming from the increased traffic.
However, Wal-Mart international reported better growth numbers with 3% increase in sales, or a 5.4% increase in constant currency terms with gains in market share in most of its international operations.
| | | | |
| --- | --- | --- | --- |
| Segments | 2012 | 2013 | % Change |
| Wal-Mart U.S. | $66.33 | $66.55 | 0.3% |
| Wal-Mart International | $32.08 | $33.01 | 2.9% |
| Sam's Club | $13.85 | $13.87 | 0.1% |
E-Commerce
A bright spot in Amazon's earnings was the 30% year-over-year e-commerce growth, which is well above Amazon's (AMZN) 22% growth. However, Wal-Mart is a small player in this arena which is dominated by Amazon. For the current year Wal-Mart is aiming for $9 billion e-commerce sales, which will be around 2% of its total sales while last year Amazon earned $61 billion, 6.8 times more than Wal-Mart's projected sales.
Nonetheless, the positive e-commerce growth numbers make a strong case for increasing investment in this sector, such as in China's e-commerce operation called Yihaodian.
Currently, walmart.com attracts a monthly traffic volume of 45 million people from the U.S. Wal-Mart is the leading e-commerce site in terms of traffic in Brazil while it has become the second leading online grocer in the U.K.
Grocery: Wal-Mart & Kroger
The grocery segment, which represents 55% of Wal-Mart's total U.S revenues in 2012, did not report any growth in the previous year. However, Wal-Mart's management believes that it is increasing its market share in groceries. During the quarter, Wal-Mart's grocery sales increased by a "low-single-digit" which was "driven by growth in dry grocery".
This increase in share seems to be coming at the expense of smaller players such as Roundy's Supermarkets (RNDY) rather than Wal-Mart's bigger rivals such as Kroger (KR).
While Wal-Mart has put better numbers than Supervalu (SVU) and has been slightly better than Safeway (SWY), it still trails far behind Kroger.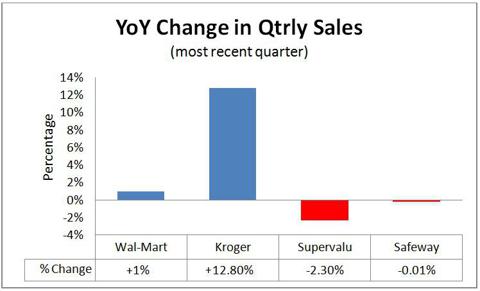 Click to enlarge
Kroger reported a 12.8% increase in net sales to $24.8 billion for the three months ending 2nd February 2013. On an adjusted basis, excluding the effects of the extra week, sales rose by 3.7%, still considerably better than Wal-Mart's top-line growth. However, in terms of profitability, Wal-Mart supply chain productivity puts it ahead of Kroger. Wal-Mart has been able to maintain its gross profit margin at around 25% over the last two years while Kroger has remained below 21%.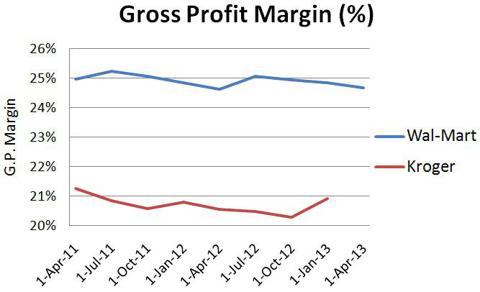 Click to enlarge
Kroger's market share in particular does not seem to be threatened by Wal-Mart. Kroger has highlighted in its annual report that according to Nielsen Homescan's data, the company was able to increase its market share in 9 out of the 17 marketing areas around the U.S in which it competes directly with Wal-Mart. At its home market in Cincinnati, Kroger enjoys a market share of 40.1% for groceries, more than twice as big as Wal-Mart's 19.1%. Moreover, Kroger's share has risen from 39.1% in 2010 while Wal-Mart's has fallen from 20.5% in the corresponding period.
Stock update
Wal-Mart's stock is currently trading at $77.30 and has a 52-week high of $79.96. The overall sentiment of the market is bullish. The shares have recently been reviewed by several analysts who have increased their price targets.
In its research note to investors, HSBC has reiterated Wal-Mart's "overweight" rating and set a price target of $87. Jefferies has reiterated its "buy" rating and could see the stock touching $90. Janney Montgomery Scott believes that Wal-Mart is a "buy" with a price target of $80. The Street also has a "buy" rating, while Zacks has given a "neutral" rating with a price target of $82.
Disclosure: I have no positions in any stocks mentioned, and no plans to initiate any positions within the next 72 hours. I wrote this article myself, and it expresses my own opinions. I am not receiving compensation for it (other than from Seeking Alpha). I have no business relationship with any company whose stock is mentioned in this article.