How many times will the high yield bond market send early signals without being heard? The chart below shows the monthly returns of both the S&P 500 and the U.S. high yield credit market. If history has been a guide, U.S. stocks should have fallen by 2% over the last month.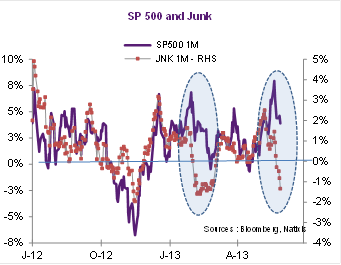 There are good reasons for high yields investors to be nervous, given the very low level of yields recorded. In recent days, turbulences caused issuers to rethink their deals, and in some cases pull them.
In addition, the sensitivity of the credit market to the U.S. Treasury bond market is naturally higher than it is for stocks. This explains the return trends of both U.S. Treasuries' and U.S. Investment Grade bonds' relative returns.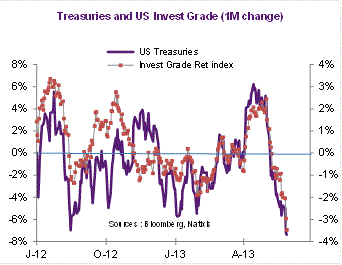 The recent "moves" by the Fed have mostly affected safe asset prices, as can be seen above: U.S. Treasuries and Investment grade bonds. The recent adjustment was not triggered by higher risk aversion (economic slowdown, external shock), but by the anticipation of a change in the pace of bond purchases by the Fed.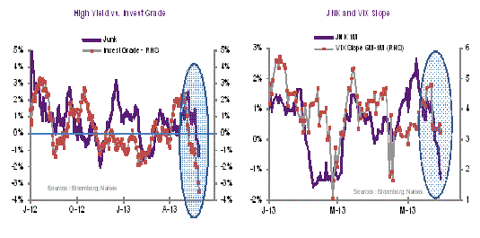 Should we ignore the message sent by the high yield credit market again? Comparing relative valuation, I am tempted to say yes: stocks, despite the long rally, still have some attractive valuation.
Yet, in the short run, I would not forget to listen to the message from the junk bond market and expect, at best, a pause in the U.S. stock market.
As one of the numerous targets of the quantitative easing is to modify the hierarchy of risk premia, any Fed-related risk will channel through a re-adjustment of their pricing. For that reason, the high-yield returns were impacted through the interest rate channel, not risk aversion (see the disconnect between junk returns and the slope of the VIX futures curve on the right-hand chart).
Disclosure: I have no positions in any stocks mentioned, and no plans to initiate any positions within the next 72 hours. I wrote this article myself, and it expresses my own opinions. I am not receiving compensation for it (other than from Seeking Alpha). I have no business relationship with any company whose stock is mentioned in this article.