Quite a year for the precious metals industry as a whole. After 12 years of gains, gold (NYSEARCA:GLD) is poised to have its historic streak brought to an end in 2013. After going hyperbolic in 2011 (and creating a frenzy in the process), silver (NYSEARCA:SLV) is down a crushing 55% since the peak, 25% this year alone.
Before I make my case for why gold and silver will continue to be sold this year, I'd like to point out that I'm no longer in the "contrarian" camp of being short gold (chart from ZeroHedge):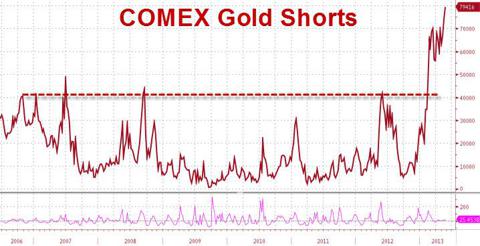 This feels an awful lot like last year's big crowded macro trade: short EUR/USD. Shorts piled in right around the $1.20 area, and sure enough the trade reversed. The tell that the trade was tired - at least in retrospect - was the failure to break under the ultra-important support level of $1.20, even with such bearish sentiment.
Gold is only 2.5-4.5% off of major support in the $1,350/$1,325 region, which dates back to 2010. The next long-term support level is around $1,250: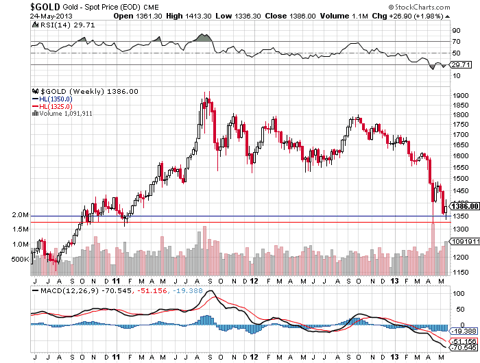 As for silver, there isn't much in the form of support until $18.50/$19.00, which was where silver began its hyperbolic breakout: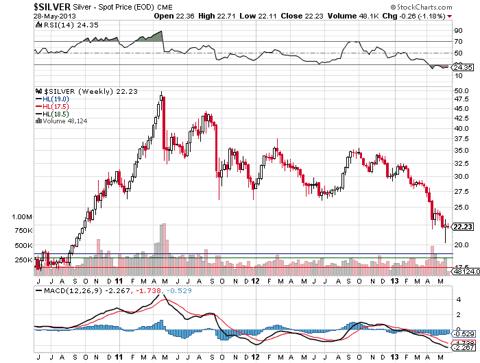 To take out multi-year support levels, we'll probably need a shake out of some of the hot money, new shorts. That event looks like its on the way, given the weak price action in equities (NYSEARCA:SPY) and the historical likelihood of a correction; I expect gold to bounce, albeit slightly, on equity weakness. This should wipe out the traders who were trying to play gold's momentum to the downside.
Once we do that, I expect gold will take out this aforementioned support level as the macro fear trade continues to unravel, this time catalyzed specifically by the breakout underway in the U.S. dollar (NYSEARCA:UUP).
US Dollar Breakout
What makes the USD strength frustrating for so many participants is that it so contrary to what was "supposed" to happen subsequent to Fed balance sheet expansion in the order of a couple trillion dollars. After all, a bigger money supply and fairly stagnant economic growth should result in a weaker dollar, right?
While logical, the modern financial system is far more complex than this equation. The Fed merely controls M1, also known as base money; the rest of it (about 90%) is driven by the expansion of credit on behalf of traditional financial institutions and the shadow banking establishments. Though the Fed has been aggressively adding to base money, credit has remained relatively tight as consumers deleverage.
Today, as the U.S. economy picks up steam and it becomes apparent that interest rates have bottomed, being long the U.S. dollar has become the trade for expressing a pro-growth view: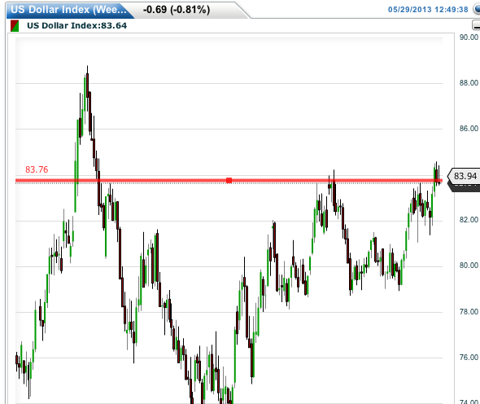 Now trading at its highest levels in three years, the USD has modestly cleared resistance dating back to 2010.
With the ECB, BOJ, RBA, and PBOC all still cutting interest rates and dealing with economic weakness, the USD is being perceived as the best place to be.
Conclusions
Being short the precious metals (or long the USD) won't be nearly as easy or swift as it was in the beginning of the year, but I remain positioned short on gold with a year-end price target of $1,250. Though I am not short silver currently, I believe the metal will fall to long-term support at $19 as a result of the breakout underway in the dollar.
Disclosure: I am short GLD. I wrote this article myself, and it expresses my own opinions. I am not receiving compensation for it (other than from Seeking Alpha). I have no business relationship with any company whose stock is mentioned in this article.
Additional disclosure: I am short the GLD ETF via put options. Also short July gold futures.