Investors look to Greece, Italy, and Spain as the periphery laggards of Europe. However, with France's economic deterioration, France now seems to be joining the malaise of the European periphery. Last week France entered a triple dip recession and the trajectory is downward. Economic confidence in France is beaten down, with 70% of French citizens pessimistic about the current economic outlook. According to Pew Research, French outlook on European policy and economic conditions is starting to resemble the sentiment found in Greece, Italy, and Spain.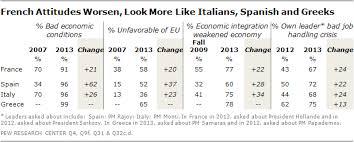 This should not surprise people, because the election of Francois Hollande last year shifted France's economic policy from a German one to a periphery path. Hollande constantly calls for switching Europe from austerity to pro-growth policies, but Hollande's platform will not actually cause any real economic growth. His solutions mainly consist of increasing government payrolls, further restricting layoffs in the private sector, more government spending on social programs, and increasing taxes, such as his hike of the highest marginal income tax rate to 75%.
His ability to enact these laws has been mixed, but the policies have done nothing but decelerate and already weakening economy. Government spending in France is already 58% of GDP, and French borrowing has crowded out the ailing private sector. Strict regulation of business in France (ranked lowest among core European countries in economic freedom), also has killed the entrepreneurial spirit in the country. The result of this has been young, ambitious French citizens avoiding starting businesses. Emigration to Belgium for taxes or Quebec for economic opportunity is also increasing drastically since the election of Hollande.
The ineffective policies of Hollande are not only reflected by negative public sentiment, but also by deteriorating economic data. First the Markit Flash France PMI® that measures French private sector output continues to contract with a May score 44.6 (Expansion is a PMI score above 50). Industrial production and retail sales have also been negative consistently since December 2011. France's unemployment has risen to 10.6% which is the highest level since 1999.
France's debt GDP ratio has ballooned from 68% to 90% since 2009 and increased government spending and a recession will only further test the limits of sovereign creditworthiness. This problem is further impacted by Draghi's 2011 LTRO policy which provided cheap leverage that encouraged banks to buy back country's sovereign debt. With French banks estimated by the IMF to be levered at 40:1 (which is Lehman Bros. levels), any major downturn in French sovereign bonds would spell doom for the entire French banking system.
The Trade:
Overall, France has been living off its past glories for decades if not centuries,and the country is finally running out of money to redistribute amongst its people. France's financial system is one exogenous shock away from insolvency and the economy as a whole is free falling. Nevertheless, French stocks are contradicting a worsening economy, with the CAC 40 index trading at two year highs and are up 34.4% over the past twelve months.
Hope of further central bank easing is the only support for French markets, but a weakening euro will lower the CAC 40 in dollar terms anyway. Since France's primary sourced of economic production are government spending, tourism, and high-end exports, a global economic slowdown will especially hurt France versus core Eurozone members such as Germany and the Netherlands. The trade here is to short the euro or French equity markets through CAC 40 futures or the iShares France ETF (NYSEARCA:EWQ). French banks (if you can get the borrow) such BNP Paribas or Societe Generale are also good shorting opportunities.
Disclosure: I am short EWQ. I wrote this article myself, and it expresses my own opinions. I am not receiving compensation for it (other than from Seeking Alpha). I have no business relationship with any company whose stock is mentioned in this article.